Hello, I'm Haychley and I'm a linocut printmaker based in Norwich, Norfolk. I'm a full-time printmaker and I work from my little home studio that often features my lovely cat, Stella. I run my own linocut workshops in Norwich and also organise pop-up shops for other creatives in East Anglia.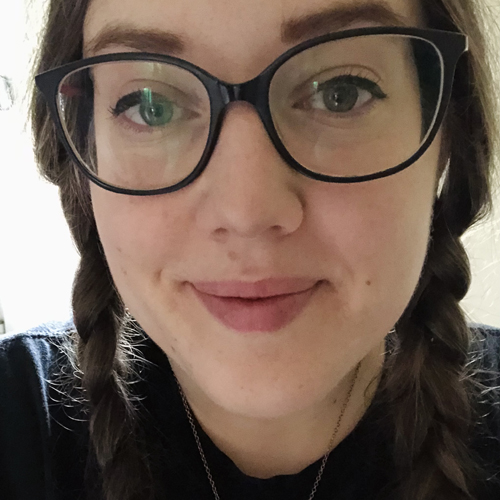 Describe your printmaking process.
Most of my prints start life as a digital design on Procreate on my iPad. Often my ideas come to me nearly fully formed and I have to work quickly to fill in the details and get them out of my head. Creating my designs digitally to start with allows me the speed to change parts of the design with ease and use layers to plan multi-block or reduction prints. I'm not a printmaker who necessarily follows a strict start to finish process; I'm often working on several linocut prints at once! I like to take my time and enjoy the carving process and then try to set aside several hours when I can test the print on different paper types to see which one suits the design best.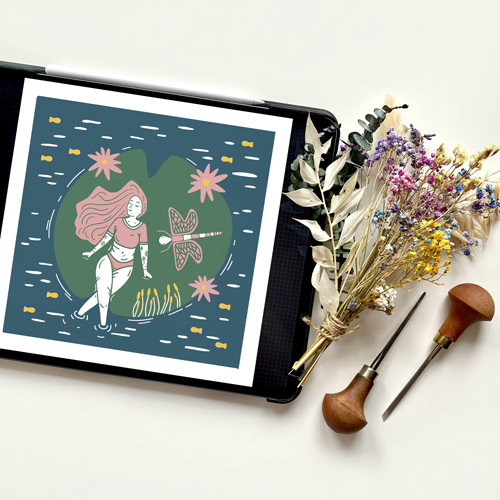 How and where did you learn to print?
I'm a self-taught printmaker. I watched countless hours of videos on social media and just kept persevering until I felt confident in what I was doing. I run my own workshops now for beginners and I'm a big believer that anyone can learn linocut printmaking.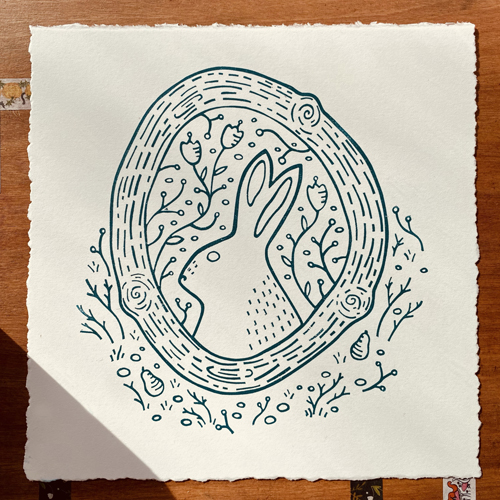 Why printmaking?
I think it's the freedom to be able to fully control what you create. You are in charge of the whole creative process from design to carve to print. It's such a multi-sensory medium too; from the feel of the paper and the smell of the ink to the physical exertion of printing by hand. You feel like you've really worked hard to produce each print and there's such a sense of satisfaction when a print is dry and framed or mounted.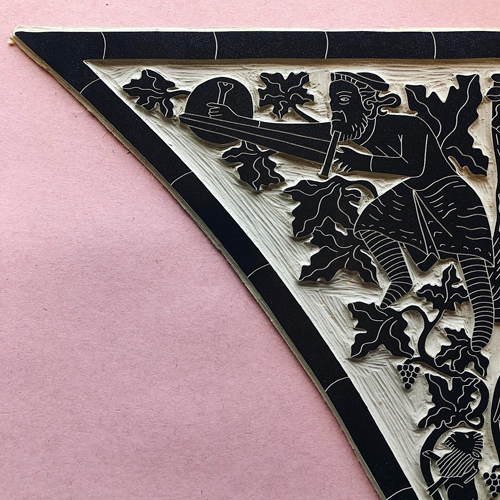 Where do you work?
I mostly work at home in my little studio. I've made a conscious effort to join groups and organise events that get me out of the house regularly to meet new people and interact with the local art community. I've made brilliant connections this way and these in turn have opened more doors for me and pushed me to keep putting myself out there as much as possible.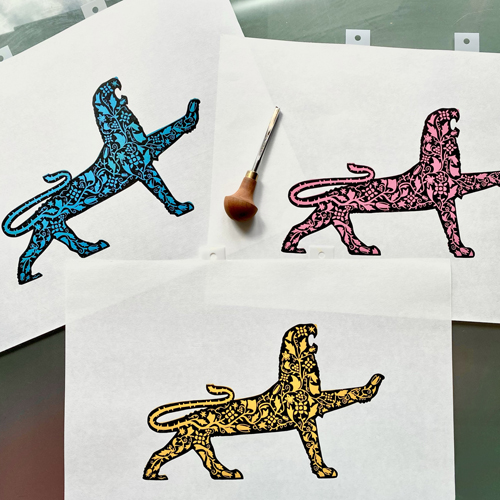 Describe a typical day in your studio.
There's not often a typical day for me at the moment. If I'm not at a market or acting as a duty artist in the shop, I usually let my mood dictate what I do each day. Some days I feel like getting lots of behind the scenes work done; updating my website, bookkeeping, organising my studio. Other days all I want to do is put a podcast or TV series on in the background and carve for the day. So long as the essential tasks are done for the day, this way of working really helps my mental health as I'm focused on how I feel that day and not forcing anything.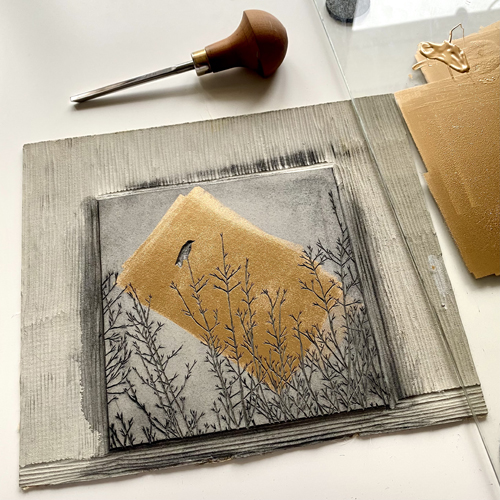 How long have you been printmaking?
I started printmaking in late 2017. My first prints were far beyond my ability at that point; A3 designs with a lot of solid ink coverage! Those first six months were such trial and error (and very frustrating at times) but I'm so glad I stuck with it. I would get up every day and try again, varying paper types and tweaking my process each day until I eventually cracked it. The actual printing part of printmaking used to be something I dreaded but now it's one of my favourite parts.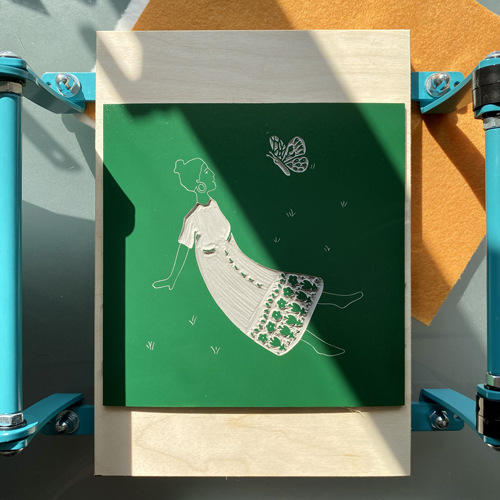 What inspires you?
It always feels so vague to say that inspiration comes from all around but it's true. I can be walking around the City and see a little piece of stonework and want to go straight home and carve it. My prints tend to vary a lot depending on the time of year, too. Last summer I made a print called Forage that depicts a woman collecting mushrooms under a full moon in the forest. My most recent print was of a girl sat relaxing on the grass and an inquisitive butterfly in front of her dreamt up whilst sat in my own garden. As autumn and winter approach my prints will often get darker in colour and include more cosy nighttime scenes. I try to keep in tune with what's going on around me in nature and reflect that in my prints.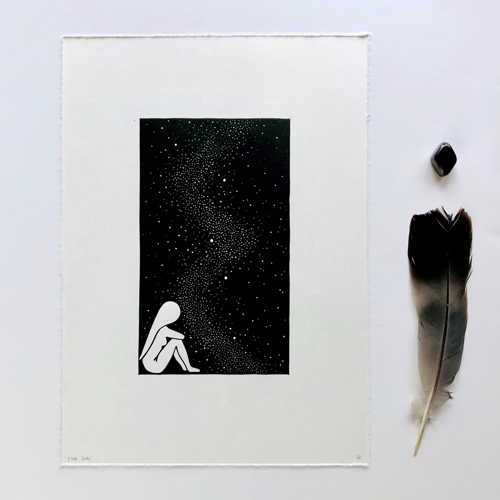 What is your favourite printmaking product?
Japanese HoSho paper. I've tried lots of different paper types over the last few years and always come back to my old favourite! It's brilliant for printing by hand using a wooden spoon or baren and it's such a strong lovely paper. I tend to hoard it a little because it can sell out fast so I always have several pads at a time to hand.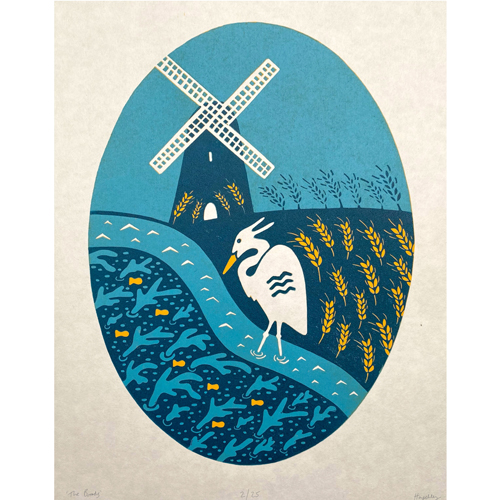 What have you made that you are most proud of?
I think I would have to say my Norfolk Broads print. It was my first reduction linocut and taught me a lot about the process. It's a print that really reflects the beautiful landscape of Norfolk I feel too. Before this print, I focussed a lot on single colour linocuts, often in darker shades, but this is such a bright and happy print that was a step in a new direction for me.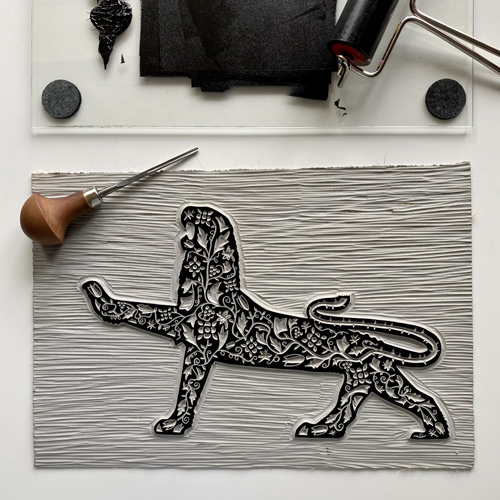 Where can we see your work? Where do you sell?
Most of my linocut prints can be found in my Etsy shop. I hope to integrate my shop into my website by the end of the year too. I have a gallery and blog on my website and I publish a lot of process videos on my Instagram. If you're local to the Norwich area, I have my prints in the Norwich Art Shop and Anteros art gallery as well as greeting cards in a couple of other local shops.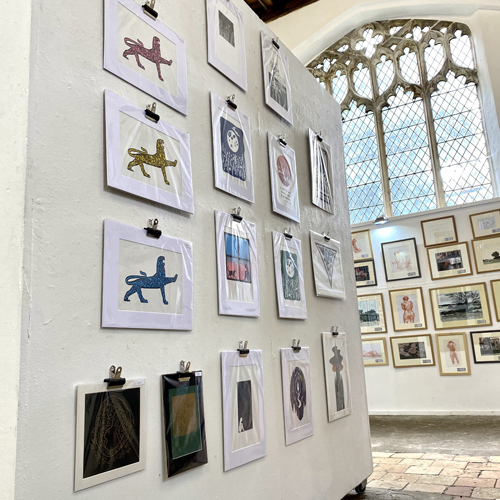 What will we be seeing from you next?
My next three linocut prints focus on the relationship between women and nature. They're fun and joyful designs I think; one beach-themed, one of a woman lying on the grass (using the negative space on the block), and a large colourful reduction print of a girl sitting on a lilypad.
I also have plans for a new Norwich themed print based on a gorgeous historical design in the City. It's one of the best feelings when inspiration strikes and the second I saw it I knew I had to try to turn it into a linocut.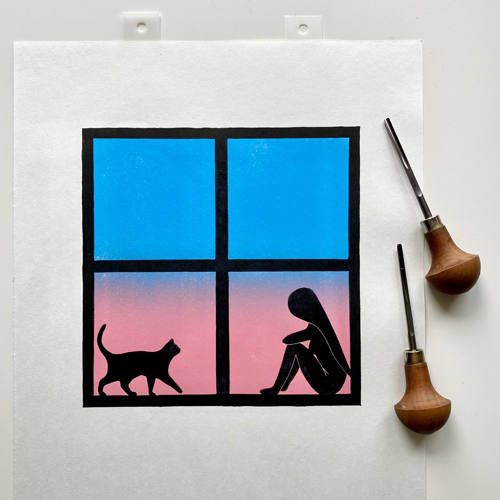 Do you have any advice for other printmakers and creatives?
I feel like the biggest thing I've learned is that you have to constantly put yourself out there, even if it's out of your comfort zone. Nothing will happen unless you make it so try to push yourself to try new events and interact with different types of artists who will help you grow. I'm an introvert so it definitely doesn't come easy to me but the more you do it the easier it will get, I promise.
If you're just starting out as a printmaker, my advice would be to just keep going. Become a linocut sponge! Watch all the videos you can on Instagram and YouTube, read online tutorials and try to follow along and absorb all the information you can. Keep varying your technique, paper type, ink, tools, everything you can until you find what works best for you and allows you to create what you want to.
To see more from Haychley, follow her on Instagram or visit her website.