Hi, I'm Katie, also known as Sotibab. I'm an Architect and printmaker currently based in Bristol, UK. My husband and I moved back to the UK 7 months ago after living in Hong Kong for 9 years. My background in Architecture has allowed me to explore other creative mediums, which happens to be printmaking! I've been creating botanical and typographic inspired linocut cards and prints of a minimalist nature.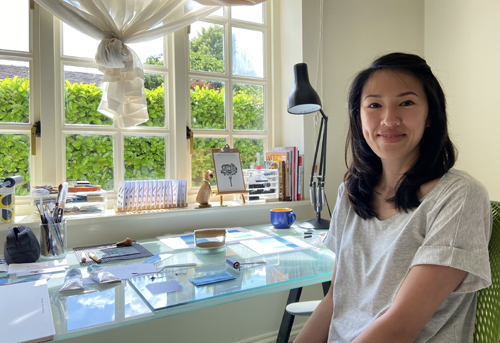 Describe your printmaking process.
I start by sketching an idea roughly into my sketchbook. I'll let the idea sit for a while before drawing it properly with most of the fine details intact in Procreate on my iPad. I will then print and transfer the image using Japanese Red Carbon Paper onto my choice of carving material which is usually Lino, Japanese Vinyl or Blue Easy Carve. The choice of carving material depends on the design. If I want nice crisp lines, I would choose Lino or Japanese Vinyl. If the design is more flexible, then I would use Blue Easy Carve.
Then the fun part begins – carving! I've learnt to work slowly here. I used to be a bit impatient and rushed carving which led to chipping unwanted parts off.
Once carved, I'll test print with Versafine ink pads, take a step back then make some amendments. There's a lot of putting the design down and reviewing it in my process. I find that you can see things more clearly after taking a break from it. I've rarely designed, carved and inked in one go.
When I'm happy with the design, I'll start my inking. If I'm using colour, I'll play around with different colour combinations and keep those swatches in my sketchbook for reference later. I'll ink with Cranfield's Caligo Safe Wash inks and depending on the size, I will print using a baren or my press.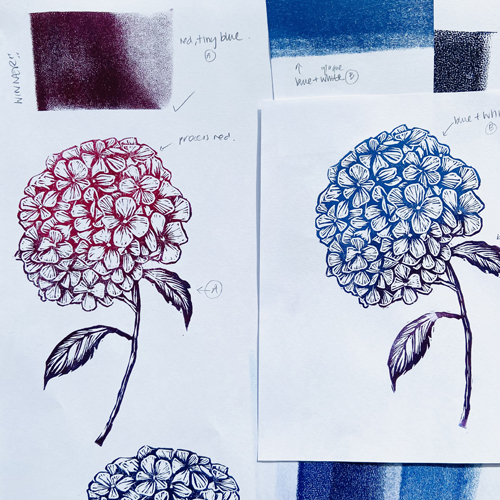 How and where did you learn to print?
I am self-taught. A year ago, a friend lent me her Speedball carving tools where I carved my first stamp. Eventually, I bought my first Flexcut carving set and the carving frenzy began!
Books, online resources and lots of experimenting have helped me along the way. The printmaking community on Instagram has been a great resource. A lot of printmakers are very generous in sharing their tips and tricks which has been extremely helpful. I started off making small stamps with ink pads and experimented with heat embossing powders.
Moving over to the UK meant printmaking suppliers were more easily available. I started trying different carving materials, different papers and playing with different relief printing inks.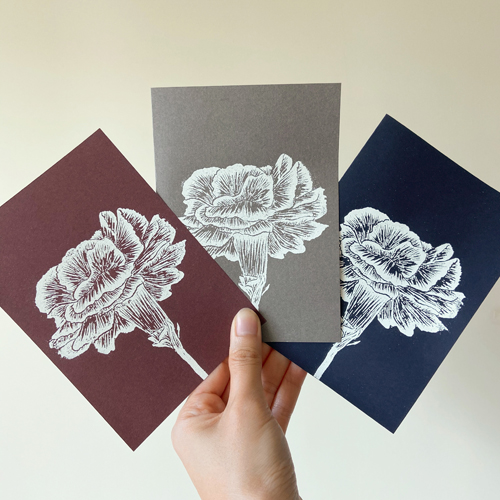 Why printmaking?
I have always enjoyed having a creative outlet and I would go through different phases with watercolour and calligraphy but printmaking was the one that really stuck.
After carving and inking my first stamp, I was hooked. Carving is a very addictive and meditative process in itself. The first test print is always extremely exciting and satisfying as you really don't know what to expect.
As an Architect, it takes many years for a project to come to fruition. With printmaking, you're able to see the results a lot sooner. I try to explore subjects other than architecture in printmaking. In a sense, printmaking is my way of escaping the day job!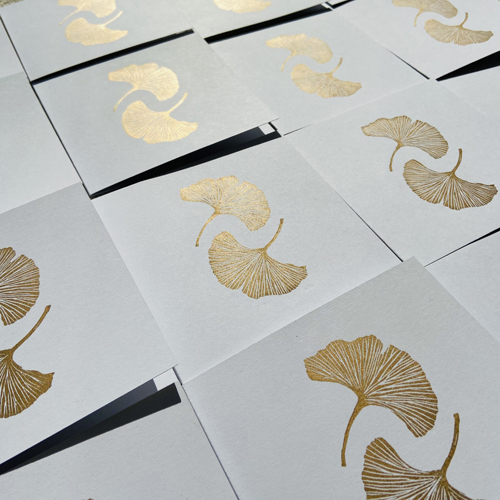 Where do you work?
We have a small temporary set up in our bedroom where I do most of my carving, inking and printing. We will be moving to Edinburgh shortly so we shall see what the set-up is there!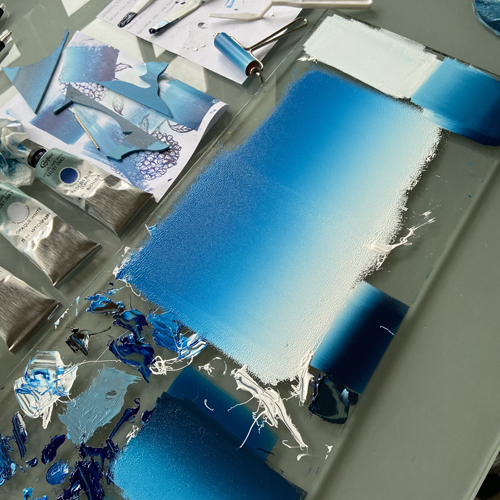 Describe a typical day in your studio.
Due to my full-time job, I try to fit printmaking in after work hours during the week. I'll try to do as much sketching and carving as possible during the evenings and work on multiple carvings and designs. During the weekends, I'll clear my desk and do most of my inking and printing.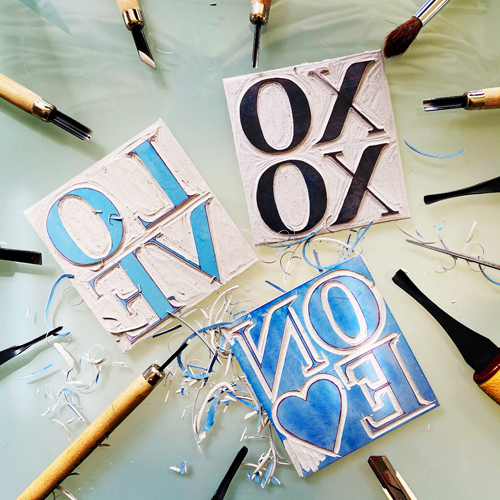 How long have you been printmaking?
I have been printmaking for around a year.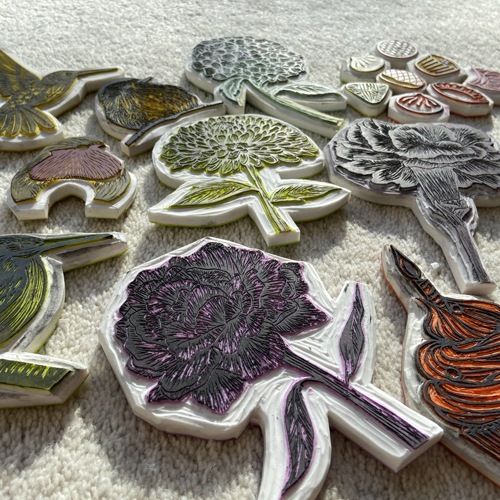 What inspires you?
My biggest inspiration comes from nature, landscapes, strong geometry, patterns, colours and typography.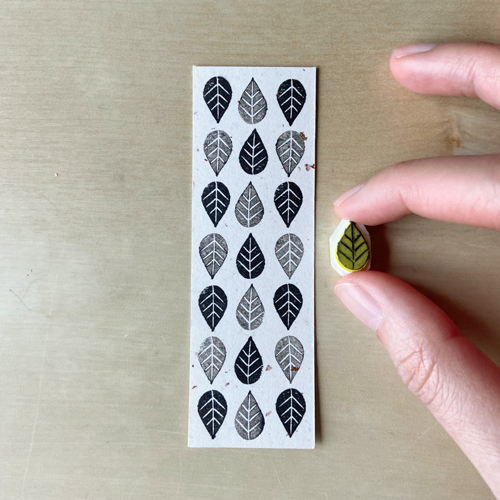 What is your favourite printmaking product?
My favourite printmaking tool is my Pfeil 11/0.5mm cutting tool. This little tool allows me to carve the finest details accurately; it stays sharp for a long time and cuts through lino easily.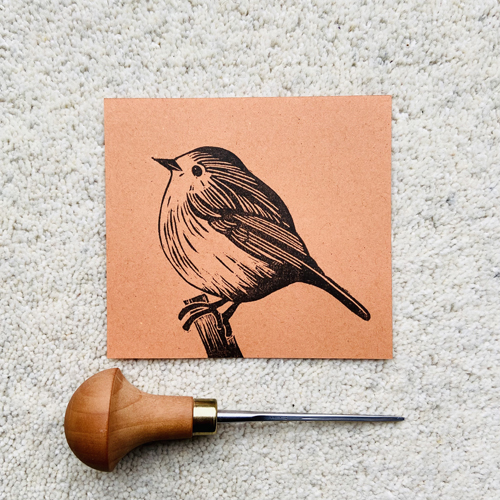 What have you made that you are most proud of?
I'm still relatively new to printmaking, but a print that I am most pleased with is my latest blue landscape piece. Although it looks like a simple print, this print was made of many firsts for me – using a registration system, creating a reduction print, applying a large gradient ink roll and mixing complementary colour schemes.
Where can we see your work? Where do you sell?
You can find me on Instagram for my progress and latest prints. My cards and prints are also available here.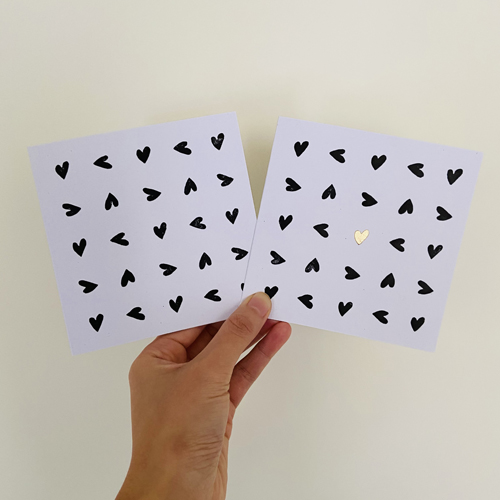 What will we be seeing from you next?
There's a lot that I'm keen to explore! I hope to create more reduction print pieces such as landscape scenes – reduction printing has opened up a lot of different possibilities. I would also like to create some geometric and typographic prints.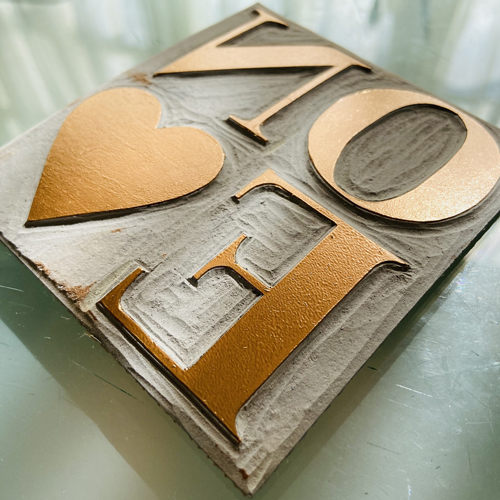 Do you have any advice for other printmakers and creatives?
Allow yourself to experiment and play with different subjects, colours and techniques that interest you without being pressurised on focusing on the end result.
To see more from Katie follow her on Instagram