We are Sandra and Jim Salter and we live with our family above the Salty's Studio shop in Ashburton, Devon. We moved here three years ago, looking for a home with studio space, but then we saw this shop with a house attached and thought let's give a workshop/shop a go. We saw other makers/shops in the town and thought we would be in good company – we weren't wrong, the town is brimming with creatives juggling their businesses, and family life and there is a real community spirit.
Sandra, an animator, grew up in Paignton, South Devon and Jim, a graphic designer/art director from Wolverhampton, met in London working on an animated film together and they have continued to work creatively together, sometimes as films, promotional products to branding and graphic design. With young children in tow, it became increasingly difficult to tend to clients and so they turned their efforts to making cards and gifts which would not only serve to provide friends and family with greetings and presents but also started the process of becoming their Salty's Studio business.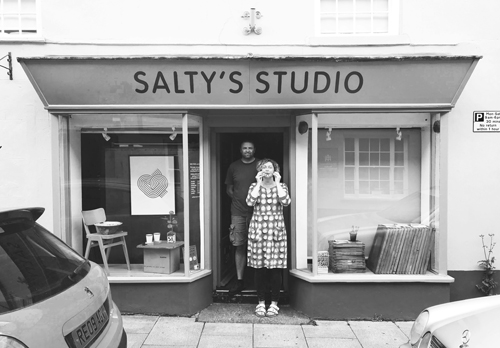 How and where did you learn to print?
We are self-taught screen printers, using online tutorials and some really great books to learn, plus a lot of trial and error – and now we are channelling our past lives and experience through the printmaking process. In our shop, we sell a range of handprinted cards, limited edition prints, and some experimental products – and we get to see how customers respond first-hand. When a product is successful we can develop it further – if a card doesn't sell well we won't reprint it. It is a good test bed.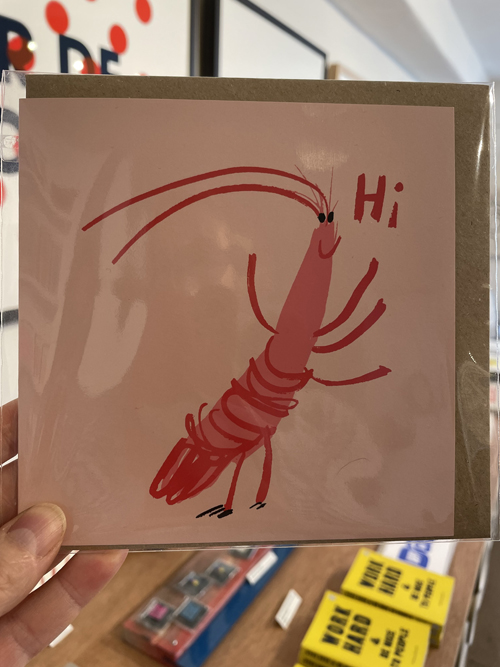 You can see the work falls into two camps – Jim has a very graphic/typography style – he likes clean communication and is very considered, often with a visual pun or clever use of negative space. Sandra's style is more fluid and sketchy, a lover of brush strokes and images with lots of movement in the marks, I think you can see her animation background. Between us, we catch the eye of anyone passing the shop who likes a colourful, contemporary, upbeat vibe.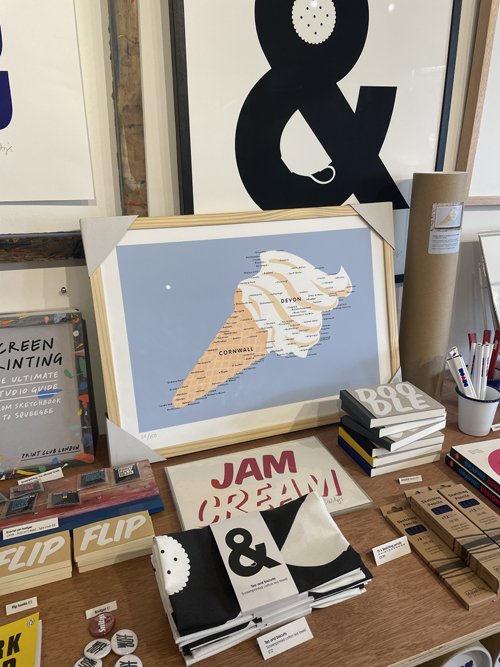 Why Printmaking?
Printmaking has enabled us to present our work as prints, gifts and homewares which are rewarding for us to actually touch and see our work exist in the world. Previously, working in digital media and film, often a lot of our hard work went into things that are not really seen by many or have any further connection to us and were less likely to be credited for that work. We now have a process and a format for working that feels more rewarding, and we are only just beginning to properly explore that potential. It's exciting for us to be connected and responsible for the work we put our skills and name into.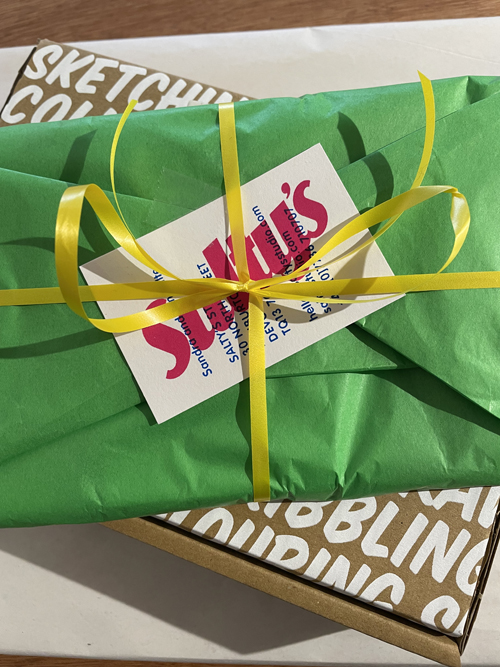 Describe a typical day in your studio.
Like most families, we start with a mad-arse-scramble to get everyone up, breakfasted and out the door to school. The dog is walked – then we finally get that second coffee and the day of work can begin. We open the shop Wednesday to Saturday which leaves us a small window of Monday and Tuesday to get organised, to see what we need to achieve in the week – and put orders in for any materials we might need. We are still finding our rhythm working in and for the shop, and still have clients outside of that that also need tending – so some weeks time will be taken with a client, which means no progress in the shop, but we still need to balance income and keep the wolf from the door!
In a good week, we will rustle up a couple of new card designs – and print them in-house – or develop a new limited edition print. We know they slowly sell and we also have an online shop and newsletter – which is building our following too. We are on a gradual path to adding designs, increasing our stock of prints and meeting new stockists. We also realise that this is a slow approach. It's only us and we can only do what fits in the time. That can be frustrating, but in a way, it's realistic, less wasteful and keeps us invested in the whole process.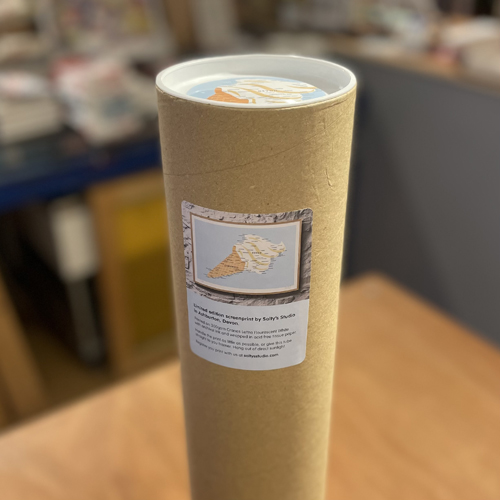 What inspires you?
We love food – eating out – cooking in – the kids love making sushi – we also love an art gallery shop, namely Tate modern shop – and then shops like Ikea and Flying Tiger – any feast of modern colourful handy things. Any rebrand that has a fresh rethink about what works and what they offer – we watched a Netflix show about Christina Tosi's Milk Bar and the whole family got into it, the idea of channelling bake sale goods into a whole cafe/concept. I think we like retail/design/art school/we are ideas people first and then handy skills second. Screenprinting gives us the chance to implement our ideas into sellable things, with a satisfying process.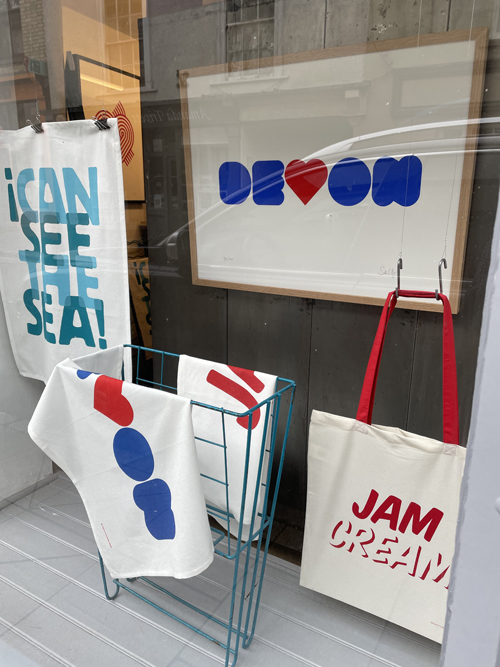 What is your favourite printmaking product?
We love Somerset Satin paper with Speedball ink, we know it is archival as we have had prints in our shop window with the sun on them and they never fade! I'm sure there are plenty of other ink systems out there – but this has worked well for us so we're keeping this as our formula for the time being.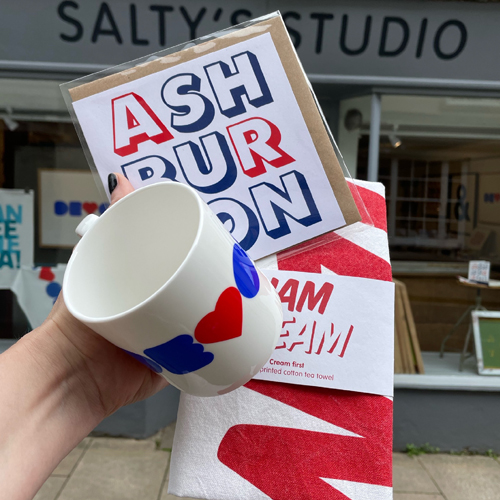 What have you made that you are most proud of?
Our range of greetings cards makes me feel proud. They look great together and it is something everyone understands when they walk into our shop. It's like entry-level art!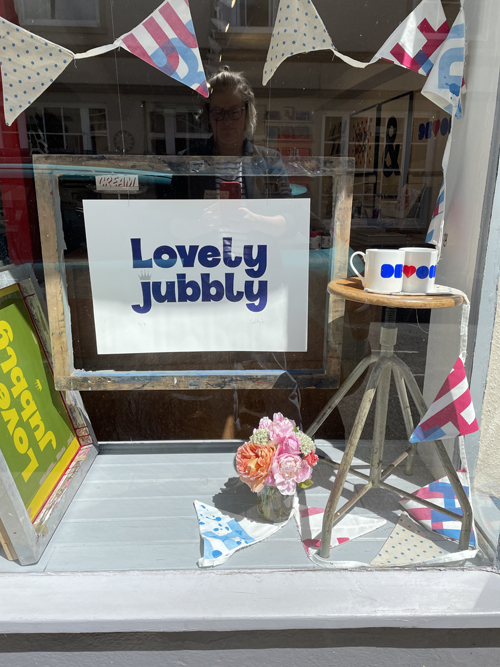 Where can we see your work? Where do you sell?
We have our shop, 30 North Street, Ashburton, Devon. It's on the edge of Dartmoor halfway between Exeter and Plymouth on the A38. We have an online shop and also a few stockists dotted around. We are really proud to have been noticed by Dartington Trading Co. which now stocks our work in three of their shops – also Maker South West, formerly Devon Guild of Craftsmen) in Bovey Tracey.
What will we be seeing from you next?
Jim has just finished 'Ice Cream Map' – he was waiting for ice creams (and cheesy chips) after a day on the beach, and it struck him how the map of Devon and Cornwall looked like an ice cream! Maybe he was hungry, but there we have it – his latest print. He isn't one to ponder for long, he has a flash of inspiration and then sets about making it into a clean, smart print! The edition has already sold 45 out of 150.
Sandra also recently created a piece called 'Stranger's Welcome' is a fluid and energetic medley of drawn elements, composed to make a joyful proud poster celebrating the Ukrainian hospitality I'd experienced on a boat trip in Ukraine in 2003 – working with flower ladies, a picnic in the woods and a feast on fisherman's island, I put the grandmother character centre stage as a hero and embodiment of working with what you've got, making the best of ingredients and perhaps limited resources, but still welcoming people in.
We are also starting to offer workshops – tentatively we're uploading new dates to our website and hope to grow our offering as we gain more experience and see how people respond.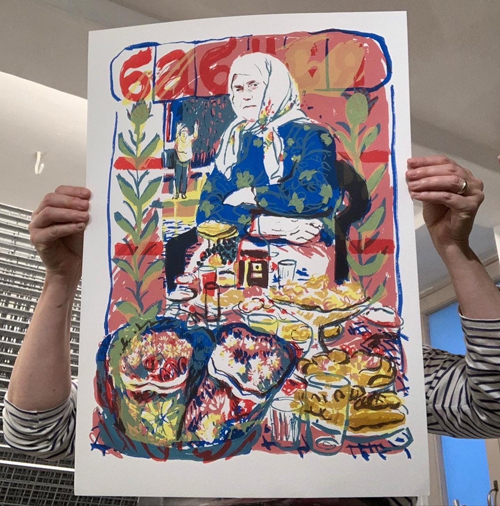 Do you have any advice for other printmakers and creatives?
We have become connected to the whole process through printmaking, from designing to making to selling. You become responsible for sourcing materials, finding inspiration, to managing your retail (and online) space. I think that attention to all those details comes across as a very unique-to-us experience – trying to keep aligned with our reasons for wanting to have creative careers. And in turn, we offer something unusual for passers-by to stumble upon that is a reflection of us and our setup. We know we don't speak to everyone, but we're learning that by being and believing in yourself will keep producing work that we're proud of.
You can see more from Salty's Studio on Instagram!