Printmaker Steve Edwards will be joining us in the Handprinted Studio to teach Multi-Block Etched Lino on Saturday 20th and Sunday 21st June 2020!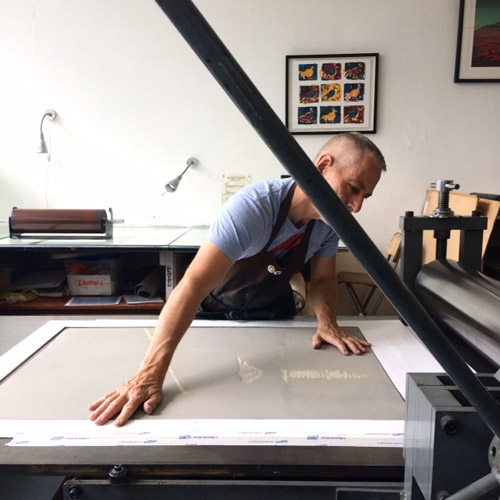 How and where did you learn to print?
Hello my name is Steve Edwards, and I make prints. I was a part-time graphic designer for many years but have always had time and access to a studio to pursue my artwork. I come from Bristol, but have lived in London since 1979 when I began a BA in textiles at Camberwell School of Arts and Crafts. During the degree we studied printmaking as a subsidiary subject. That was when I became captivated by printmaking, particularly silkscreen printing and monoprinting.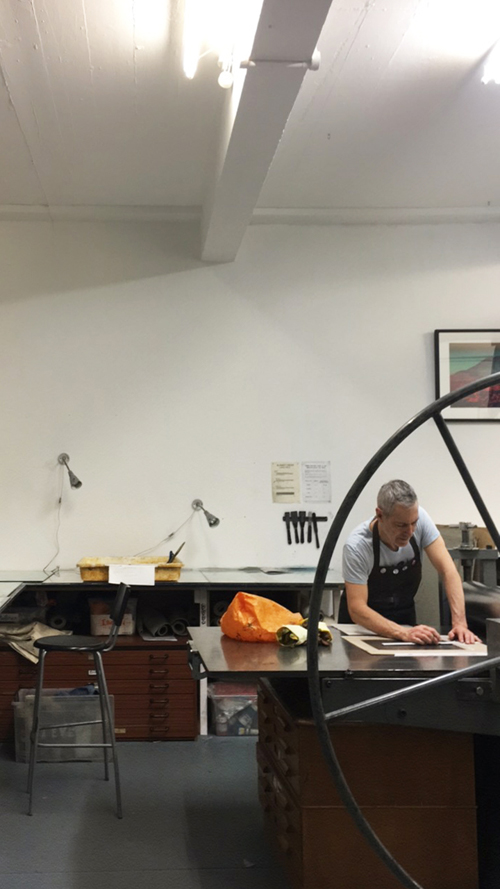 In the mid 90s I decided to re-engage with printmaking so I joined a taster course at the City Lit, and this time it was etching that captivated me. I continued signing up for courses at both City Lit and Morley College to gain access to the equipment and fellow printmakers until I saw a poster on the wall at City Lit asking for new keyholders to join East London Printmakers (ELP). This was a key moment in my printmaking journey, as I needed a space I could work in more frequently and develop my own practice. I continued to etch until about 2003, but being at ELP and seeing other keyholders and their practices was influential in my switch to lino.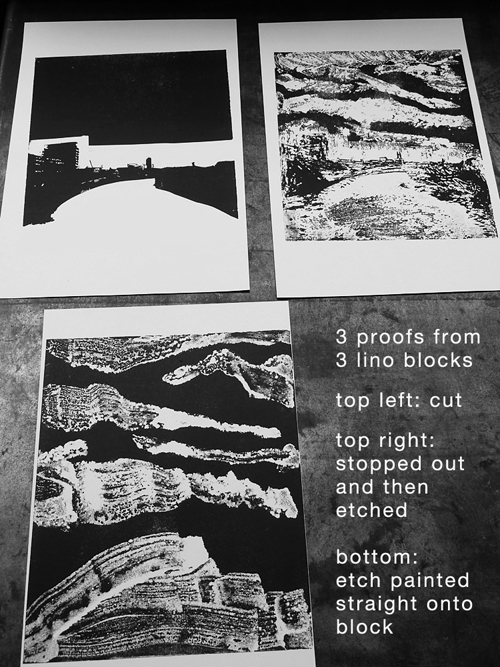 At Camberwell I had loved using colour in my prints, then the language and processes of etching had grabbed me, but using colour in etching is not as easy as in other techniques, so I started my linocut journey. I dug out some notes I had kept from Morley College on lino techniques and discovered a recipe for caustic soda etch. Having been an etcher I was intrigued by this idea, so after a while I started experimenting. Also around this time ELP had organised a group show called Love Letter to London and my response was to depict a view from Waterloo Bridge looking east, my first landscape.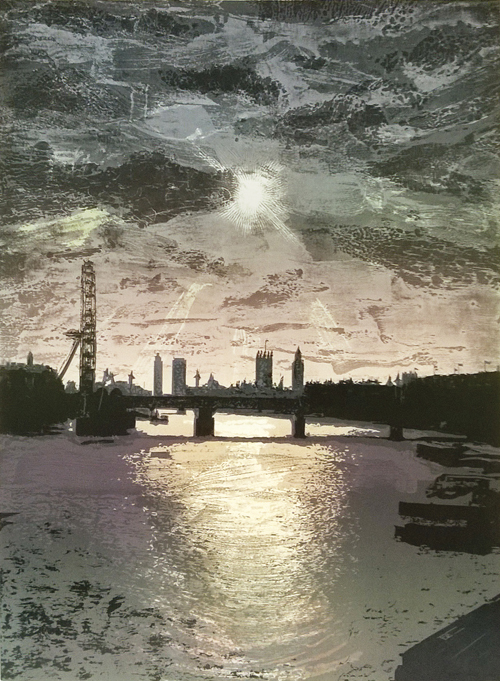 Why printmaking?
I believe that the combination of human hand/eye/brain/soul creates the most exciting and revealing art that we can create, from early stone age wall paintings to Peter Doig. For me, all artistic practices have their own languages, and printmaking has several very distinct ones. There are so many things about printmaking that appeal to me: using the machinery, inks, equipment, processes, multiplicity. In my own practice I like the combination of the relatively controlled process of carving the lino with the more unpredictable lino etch process, which creates marks and textures that I find exciting.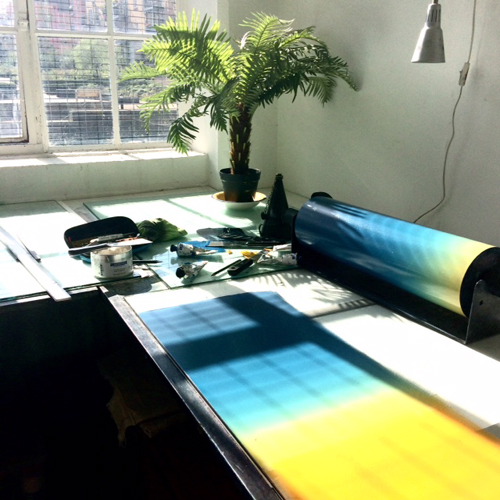 Where do you work?
I am still a member of ELP and try to work there 3 or 4 days a week. The studio is very well run and organised as a co-operative, and it has excellent equipment. Also my fellow printmakers at the studio offer a supportive community and inspiration. A typical day will usually involve working on one or two projects, either creating a new print or continuing editions of older prints. I tend to do my editions in batches of around 10, and let them run out (which can take a while) before I do the next batch. Because of this and the techniques I use, I create variable editions.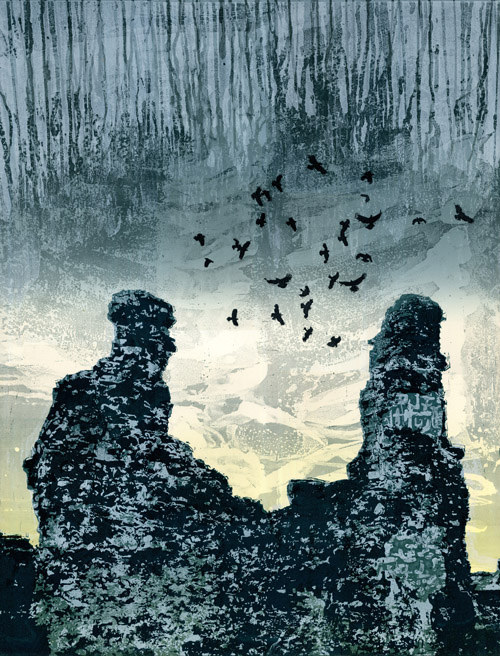 What inspires you?
I think that I am inspired by the whole printmaking process. I love being in the studio with other people being creative together. I think that creativity which involves utilizing the hand/eye/brain has a therapeutic quality which I embrace. My prints are all based on photos that I have taken. In my work I want to try to capture a particular view and the atmosphere created by the light and elements. For me, looking at the sky or a landscape can open me and connect me to nature and the beauty of existence, and I want to express this in my work.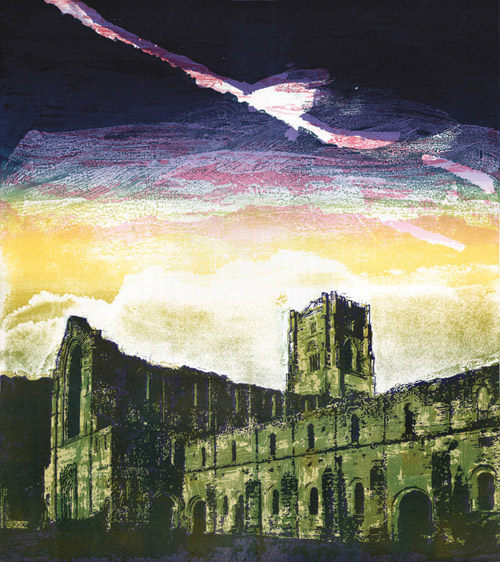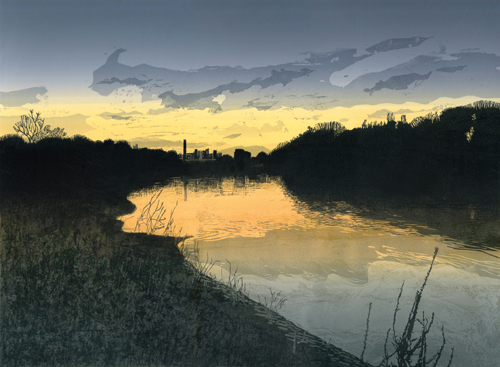 Where can we see your work? Where do you sell?
I am a member of several printmaking groups. I have already mentioned ELP, but I am also a member of Greenwich Printmakers, a printmaking co-opertative who run a gallery in Greenwich Market. Also I am a member of the Printmakers Council. These three groups offer opportunities to sell my work, including stands at the Affordable Art Fair at Hampstead and Battersea. I also submit to open call exhibitions like the Woolwich Contemporary Print Fair and The Masters/NOPE. My work is also available to buy at a gallery in Ealing called For Arts Sake.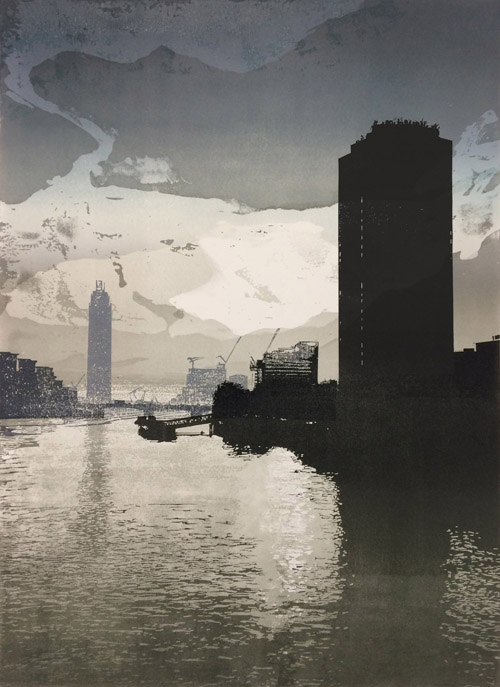 What will we see from you next?
I have been commissioned to create a London landscape, a view from Woolwich Arsenal of the Thames and the London cityscape. I am starting this January 2020.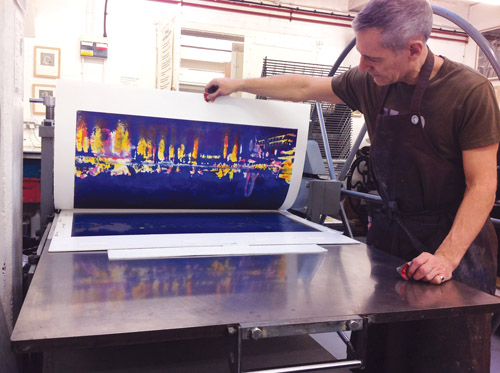 Steve will be joining us in the Handprinted Studio to teach Multi-Block Etched Lino on Saturday 20th and Sunday 21st June 2020!