Blind embossing is a beautiful way in which to add light and shadow to your prints. Embossing adds subtle texture and interest. Emboss prints 'blind' (without ink) or combine with inked lino for a complex final print.
Prepare the design. These white pencils are brilliant for drawing designs onto traditional lino. The marks show up beautifully and there's no danger of transference onto white paper.
Carve the design. Remember that anything we carve away will be raised in the final print. We want these clouds to puff out of the paper so we are carving them into the lino. A small U tool is perfect for carving the edges of the clouds.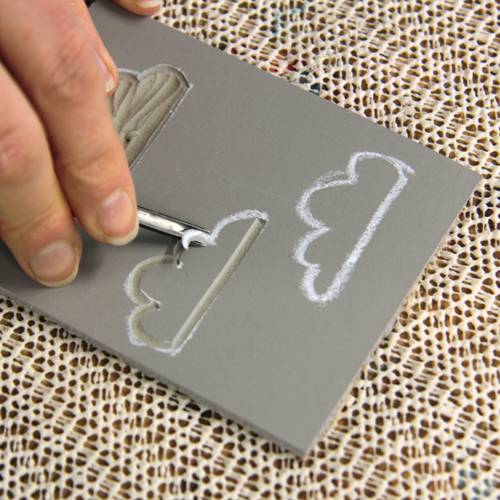 A large U tool works well to clear the larger areas. The texture of these carved areas is likely to show up in the final print. Use a large U or chisel to flatten and smooth out carved areas with too much texture.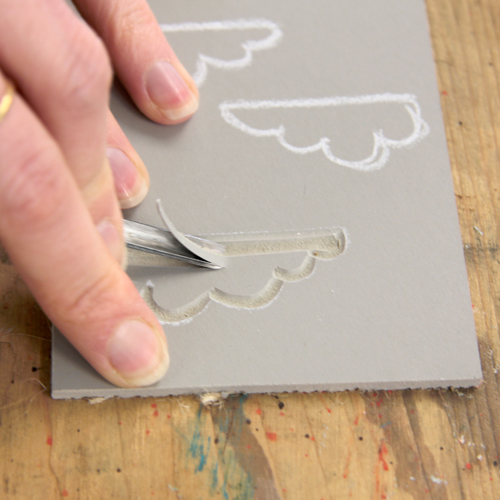 We are using a V tool to carve a few extra lines around the clouds to add detail.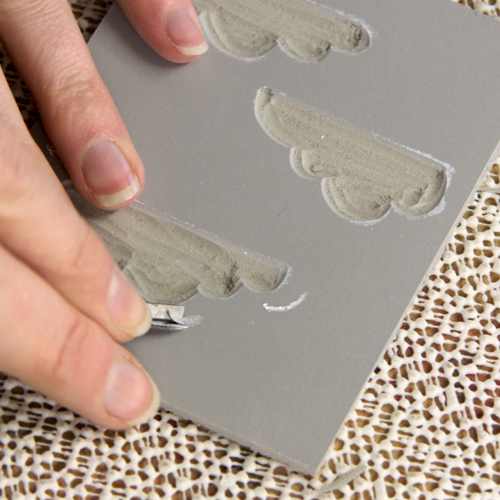 Before printing, make a registration sheet. Lay a sheet of your printing paper onto a plain sheet of copy paper. Draw around it.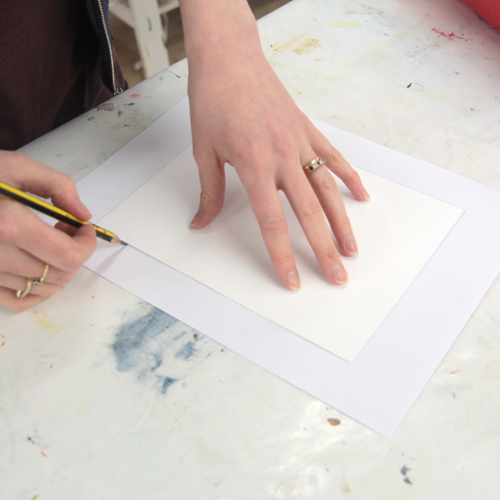 Place the block in the centre of the registration sheet. Draw around it. This will help us to ensure the block and paper are straight and square when put on the press bed.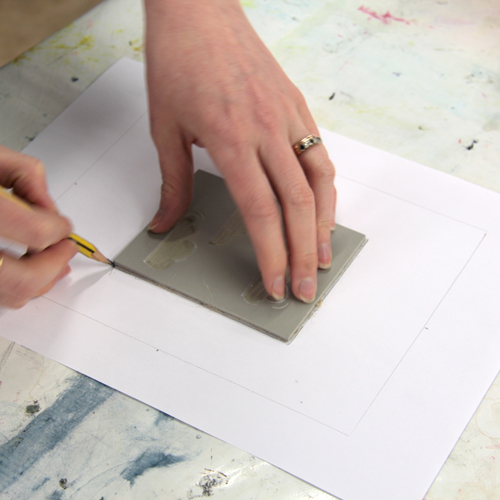 Soak the printer paper in a tray of water. We are using Snowdon 300gsm cartridge paper. A thick paper is best for soaking as it is more sturdy, less likely to curl and should receive lovely plate marks – perfect for embossing. Leave the paper to soak for at least 3 minutes. Experiment with different soaking times for varied embossing results.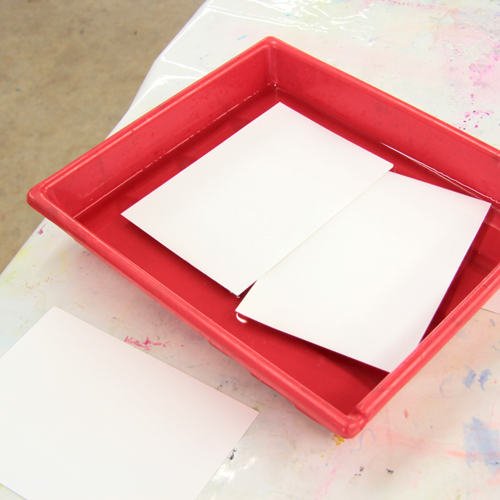 Place the registration sheet on the etching press bed. Lay the lino block in the centre, face up.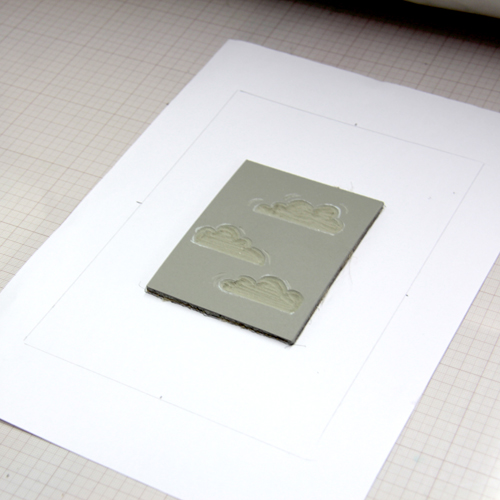 Remove a sheet of paper from the water bath and blot it. it should feel damp but not be dripping wet. Lay it on top of the block using the registration sheet to guide its position.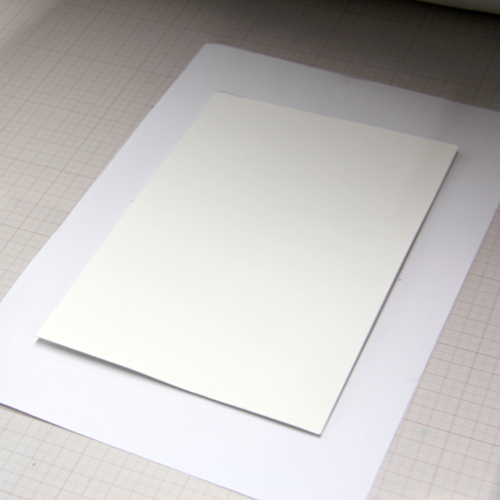 Cover with blankets and roll through the press. The pressure should be a little tighter than normally used with lino.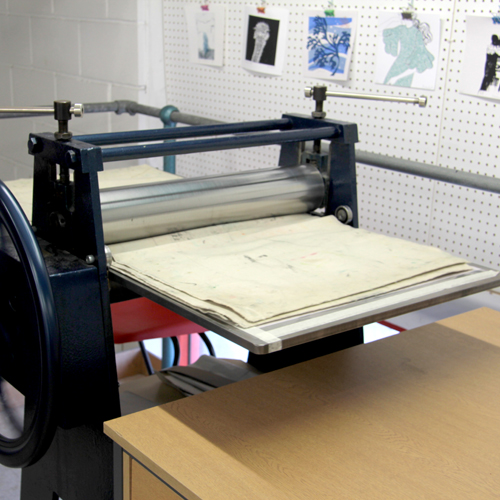 Peel the block from the paper to reveal the print! The carved areas should be raised.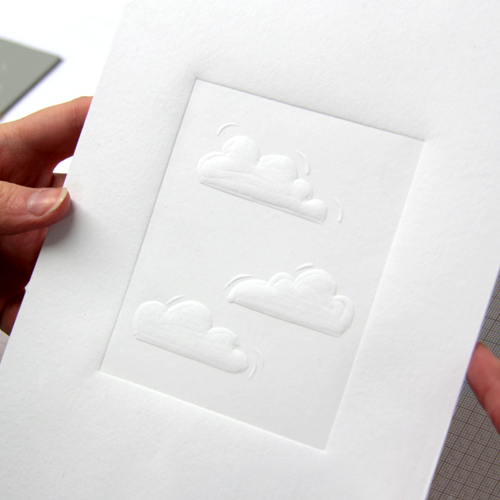 Experiment with combining inked and uninked blocks. The print below was made using the same method but the block was inked with a rainbow roll of Caligo Process Blue mixed with Extender through to pure Extender to create a faded sky.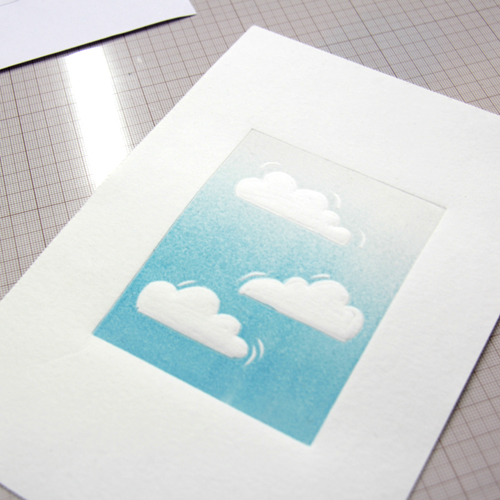 To emboss your own prints you will need:
Sheet of Lino (or other block)
Pencil
Sheet of copy paper
Tray in which to soak paper
Blotting paper (clean Jcloths laid flat work well too)