We're Lucy and Patrick of YUK FUN. We're based in Portslade (on the outskirts of Brighton) in our home studio. We design and make clothing, prints, stickers, tote bags and more…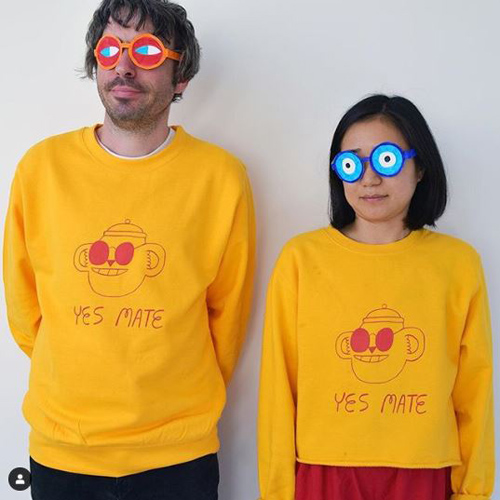 Describe your printmaking process. 
We are screen printers! We print our designs on to T-shirts, tote bags and sweatshirts. Our home set up is pretty basic – we expose our screens in our bathroom using a halogen lamp and a pane of glass. We print together on a table in our studio – Patrick usually holds the screen in place while Lucy does the squeegeeing. We'll probably invest in some table top clamps or a printing carousel one day.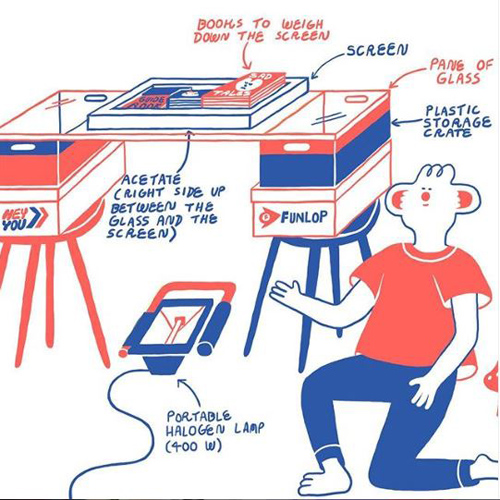 How and where did you learn to print?
We both did a little bit of screen printing at university, but we also took an evening class to refresh our skills at Ink Spot Press in Brighton which was pretty fun.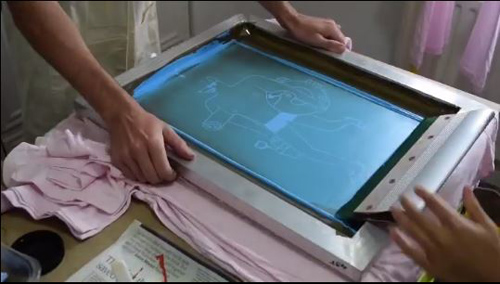 Why printmaking?
When we first started out, we paid other people to screen print for us. We quickly realised that we could do it ourselves, take full control of the process and save a big wodge of money. The best thing about doing it ourselves is we can make sure everything we print is nicely done. No more emailing people asking why a colour came out different to how we expected.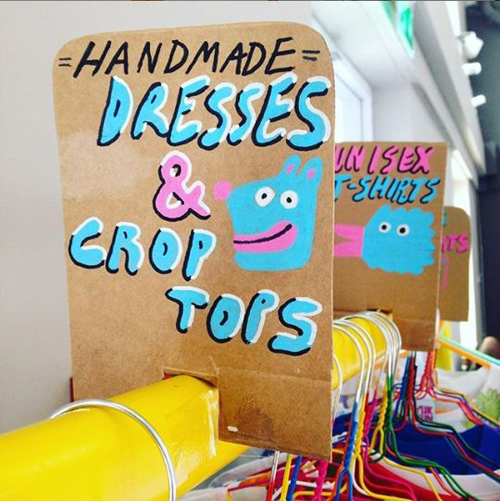 Where do you work?
We work in our loft – we had it converted in to one big space last year. Prior to that we were printing in a poky little spare bedroom, so it really nice to have a dedicated space that's nice and light with plenty of room.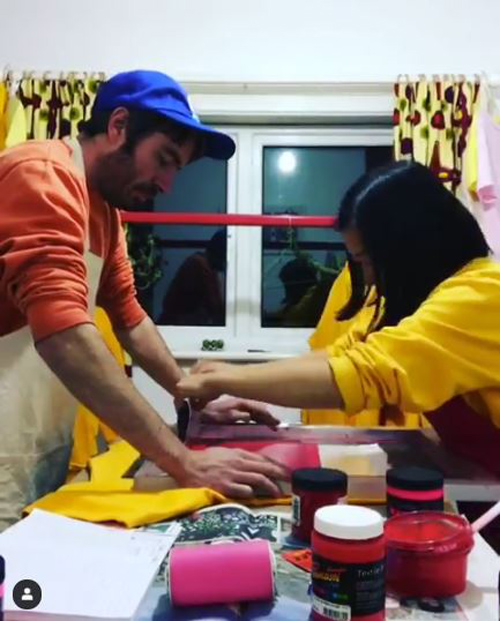 Describe a typical day in your studio.
Sun comes up, Patrick usually gets up first and schedules tweets over breakfast and does a bit of sketchbook doodling. Lucy gets bullied out of bed by our cat Dora, has some toast and then we might screen print some tote bags and sweatshirts and pack some orders. After lunch we might work on some new designs, do a bit of admin or write a blogpost. Later in the day Patrick heat cures all of the stuff we've printed and Lucy sews in our labels.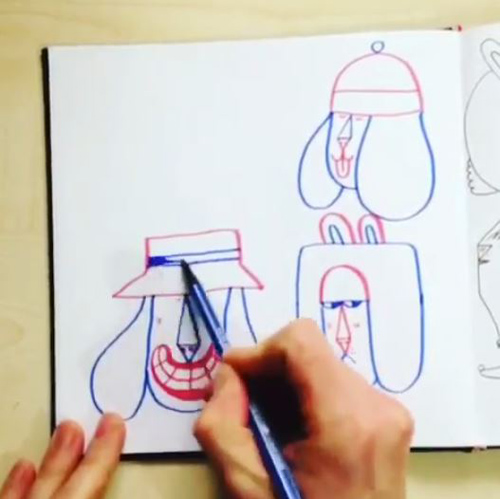 How long have you been printmaking?
We have been screen printing our own stuff since 2015, so four years now.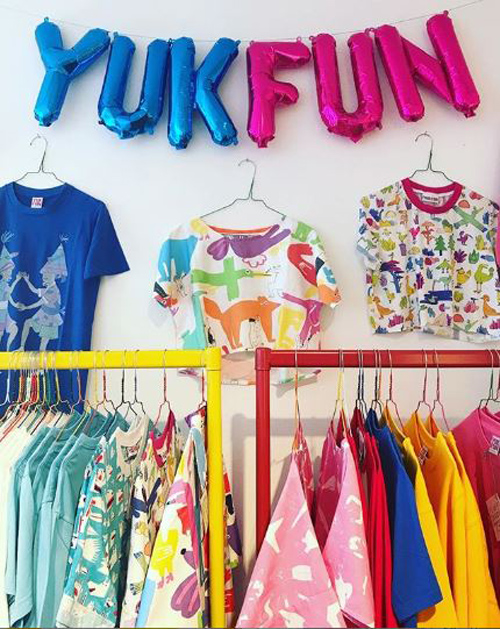 What inspires you?
We're inspired by other artists and illustrators and we actually have a section of our blog where we interview our favourite people. https://www.yukfun.co.uk/illustration-we-love/gaston-caba/
We also find inspiration in the natural world (we love going for long walks on the South Downs) and in films and animations. We're both big fans of Studio Ghibli films – they're just so full of imagination. We like all of the fun futuristic stuff that was designed in the 50s and 60s, like bubble cars and weird scooters. Have a look at our Pinterest account, we post new stuff every day: https://www.pinterest.co.uk/yukfun/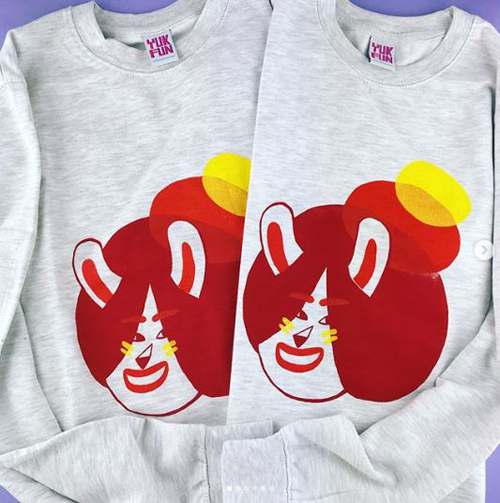 What is your favourite printmaking product?
We really love the Speedball in fluorescent hot pink. We use it on our Fluff Buddy totes and it really pops! https://yukfun.shop/collections/bags-purses/products/fluff-buddy-tote-bag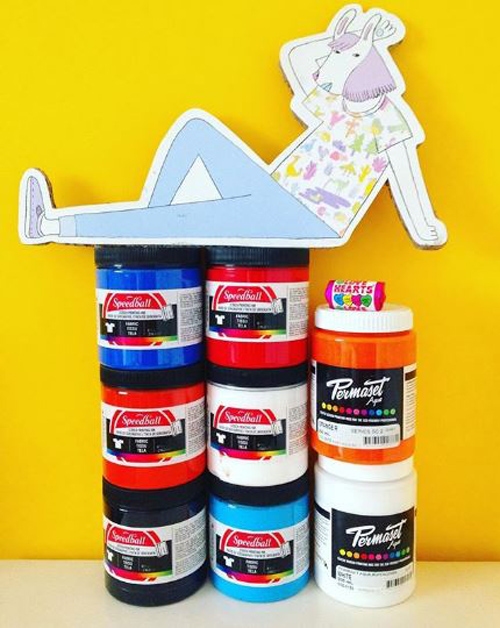 What have you made that you are most proud of?
Probably our Choon Chums T-shirt – it's the most detailed image we've exposed on to a screen and we're really happy with the design. It took us a couple of months to work out getting the exposure and screen mesh right for this design because of the fine lines.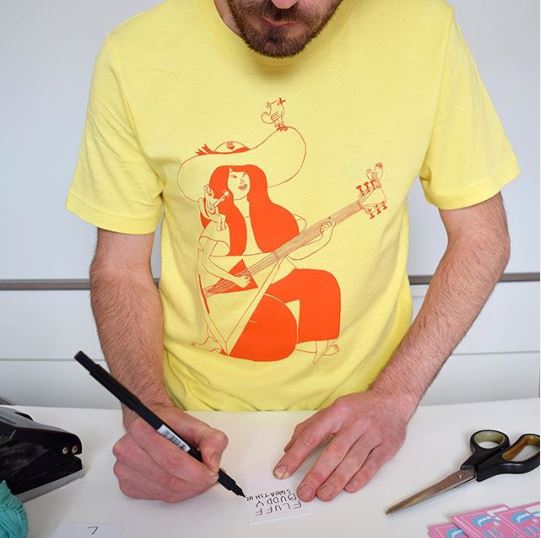 Where can we see your work? Where do you sell?
You can buy our stuff on our website here: https://yukfun.shop/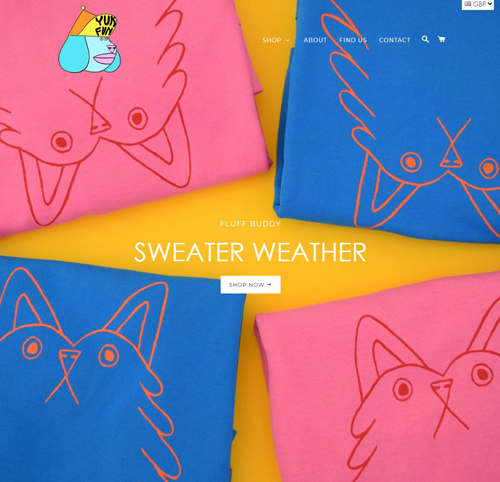 What will we be seeing from you next?
Lots of new stuff! We are currently working on a pattern that we can screen print on to fabric which we'll then make clothing out of. We've never printed our own fabric so that will be really exciting. We're working towards doing a kickstarter at the end of summer to help fund this screen printed fabric collection. Follow us on Kickstarter to find out when 🙂 https://www.kickstarter.com/profile/yukfun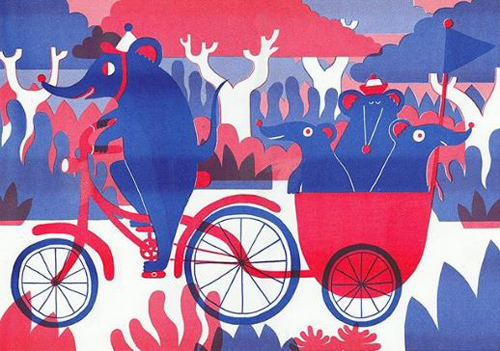 We're also taking part in On This Planet, a group show of risographs at The Old Street Gallery in London this May. https://www.onthisplanet.co.uk/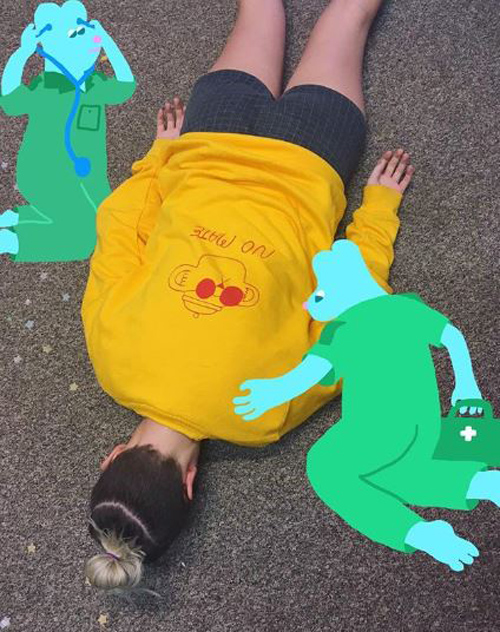 Do you have any advice for other printmakers and creatives?
Stop worrying about things going wrong and just go for it! It's so easy to put stuff off that you're unsure about, but you never learn until you give it a go.
Website https://yukfun.shop/ 
Blog https://www.yukfun.co.uk/
Instagram https://www.instagram.com/yukfunwow/
Twitter https://twitter.com/YUKFUNWOW
Facebook https://www.facebook.com/yukfunwow/