Describe your printmaking process.
I design and print fabric, mainly linens and hemp fabrics. I use wooden blocks which I carve using a CNC router. I love the heaviness of old Indian wooden blocks which you can load a thick layer of ink onto, I wanted to create my own versions of these.
I first design my prints by looking at many influences, from antique textiles and illustrations to paintings and patterns in nature. I start by using Japanese watercolours to paint my design, I then digitalise and create a repeat tile artwork for the router to carve. I mix my own colours using pigments and a screen printing medium so that I have more control over the colours I use.
I really enjoy creating patterns that repeat in a way that tricks your eye and makes you search for the pattern. At the moment I am focusing on single-colour designs, but I would like to experiment with more colourful designs soon. I like combining the digital and handprinted elements to create my designs, much like screen printing but what I love about wooden block printing is that you can be less accurate and do it more by eye, creating a less regimented overall pattern.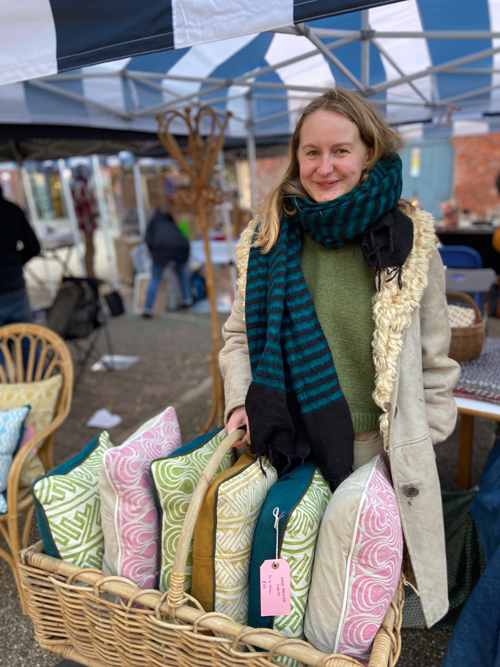 How and where did you learn to print?
I studied printed textiles at Brighton University where we learned about colour mixing, dyes and screen printing. I went on to work in textiles for clothing and interiors where I was on a computer designing repeats for screen printing and digital printing. I then studied for a year at West Dean College where they had amazing experimental printmaking tutors and a print room to use whenever we wanted. I loved experimenting with mono-printing on silk through the press and aluminium etching.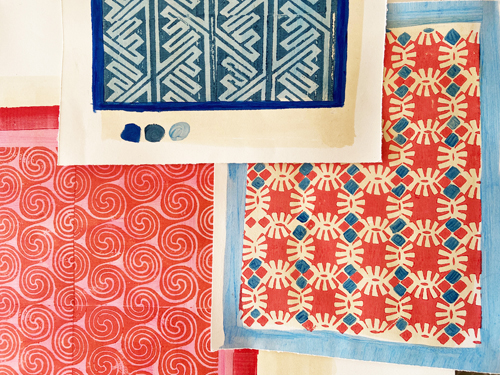 Why printmaking?
Printmaking has excited me for as long as I can remember, especially antique printed textiles and intricate Japanese woodcuts. For me I love how printmaking can simplify an image, breaking it down into parts. I really admire printmakers who can create texture and complicated layers of colour through their practice. I love the flat texture of a printed paper surface. Fabric does its own thing when printed because the weave works with the ink to create other tones.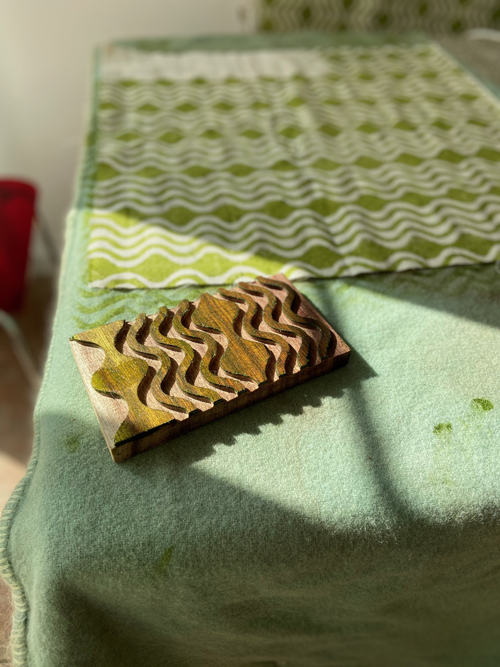 Where do you work?
I am lucky enough to live 30 mins from the Handprinted studio and have been using it to print my fabrics for years. At home, I have a print room in my house which is in total chaos at the moment as we have just moved.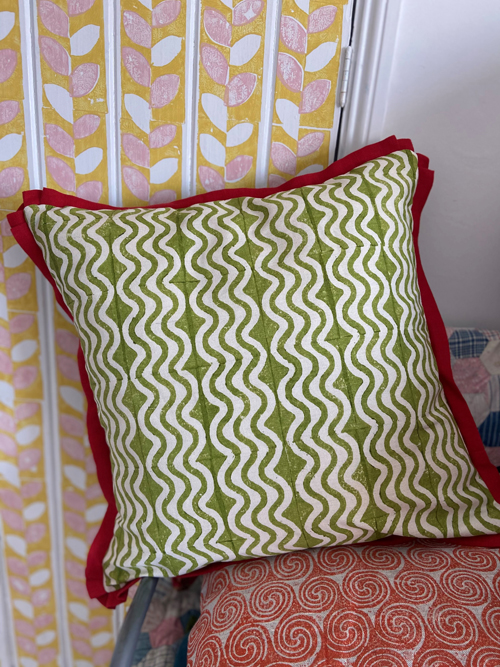 Describe a typical day in your studio.
It depends on what I am printing. If I am making orders for cushions or lampshades I will first cut the fabric to size so that I don't print any more than I need. When I have a stash of printed panels I combine coloured linens and piping that compliment the print and sew my fabrics into cushions and bags. Some time is spent online, updating my website and different sales channels and sometimes I will just be looking for inspiration in books and doing some initial watercolour designs.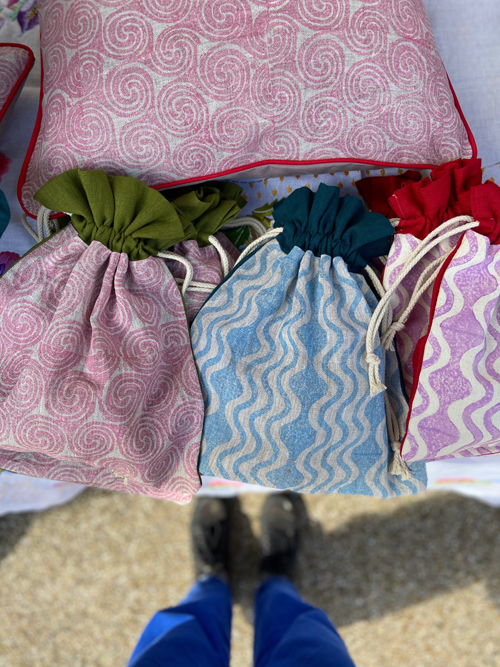 How long have you been printmaking?
I remember potato printing stars in my bathroom when I was really young and my mum taught me how to cut stencils that I would decorate furniture with. My mum passed her love of textiles and art onto me and taught me so much.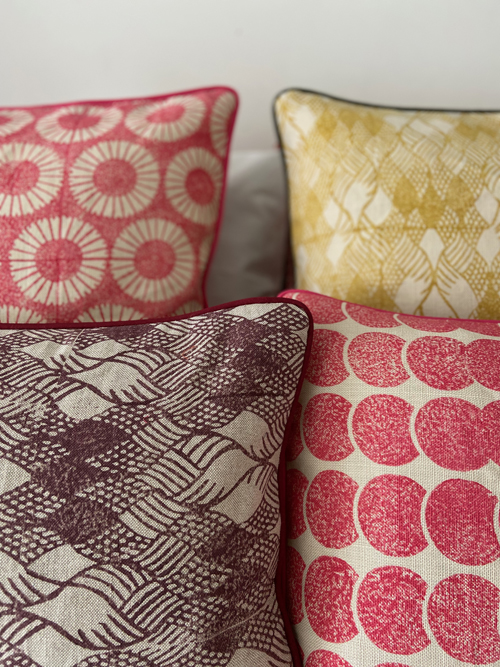 What inspires you?
Colour is the first thing that inspires me, I love odd combinations of earthy and bright colours. Small details in things inspire me like simple shapes in other patterns or shapes in nature. I really love kitsch design too but I am not sure if my work is kitsch, it does have a retro feel though.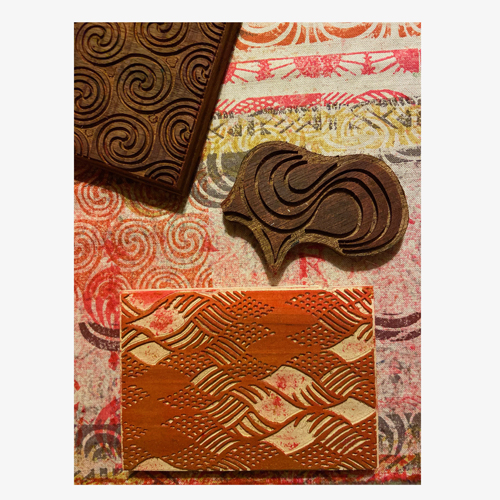 What is your favourite printmaking product?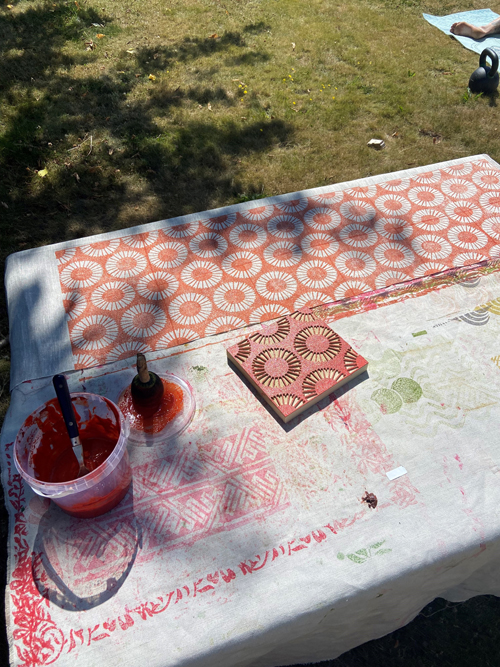 What have you made that you are most proud of?
I would say I am most proud of making the wooden printing blocks, it has taken a long time to learn how to carve anything useable and I still have a lot to learn.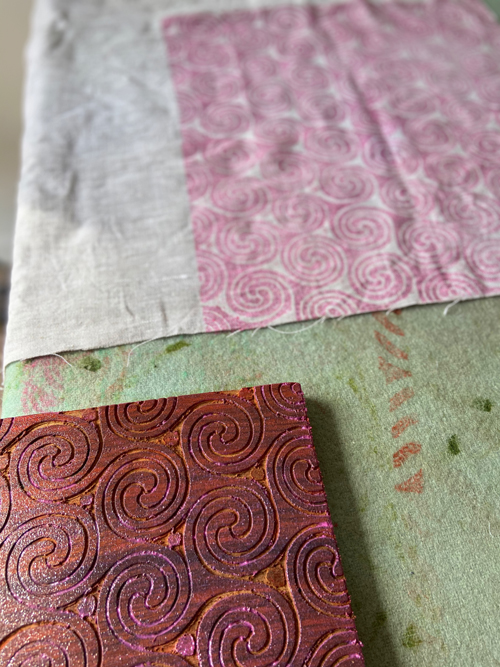 Where can we see your work? Where do you sell?
On a lovely website called The Chuffed Store which sells UK-made kits and treasures. Also, on my own website and an app Calle Narchie which is like Depop but for homewares.
I also take part in markets but mainly around Christmas.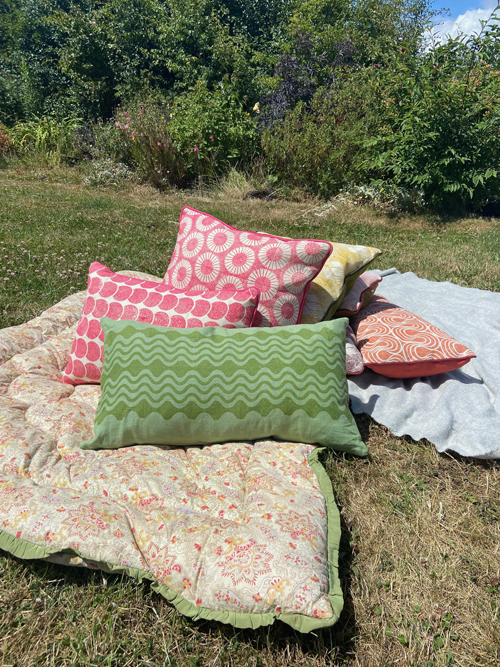 What will we be seeing from you next?
Hopefully more work on paper and larger more experimental fabric pieces.
Do you have any advice for other printmakers and creatives?
Keep making things that you love and not what you think others might want to see.
To see more from Maud follow her on Instagram.