I'm Shelly Brown – an illustrator and printmaker based in lovely Ely, Cambridgeshire. I mainly create lino prints with a focus on people, and connection.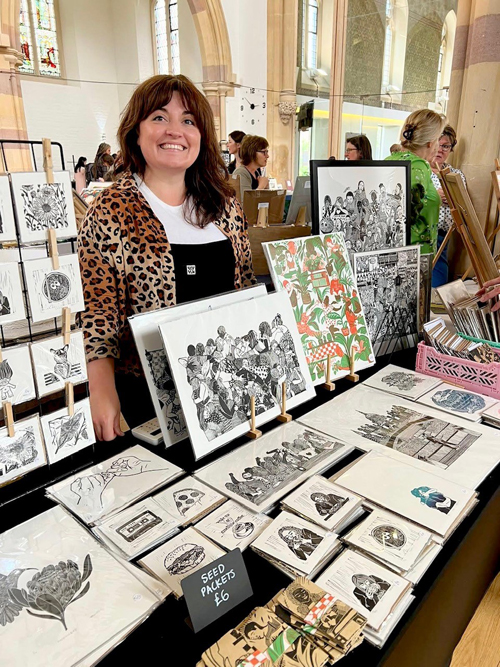 Describe your printmaking process.
My process changes every single day. I still haven't worked out a magic formula for getting things perfect, and tend to go with the flow. It's what keeps things fun. The only thing I keep the same is the way I generate ideas. I always start with something that I have connected to. Whether it's a place or seeing a film that gave me an urge to create. During the lockdown, it was watching Love Actually and the opening scenes where people are waiting at the arrivals in the airport to see loved ones, and how they embraced each other. At the time hugs were a big fat no and I had an urge to create a sea of hugs. This came in the form of my print, Love is all around.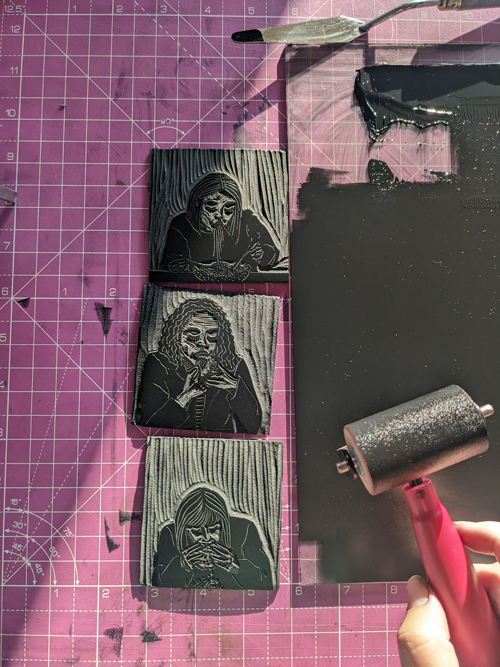 How and where did you learn to print?
I studied illustration at Cambridge School of Art and graduated in 2009, with some final pieces being lino prints. I had basic instructions back then, with very blunt tools and mostly blagged my way through the printing process by standing on my blocks to get them to print onto paper (super impatient 20-year-old). Fast forward to 2018 and I dug out the tools and started carving again, I watched videos and read blogs on how to hand burnish without a press. I loved this medium as even though there are 'rules', they are very much there to be broken, which makes it so easy to do at home and just have a go. I would say I am mostly self-taught as I have spent years just messing about until something clicked and I figured out what worked for me.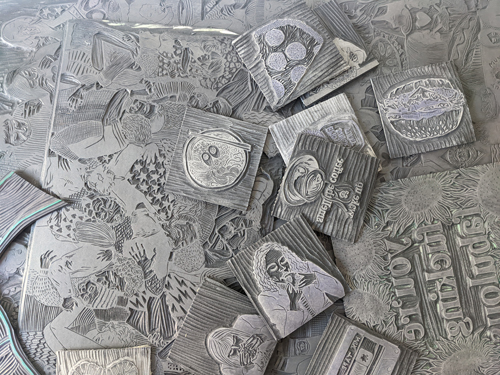 Why printmaking?
Because I am a very messy person. I love the chaos of it. I realise that lots of people have methods that they follow and I do to an extent, but I also love the surprises that occur with printmaking when I let go a bit. That little ball of energy you feel in your belly as you place your paper over your inked block – there is nothing better!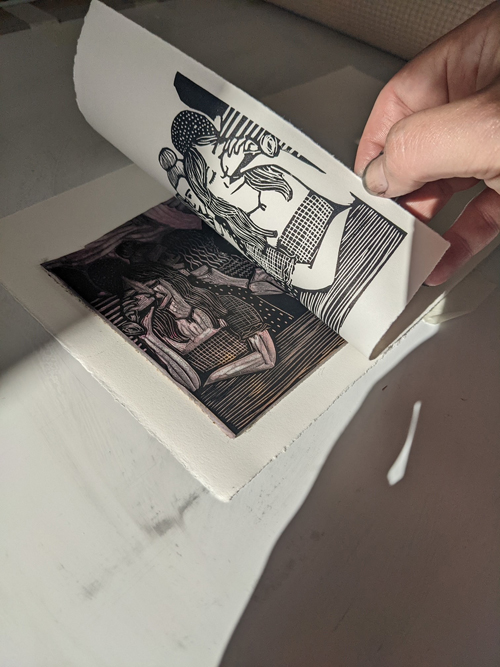 Where do you work?
Well, anywhere there is a surface that I can take over. Initially, I had a corner in my living room, but then I was getting in the way of the family and my husband built me a little shed in our garden, lovingly called the Shedio. Up until recently I did all carving, printing etc in there but I am now the proud owner of a portable printing press which allows me to print at a much larger scale, but it means I can't print in the shedio anymore… so the kitchen table and work surfaces are taken over on the regular, much to the delight of my family.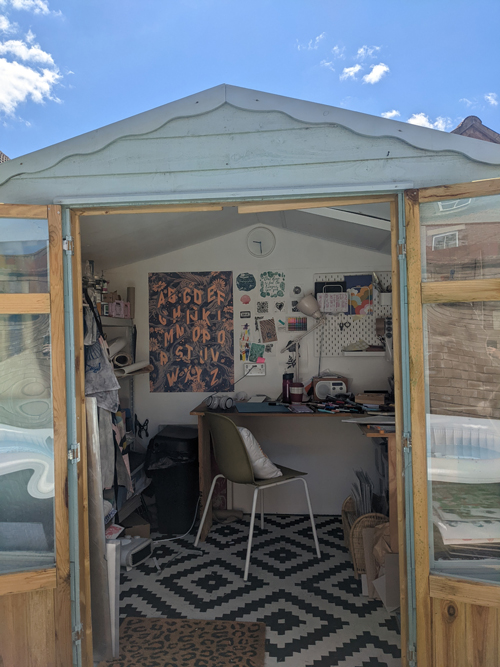 Describe a typical day in your studio.
A typical day in my shedio would start with a strong coffee, I normally then spend a bit of time tidying up and having a bit of a sort out. If I have orders to complete I'll pack those first, then I do admin and have a bit of time on social media. If I'm working on a block I save it for the afternoon as it feels like a reward after doing the admin side of my job. On print days, I just have coffee (lots of it), music on loud or an audiobook, and print from first thing until I have to leg it for the school run.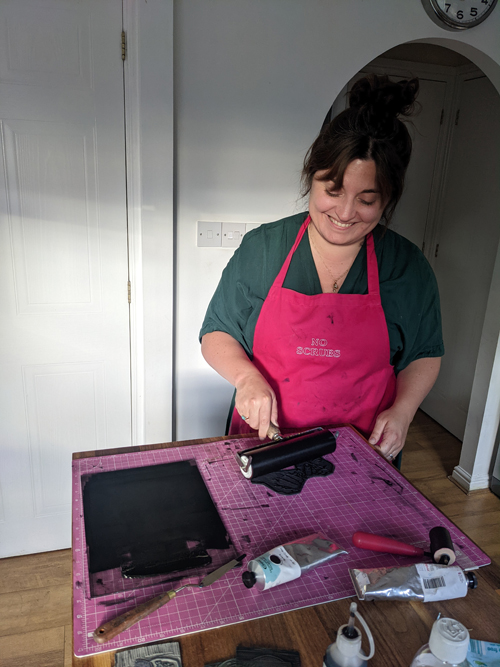 How long have you been printmaking?
I have been printmaking for 4 years and doing it as my full-time job for just over a year.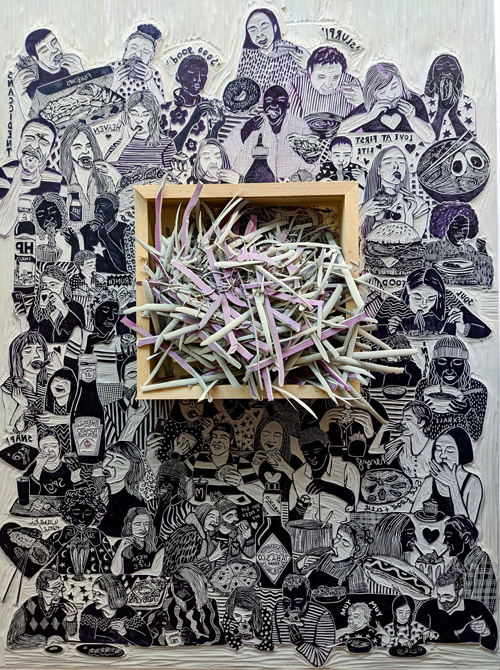 What inspires you?
People! I am an avid people watcher and ear wigger. Hearing a snippet of a conversation or seeing little everyday interactions often have visual ideas for prints springing into my head.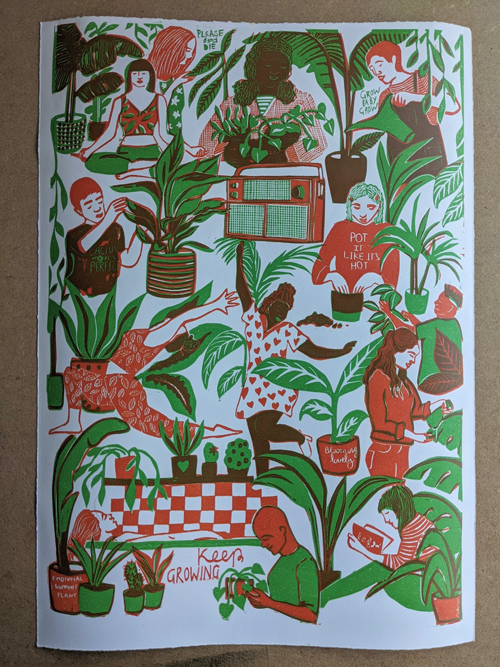 What is your favourite printmaking product?
Oh, this is tough as I change things up all the time. Currently, I love Cranfield Caligo inks and experimenting with the extender to create transparent layers. I recently used this method for my 'pot it like it's hot' print.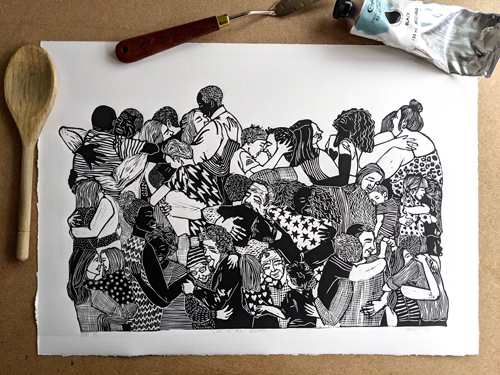 What have you made that you are most proud of?
Most probably my 'Love is all around' print as it was the first time I really gave in to creating something that really felt like it came from me! (No flowers or birds – its what I started doing and although lovely I didn't have an emotional connection to the subject matter) It's what has urged me to keep following my gut and try to stay true to what I enjoy making.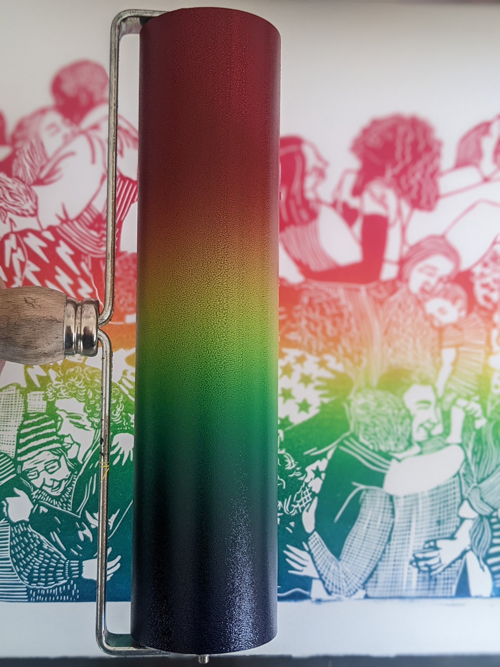 Where can we see your work? Where do you sell?
My work will be part of the Babylon ARTS Summer Open 2022 from the 30th of July until the 29th of August in Ely. I sell all my prints on my website, and at craft markets and fairs. My next market is the
Brew and Friends Makers Market at St. Andrews Hall in Norwich on the 7th of August.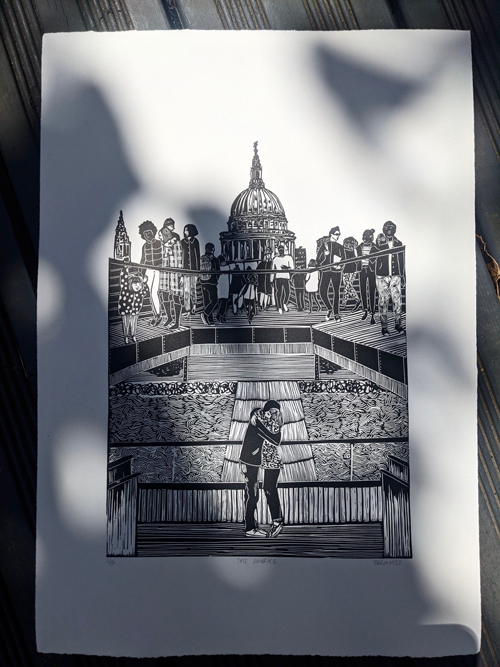 What will we be seeing from you next?
I'm currently exploring people and places with my recent print 'TATE Embrace' being the first in a series of people around popular places.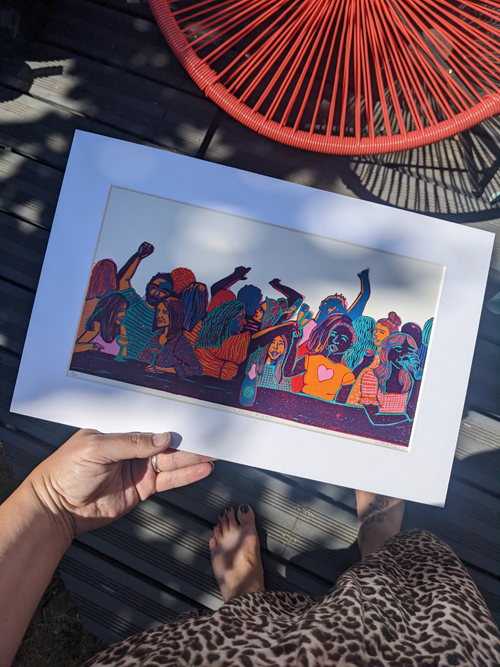 Do you have any advice for other printmakers and creatives?
My only advice is to just do it. It doesn't need to be perfect. It needs to be done, and once you do it, just keep doing it!
To see more from Shelly, follow her on Instagram.