My name is Bryan Angus, a visual artist specialising in lino printing. Originally from Aberdeen, I've travelled about the country a bit and now live in Banff, close to where my family roots are. I trained in painting in the late 70s in Aberdeen but spent most of my working life not making art. I started lino printing in 2012 while running an artists' retreat and art holiday business. It suits my drawing skills and graphic sensibilities, the cutting giving me a great deal of pleasure as a skill in itself.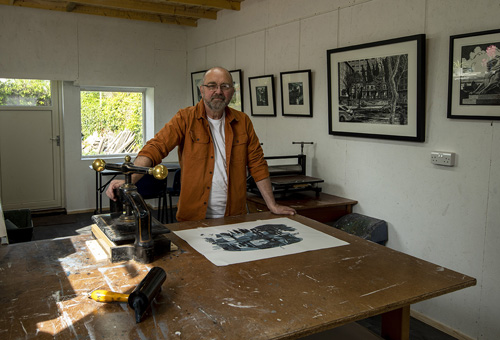 Describe your printmaking process.
Most of my work is landscape, so I get images from walking the amazing coast we have here. I look for strong compositional ideas, draw, take photos and distil the idea into an ink wash drawing. I transfer the image onto lino in the usual tracing paper and pencil way and then make a complex, quite complete ink wash (acrylic ink) and Posca pen drawing on the block. The process of re-creating the image in a detailed tonal way gives me a good handle on what I want to do with the tones – I'd say my work is more about exploring tones than colour. I like the directness of the reduction process so the tonal exploration on the block will show me the steps I need to take.
I use the standard grey artists' lino for a lot of work but if I'm making a larger more complex piece I like to use contract Marmoleum, which has a tighter, firmer surface. I use oil-based inks – I have tried water-based but find the quality of the oil more satisfying. I have a Victorian pinch press/book press which I use for a large proportion of my prints. For the bigger ones these days I use the hand Slama Press. I also recently took my largest block (1.2m wide) to the print studio in Aberdeen, Peacock Arts, to get them to make the edition.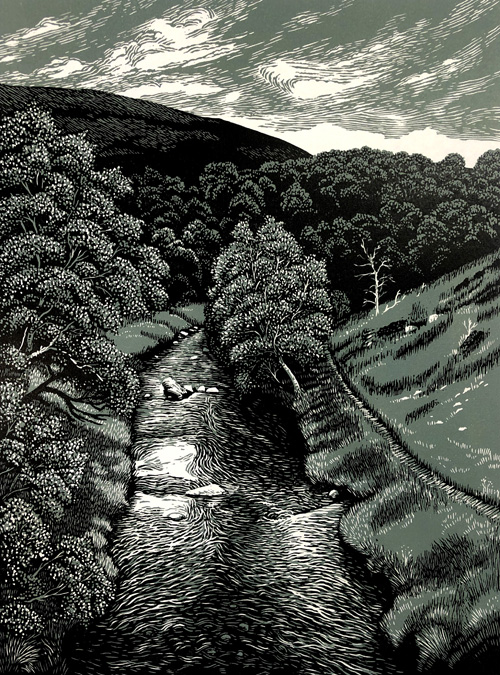 How and where did you learn to print?
I am largely self-taught. I didn't do any printmaking at art college, although I did do some screen printing at school (over 40 years ago!). I wanted to make multiples as I was painting and drawing and found my work could only be sold once. I took up lino for two main reasons, it could be done without access to a print studio, and I loved carving. After a couple of years, I did do an evening class at my old art college, mainly to learn how to use the presses. There were a couple of printmakers that personally helped me, Michael Waight, who was the Master Printmaker at Peacock Arts, and Chris Pig, a friend, guide and masterful printmaker.

Why printmaking?
As I always had drawing as a core skill, it transferred into printmaking easily for me. The use of the cutting tool is a drawing tool for me so it is a good fit.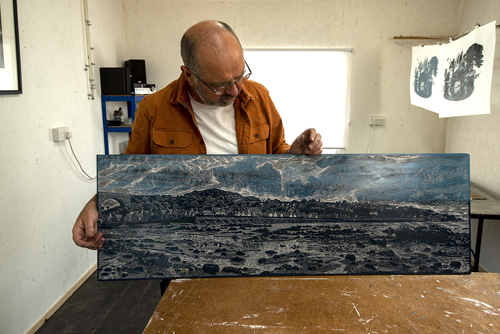 Where do you work?
I built a studio in my garden earlier this year. I was working in my house, lucky enough to have a spare room, but the new studio gives me so much more space and latitude.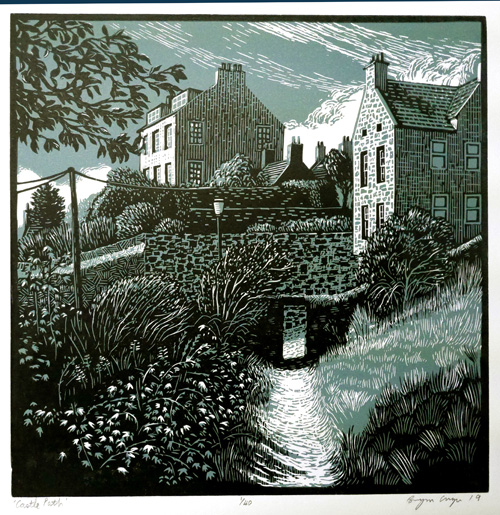 Describe a typical day in your studio.
In the studio at about 9.30, right now I'm working on a couple of large linos for a new visitor centre for Arbikie Distillery. The piece I've completed is about A1 and will be scanned and blown up for the reception area. I spend the day cutting that, with the odd dog walk with Alfie the Border Terrier to the beach and break for food and end about 5. I can't cut all day now though, arthritis in my hands is slowing that up.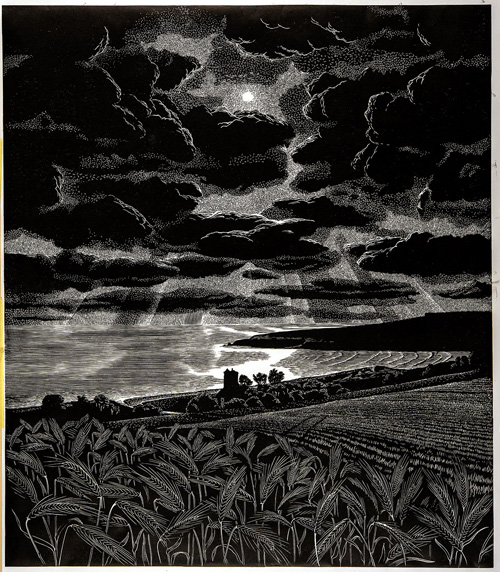 How long have you been printmaking?
I started in 2012. It was actually during a painting holiday that I was teaching in the business my wife and I ran in Gardenstown on the Moray Firth. One of the people on the holiday took their own reduction lino printing kit and the other guests asked me to explain how it worked. I dredged up what knowledge I had (helped by the guest with the kit), and talked it through. I realised I had bought some lino kit, so I offered it around for people to try. I began to try it myself and got hooked.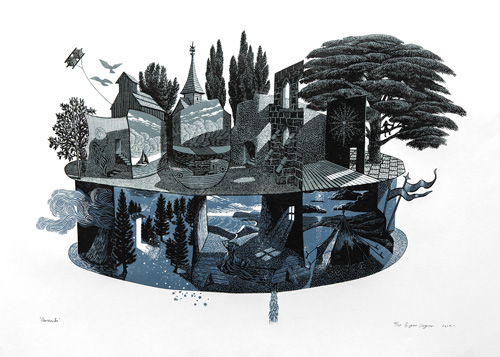 What inspires you?
Light, interesting compositional shapes, and contrasts. For my 'magical reality' prints, which play with light, things and ideas, I think back on my time in the 80s/90s as a theatre designer. Many of those prints could be described as theatre sets I couldn't build.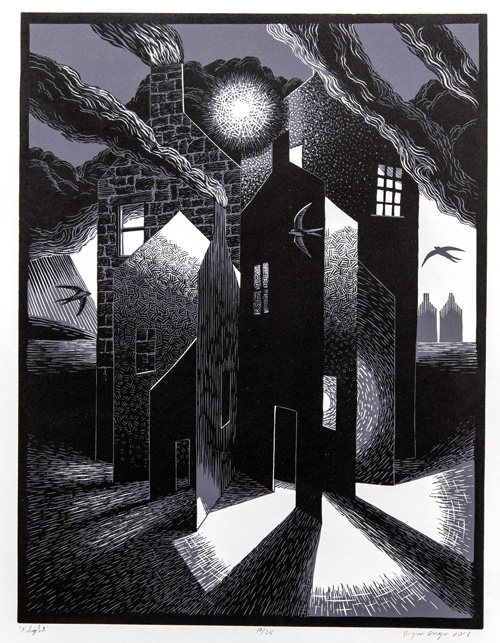 What is your favourite printmaking product?
It's a split between a bright new Pfeil tool and a good Durathene roller. Both were leaps forward in my work when I started using them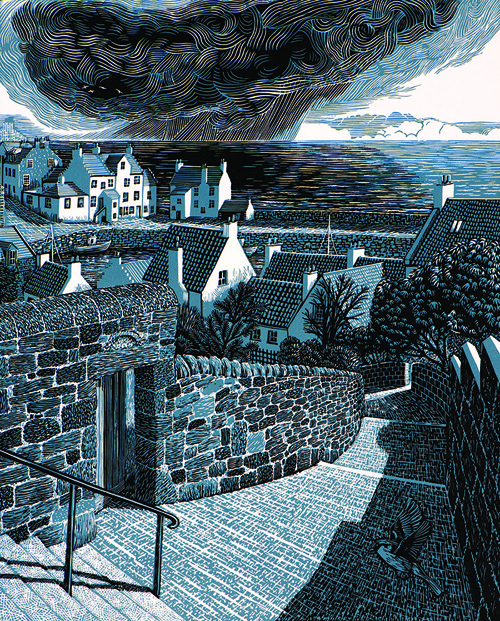 What have you made that you are most proud of?
I most love the project I'm working on and think that's going to be the best thing – whether it ends up being that or not. But I'm probably most proud of changing my life so that I could get back to making artwork. I started loving drawing and making things as a child and the process of going to art college had a negative effect on me and stopped me from making art, however, I was still creative in other ways. But making myself an artistic career later in life, I'm proud of that.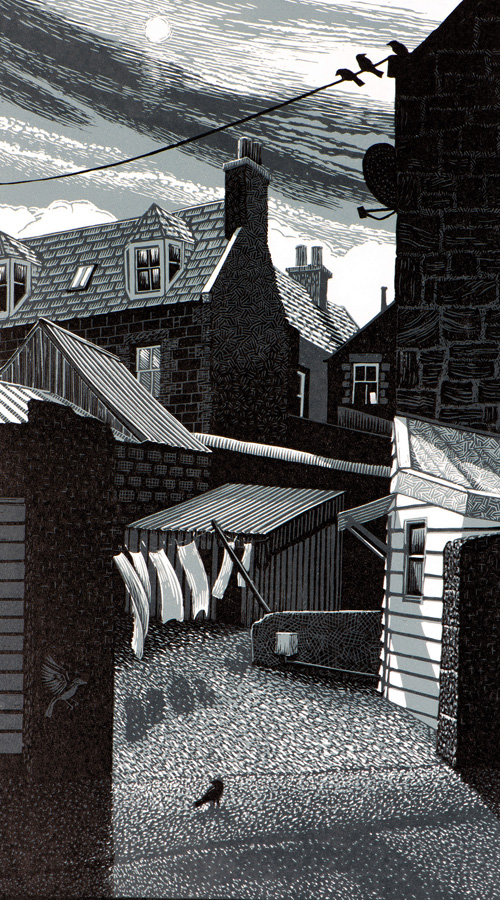 Where can we see your work? Where do you sell?
I sell in a couple of galleries near me in the northeast of Scotland, but this winter you'll be able to see small groups of my work at the Rheged Centre in Penrith at the Great North Print Exhibition and at Horsebridge Arts Centre in Whitstable.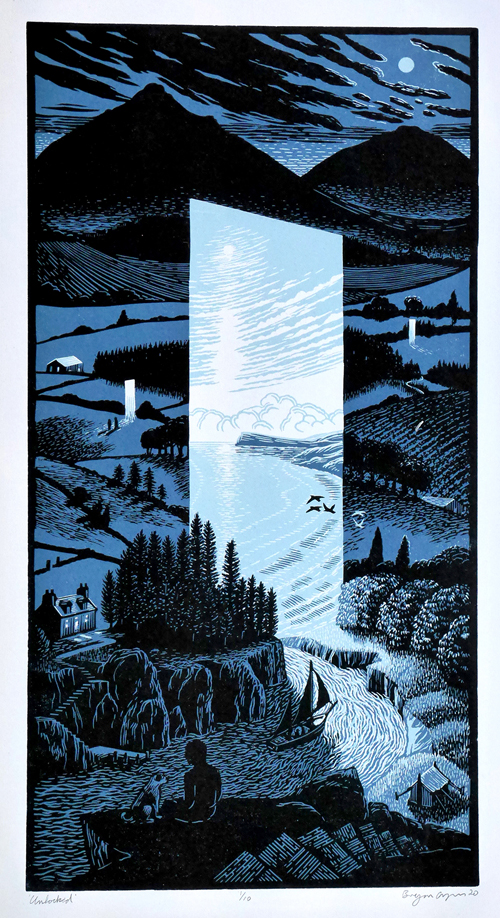 What will we be seeing from you next?
I have in mind some large prints, having made work at Peacock Arts, I'd like to make some big magical reality pieces that look at childhood, my family past and memories. Yeah, I'm an old bloke now.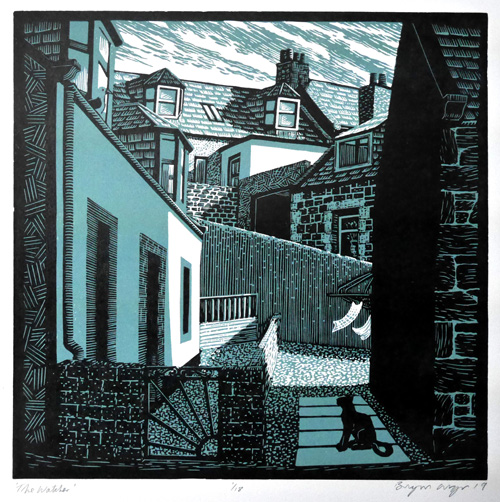 Do you have any advice for other printmakers and creatives?
Printmakers are better at learning from peers than painters, probably due to the print studio system, but I'd still say, keep asking questions of other printmakers and keep challenging your skill level.
To see more from Bryan follow him on Instagram and check out his website.