My name is Sam, I own a clothing brand called Tens Studio and I am a textile designer and artist. My work explores the visibility of my heritage and Black British history through sustainable handcrafted textiles.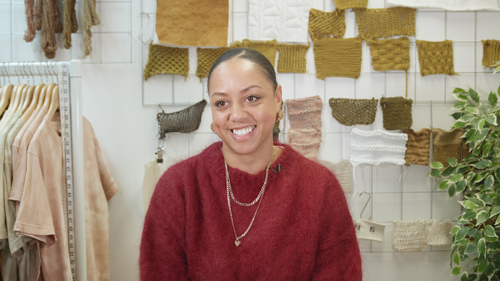 Describe your dyeing process.
I make natural dyes using food waste such as onion and avocado skins. I have also made my own copper and iron modifiers which alter the tone of the dyes to produce a wider range of colours. I have been experimenting with pattern and tone with tie-dyeing techniques.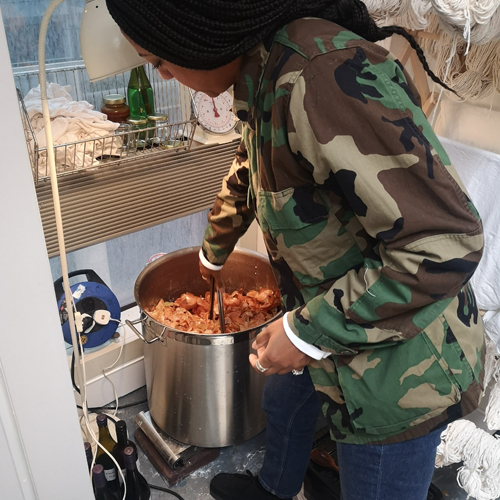 How and where did you learn to dye?
I learnt this process at home from Jenny Dean's books during the first lockdown last year. I also got a lot of help from May Hands. The beginning stages of learning the process was quite daunting so it was nice to be able to ask her lots of questions! When learning something new, I always find I make a lot of mistakes and with the natural dyeing process, I have had to learn to let go and enjoy the process.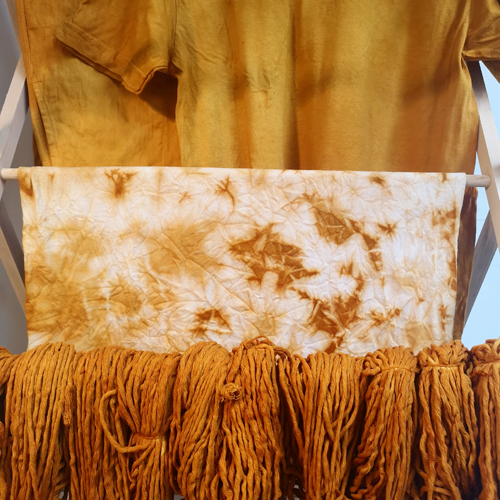 Why natural dyeing?
I wanted to try natural dyes for a while. I love the idea of going back to basics and using what you have in your immediate surroundings. I love saving food waste and foraging for things like alder cones and acorns in the park. When making your own copper and iron water you can see it start to work after a few weeks when the water changes colour, which is a really satisfying feeling. I find it all so interesting and I love the DIY aspect of it.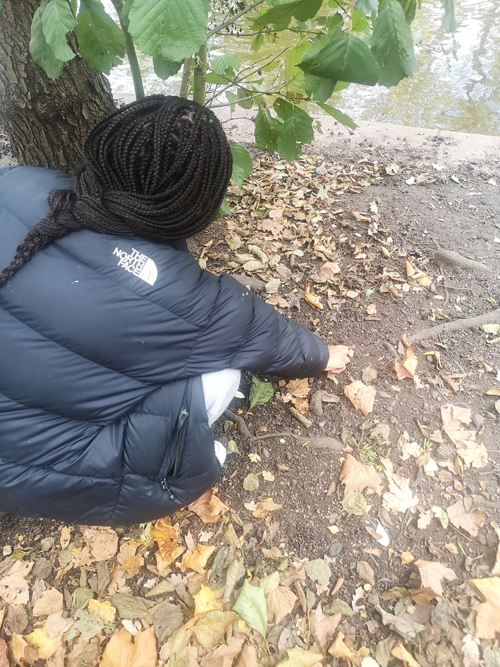 Where do you work?
I have a studio on Holborn Viaduct which is part of The Koppel Project so I am surrounded by lots of talented artists and makers.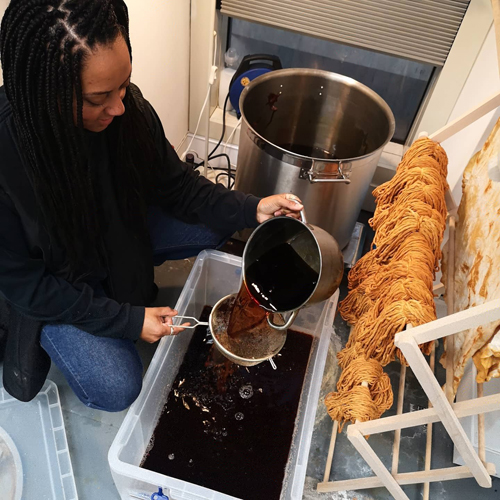 Describe a typical day in your studio.
A typical day in my studio includes some part of the natural dyeing process. The process is quite long, lasting a few days so I've always got different buckets with different things going on in each of them. I'm always flitting between each step of the process throughout the day. Once I've used the dye bath I will reduce the liquid down to a pigment to use as an ink or to paint with. In between this I am doing admin or planning the completion of my new collection.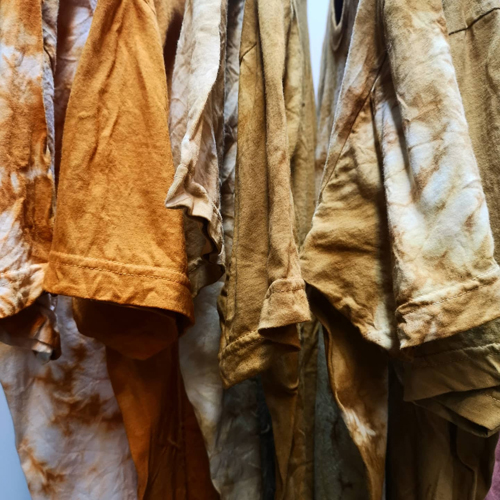 How long have you been natural dyeing?
I started natural dyeing during the first lockdown last year and I've been doing it every day since. I'm still amazed at how something that I used to throw away, like onion skins, has become so useful to me. I've got lots of friends and some Instagram followers saving their food waste for me to dye with.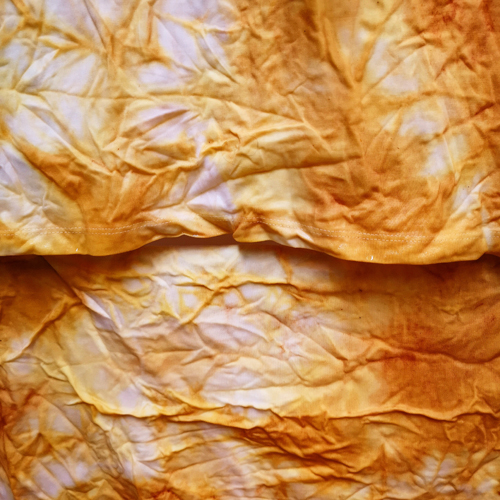 What inspires you?
Nature and the stillness of the first lockdown inspired me to go back to basics and made me consider my impact as a designer on the planet. I am always inspired by Black history. Last year's events, starting with the announcement that Black and brown people were 4 times likely to die from Coronavirus, despite this people were being sent back to work. This news angered me and led me to look at Black British activism during the '70s; the British Black Panthers, the Mangrove 9 and key figures like Darcus Howe, Althea Jones Lacointe and Olive Morris. Looking at these activists and inspirational historical events gave me hope that grassroots activism can lead to change. A couple of months later George Floyd was murdered, the BLM movement resurged and the need for grassroots activism was more important than ever.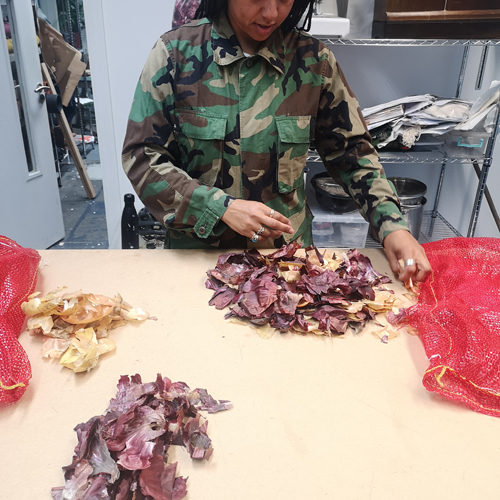 What is your favourite dye product?
Red onions skins are my favourite thing to dye with because they can produce a lovely deep green, my favourite colour. When you add iron water it turns the colour darker and can be described as a sadder tone. Add copper water and the colour turns a warmer shade. I love that these simple actions can develop new colour.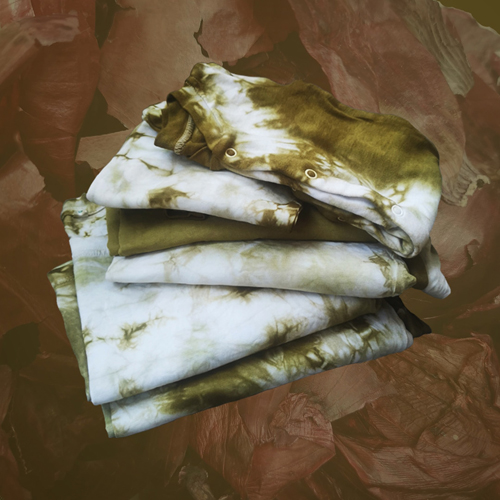 What have you made that you are most proud of?
The patterns that come out of tie-dyeing with natural dyes are so beautiful, they look a bit like marble. My new year's resolution is to make a quilt from hand-dyed pieces of fabric that I have collected over the year from each dye bath, I anticipate this will be my most proud creation!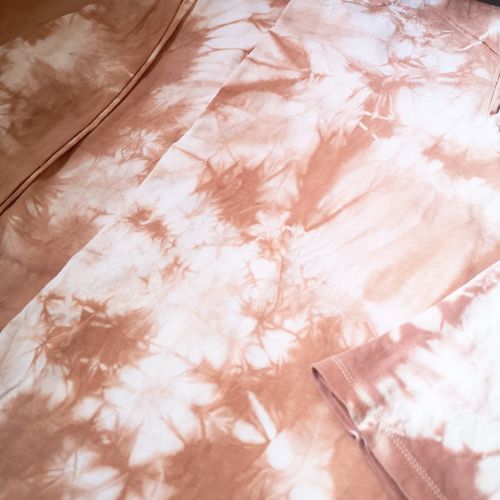 Where can we see your work? Where do you sell?
You can see my work on my website, at the moment I sell there and on Instagram. This Spring I will be selling on a new platform for Black-owned brands called Ourhood Community. A percentage of the profits will go to supporting Black focused charities and community projects.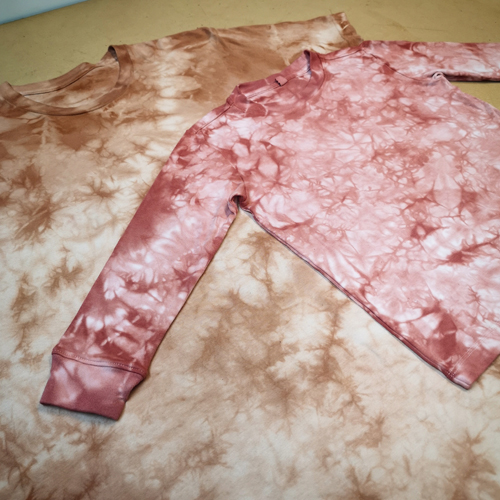 What will we be seeing from you next?
Next, I would like to try botanical dyeing with plants like nettle, ivy, eucalyptus and tagete flowers.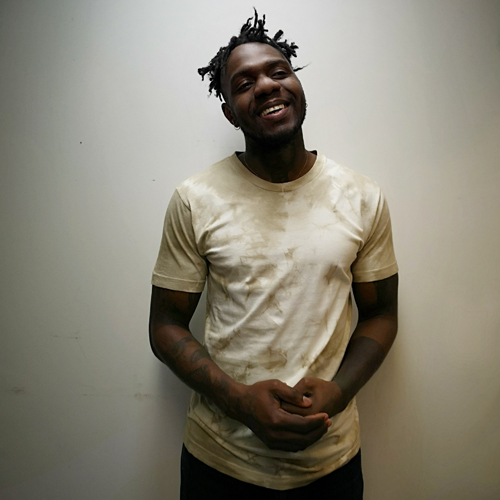 Do you have any advice for other printmakers and creatives?
My advice would be to experiment and explore as much as you can and learn new techniques. View creativity as self-care, something to use for your own wellbeing – not for anyone or anything else. Embrace constraints as opportunities rather than restrictions and use this chance to become self-sustainable, creating your own materials.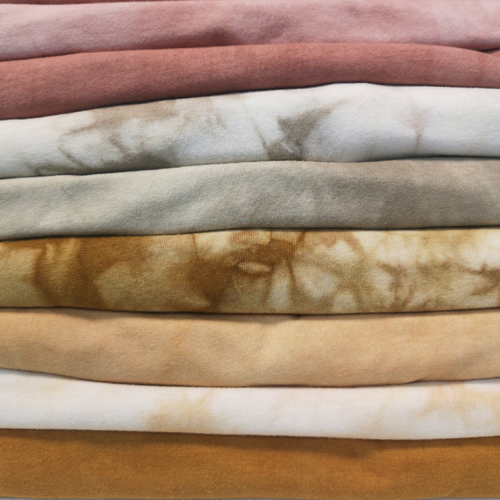 To see more of Sams work follow her on Instagram.