Hi, my name is Alyn, and I am a Cardiff-based Illustrator and Printmaker. I use low-tech print processes, alongside digital technology, to create positive and colourful images.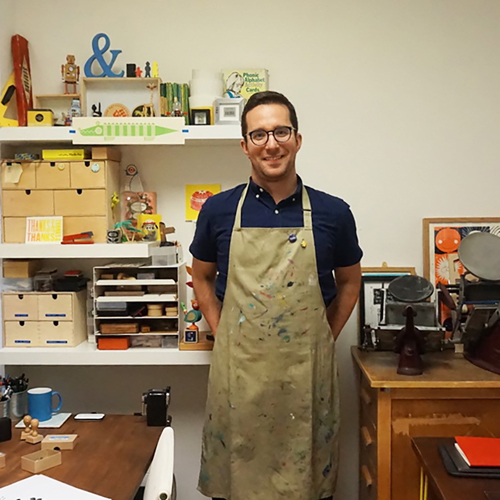 Describe your printmaking process.
Everything starts in my sketchbook. I always have a sketchbook on the go, and it's filled with scruffy sketches and notes. Once I have a final sketch pencilled out, I will scan it in and come back to it later. When I am sketching, I try to keep in my mind what rubber stamp shapes I have where they could be used in the composition. For instance, I have a set of head shape rubber stamps and in the sketch stage, I will decide what stamp to use for the head.
Next is the time I get inky! I use my rubber shape stamps and print them out in black as well as using texture stamps and rollers, which can be used for things like clothing, backgrounds, or buildings. All the printed shapes and stamps are scanned in and manipulated in photoshop, overlaying the initial pencil sketch, to create the final piece. I have a set colour palette that was created from the colour pencils I have on my desk; this way I can easily replicate the colours I have in my sketchbook.
Every time I print a new shape or a texture it gets added to my digital print library, this can then draw on for all future projects and although you can purchase print textures/brushes I like how I am the only one with these particular textures and shapes, which I hope makes my work unique.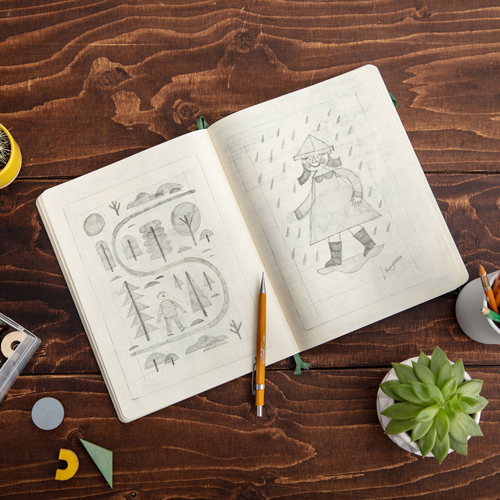 How and where did you learn to print?
I did a bit of relief and screen printing at both college and university, but my interest in printmaking really came about when I joined Swansea Print Workshop in 2011. I was there for around 2 years and then later joined The Printhaus Workshops when I moved to Cardiff in 2014.
In June of last year, I completed a master's degree in multi-disciplinary printmaking at the University of the West of England, Bristol. I did the degree part-time for over 3 years and it was a time for me to be able to experiment and hone my craft using the fantastic equipment and guidance from the amazing staff.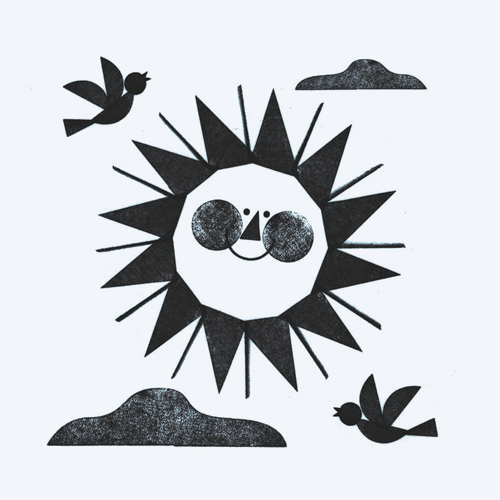 Why printmaking?
I love how hands-on printmaking can be as well as how experimental you can make it. Being able to take some relatively basic tools and some ink and create something like no other in such a short space of time feels almost magical to me.
Over the years I have done a lot of screen printing, even selling quite a large range of screen printed greeting cards at one point. I feel like I have found my niche in using relief printmaking with quite basic geometric rubber stamp shapes and a bunch of rollers.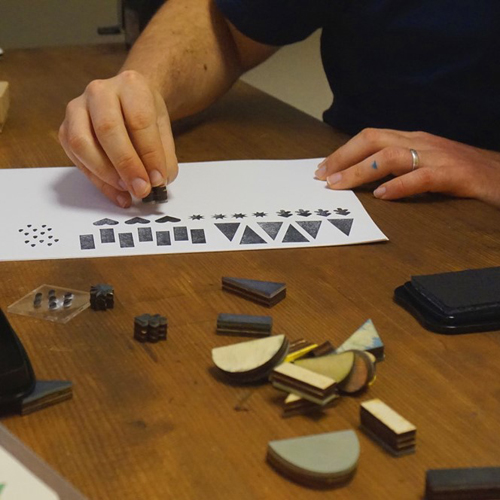 Where do you work?
I am lucky to have a studio space amongst other creatives at Meanwhile House, which is near the centre of Cardiff. The studio holders there range from a signwriter, fine artists, a chocolatier, and a florist.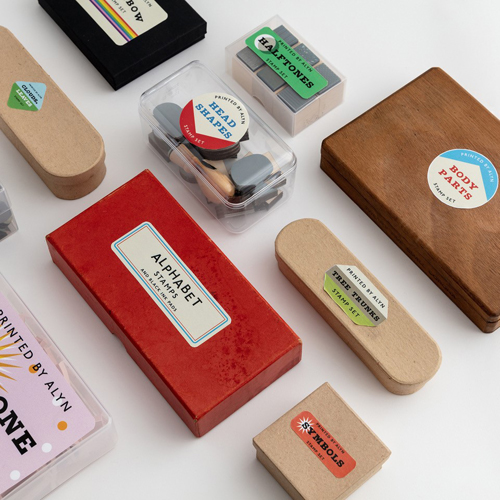 Describe a typical day in your studio.
Most days I will take my boys to school and then head to the studio at 10am. More frequently now I am sat at my laptop, but I try and give myself time at least once a week where the laptop goes away and I can get my fingers inky!
I have kept a wall in my studio empty, so when I have printmaking days, I can tape up all the prints to the wall to dry and be surrounded by printed textures for a couple of days.
On days where I can't print, I at least try and spend some time drawing. My sketchbook is full of half-baked ideas that may or may not be used at that time, but so many times I have come back to old sketches in future projects. When I don't have to do the afternoon school run, I stay in the studio until around 6-6:30 and take a relaxed drive home through the centre of Cardiff when the roads are much quieter. This is my time to unwind, process the day and decide what needs to be done tomorrow.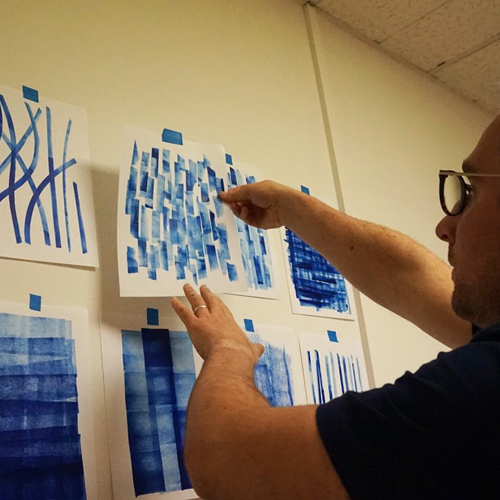 How long have you been printmaking?
I did my foundation art course at college in 2003 where I was first introduced to printmaking with woodcuts and some screen printing using water-based crayons, so over 17 years now!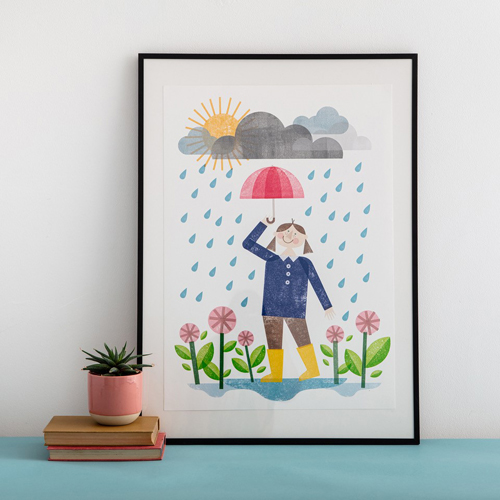 What inspires you?
I love mid-century packaging and illustration and I try to capture some of its nostalgic charms in my own work. I have, what I call, the inspiration suitcase. It's an old beaten up leather suitcase that I bought years ago in an antique shop in Cardigan. It's bursting with old postcards, tickets, packaging, sweet wrappers, matchbox labels and so much more. When I am feeling stuck, I just open up the suitcase and have a rummage through.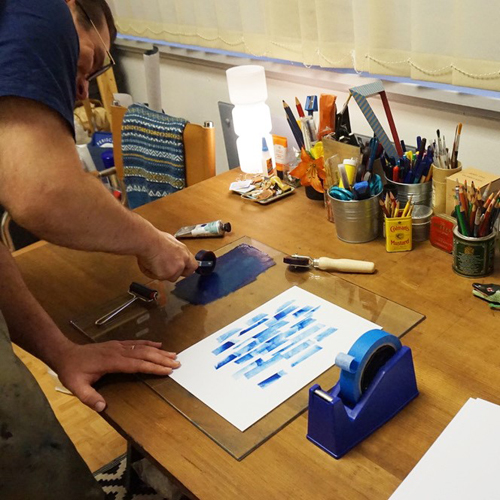 What is your favourite printmaking product?
The product I use every day is a Stazon Black ink pad. I have a few that are in varying stages of inkiness. I love the texture that's transferred to the paper via the stamp and you can print the ink onto anything, and it dries in no time.
A more recent purchase though is a couple of narrow, wooden handled soft rubber inking rollers. I had been looking at them for a while and I decided to buy them as a lockdown treat! I bought the 9mm and 15mm wide rollers to create some new and interesting textures. They're really fun to use and I can see them being used during a lot of print days in the future!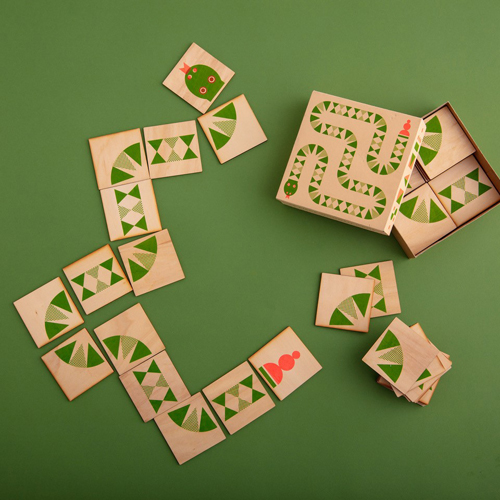 What have you made that you are most proud of?
For some reason, and I am not exactly sure why I keep coming back to the snake motif. In 2016, whilst doing a lot of screen printing at The Printhaus Workshops, I created a set of wooden screen-printed tiles that are almost like snake dominoes. I even screen-printed the box they are kept in. The wooden tiles can be laid out to create a meandering snake across the table or floor. There was only one set made and for no reason apart from just for fun, but I think that's part of its charm. This project still makes me smile today.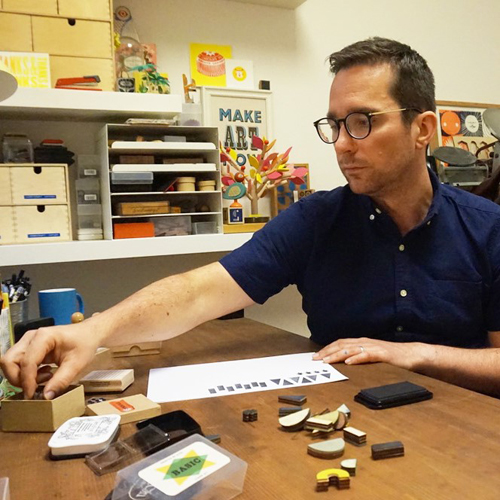 Where can we see your work? Where do you sell?
I mostly post images of my work on Instagram and I have an Esty shop where I sell greeting cards, artist stamps and prints. I am working on a website at the moment with some new projects that I hope will be online in 2021.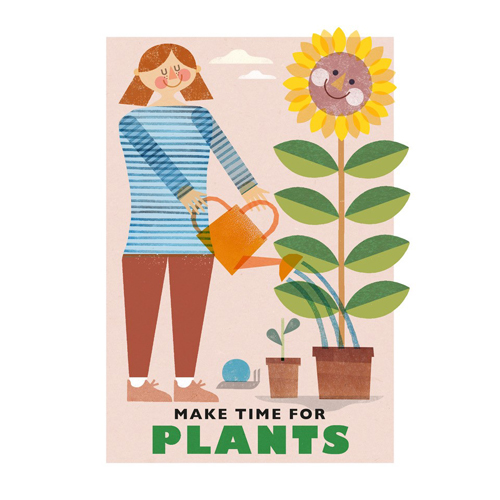 What will we be seeing from you next?
In 2020 I had my first go at teaching some workshops via zoom and I am hoping that I will be doing more in 2021. I would love to be able to sell small rubber stamp sets that include some of my shapes so that people can have a go at printmaking at home.
2020 was a strange year and although there were many things that weren't able to go ahead, there was a lot of joy being made by creatives across social media. I have enjoyed being part of that wave of creativity and positivity and I hope to continue creating work that hopefully brings a smile or two to people's faces.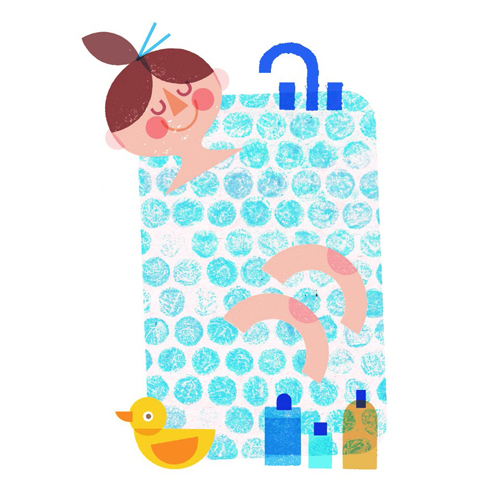 Do you have any advice for other printmakers and creatives?
Make time to play. By this I mean, take some time to muck about and get messy! You don't always have to know the outcome before you start. Some of my best ideas have come when my mind has been in a state of play and curiosity. If you are having fun making something, chances are that people viewing your work will see that too. Have some fun!
To see more from Alyn follow him on Instagram.