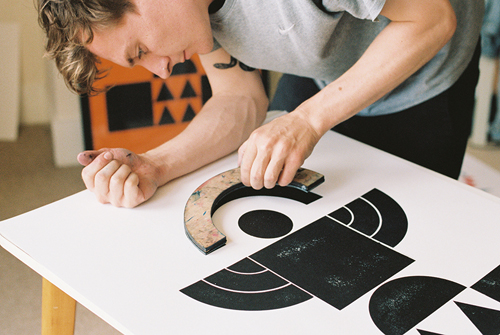 Will is a graphic artist, designer and printmaker currently based in Brighton. He began freelancing full-time in 2018 and now divides his time between commercial work and personal projects. Will's personal work explores improvisation and play within design through the use of modular systems and printmaking techniques.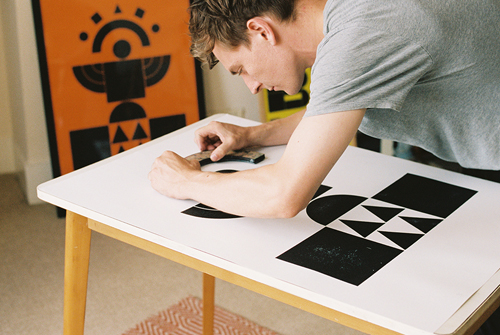 Describe your printmaking process.
I've experimented with a variety of printmaking processes but for the majority of my work I use a process similar to block printing. I have a set of large rubber stamps in a variety of geometric shapes and stamp these piece by piece to create prints depicting typographic messages and graphic symbols. The idea was a follow-on from a previous project creating woodblock prints using a set of geometric tiles – by flipping the process and using the stamps, you have far less limitations and there's a lot more opportunity for improvisation and play as the design develops.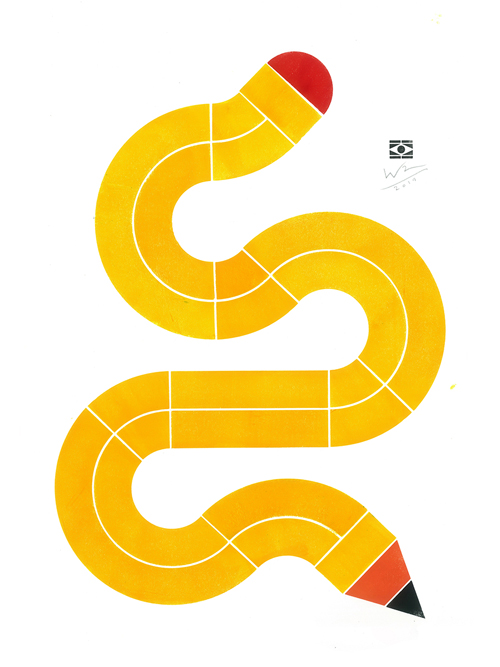 How and where did you learn to print?
I did workshops in letterpress and silkscreen printing during my foundation and BA degrees and so I suppose I learnt the basics there but I never really engaged much with it at the time and I could have definitely have experimented more when I had access to all of those facilities. In terms of the printmaking I do now, a lot of what I've learnt has developed from trial and error and by messing around with print. It's such a fun thing to experiment with and depending on the process it's also very accessible and easy to jump into.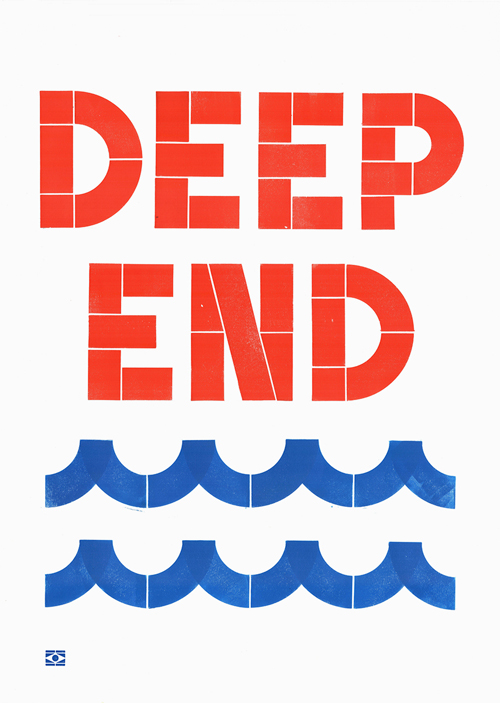 Why printmaking?
A lot of my personal work as a designer is focused on creative play and improvisation and I experiment a lot with modular systems and geometric shapes as a way of creating a variety of results very quickly. For me, the printmaking process is a way of capturing the results of that play experience and the unpredictable nature of print always adds an exciting twist to whatever you create.
Where do you work?
I have a studio space at New England House in Brighton and I do all of my freelance work and printmaking from there. For years I was doing the printmaking from home but when I started freelancing full-time it felt like a good point to find a bit of extra space. I share the studio with five other creatives, working in a variety of disciplines so it's always interesting to see what everyone's working on and it's great being able to bounce ideas around and get some different perspectives.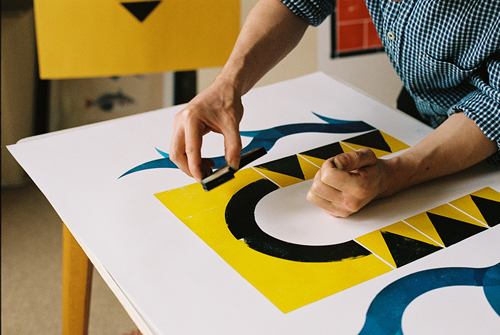 Describe a typical day in your studio.
The day often depends on what freelance work I have to be getting on with. I've found the best way of balancing everything is to get in early and get started on the commercial work. Once the works been sent off I usually have a bit of time free to work on print ideas whilst I wait to hear back from clients. If I'm experimenting with something new I'll either test some rough ideas out in Illustrator to get a sense of where I'm going with it or go straight for the hands on approach and start printing. As each design is printed block-by-block the process can be quite time consuming so I usually try and take a day a week where I avoid any digital work and focus completely on creating finished prints.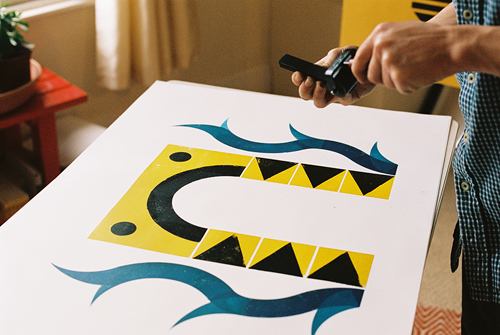 How long have you been printmaking? 
I sort of started by accident about three or four years ago – I was using these tangram-style, geometric blocks I'd had laser-cut to create typography and simple graphic forms. It was meant as an idea generation tool and originally I was just photographing the results and messing them back up before starting again. At some point it clicked that creating relief prints from them would be a far more pleasing way to capture the designs and I just loved the new dimension it gave to the project. After that I kept finding new ways to incorporate printmaking into my work.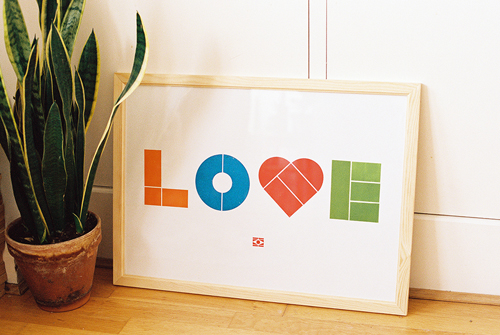 What inspires you?
I'm a big fan of bits of everyday design and I really like old signage and pictograms, there's something pleasing about taking an existing, recognisable image or message and putting it in a new context. When it comes to the big stamp prints I do, a lot of inspiration comes from just walking around – I find there's patterns and grids built into so many things and this can help form the basis for an idea or show how certain forms could work together. In terms of other work that inspire me I think simple, thought through ideas always work best and I really enjoy anything that has a bit of charm to it.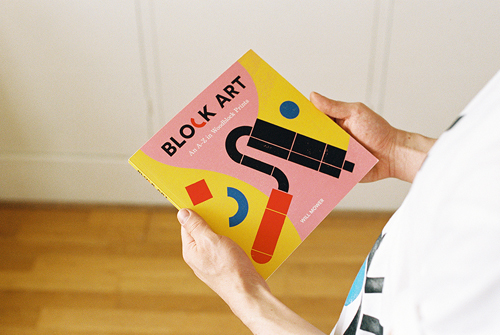 What is your favourite printmaking product?

Discovering the caligo safe wash inks has been really helpful – they're so easy to clean down and they get a nice print with the stamps I use. When I first started experimenting with woodblock printing I was using cheap waterbased inks and there was so much more trial and error to get a good print. I've also recently bought a Woodzilla printing press – I haven't had a lot of time to experiment yet but I'm very excited to see what I can do with it.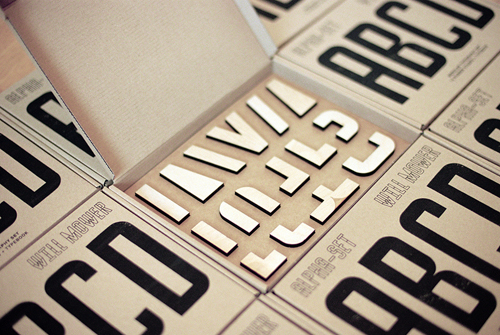 What have you made that you are most proud of?
I've just finished working on something called the Alpha-Set – it's a modular, 16 piece, rubber-stamp typography kit. I did a short run of it last year and had a really good response to it so have just finished work on a much larger run. A lot of work has gone into both the design and the production of the sets so I'm really pleased it's finally all come together. The sets are sold through my website and I'm in the process of posting them all out so I'm very excited to see what everyone comes up with!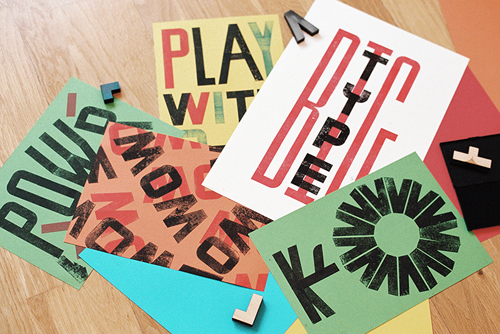 Where can we see your work? Where do you sell?
The best way to see what I'm working on and where I'm selling work is either through my website or through Instagram. I have an online shop on my website and I'm regularly posting up new projects and work in development on my Instagram account. At some point soon I'll be taking part in some exhibitions and print fairs – I'll be posting information about them on my Instagram account nearer the time so you can keep up-to-date there.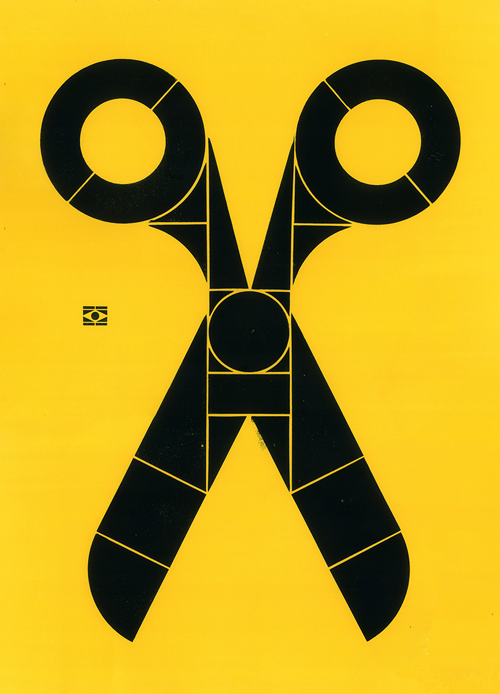 What will we be seeing from you next? 
I'm currently working on a design project that will mix elements of printmaking with digital/interactive design. I've got the idea down but it's still got a bit of a way to go until it's a reality so I don't want to share too much yet – although I'm sure I'll start sharing some bits on social media soon!

  Do you have any advice for other printmakers and creatives?
I think the most important thing I've learned is to try everything and play as much as possible with what your working with – a lot of ideas I have don't really work the first time, whether in concept or application, but there's still a lot of value in going through that process. Often something that doesn't quite work out will help me find the missing piece for some other idea or will be the start of a whole new thing that I hadn't thought of yet.

Follow Will on Instagram or head over to his website to see more.