I am Hugh Dunford Wood, aged just 70, and I have been an artist/designer all my working life. I paint landscapes & portraits, I sculpt in strap steel and sometimes in neon; I throw pots and plates for my own use and I do a bit of graphic work such as hand drawn invitations and letterheads; I paint murals, engrave glass, and cut Lino blocks to print. I have always run a design practice alongside my art work. It is more sociable that way and keeps me sane. I maintain a steady practice of drawing in a sketchbook which feeds my appetites and my imagination.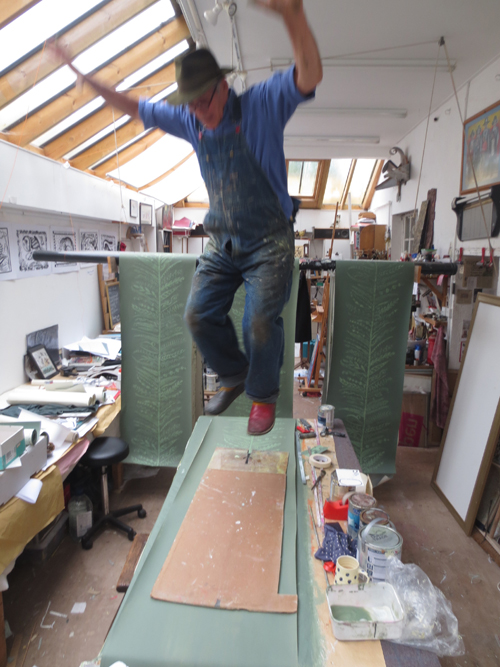 Describe your printmaking process.
I have two printing practices, both using Lino. One is the design and making of printed linens, for furnishings and for cushions; the other is making small linocuts from observation or from the imagination that I print onto a variety of papers and combine to make collaged linocuts, or Collinos. These are one offs and are exhibited and sold through galleries and art fairs. Oh I also edition landscape prints, most recently a couple from a painting trip last year to the Saxon Villages of Transylvania, in Roumania.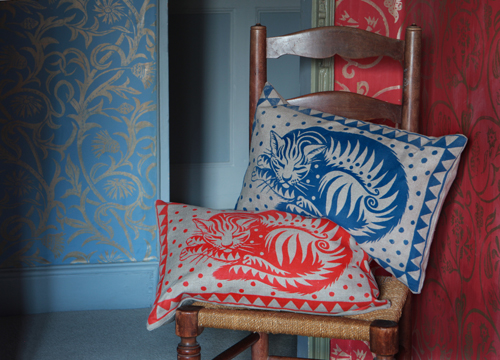 How and where did you learn to print?
I was apprenticed to Peggy Angus in the 1970s, and she taught me much of what the Ruskin School of Art did not. The Ruskin gave me the eye and a hand to draw and to paint with. Peggy lived in Camden Studios, and in Barra, and also near Charleston in Sussex she had a small isolated shepherds cottage under the Downs that she first rented with Eric Ravilious in about 1937. Her son died of epilepsy aged 22, and sent her young men of his age to help her out. I was the second of three.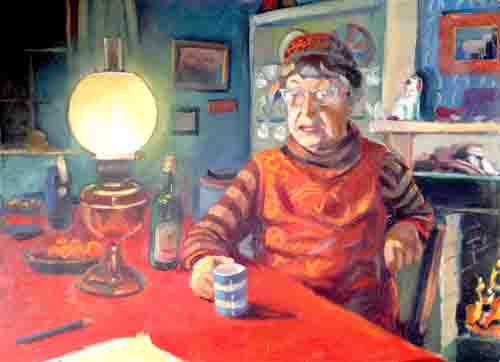 Why printmaking?
I enjoy its definition, its directness and its simplicity. I often print the small Lino blocks with the back of a spoon, and the very large wallpaper blocks by climbing on the print table and stomping out a print.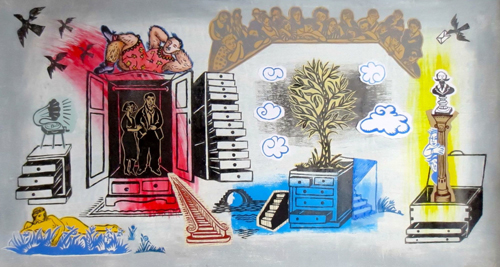 Where do you work?
I have been fortunate to always have a dedicated studio attached to my home. We have just moved back to Bridport in West Dorset and the whole of the ground floor of the house is my domain.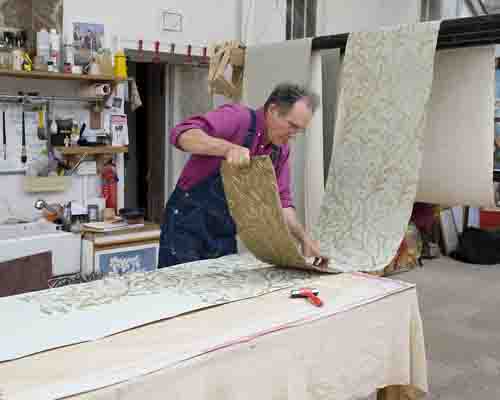 Describe a typical day in your studio.
If I have a commission on the books I just get on with it, otherwise I play with ideas that have arisen as I lie excitedly awake in the early hours. I sleep less now, but my dreams are richer for that.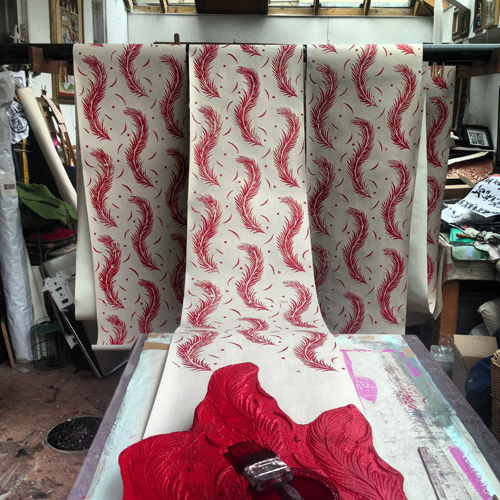 How long have you been printmaking?
For about 50 years, and more than ever in the last 15.

What inspires you?
The natural world is indefatigable in its giving. So I draw all the time. That is my foundation, my way or relating to the world. I love music and other people, especially younger generations who give me so many ideas. I started teaching about 10 years ago, having always maintained that I was too busy and selfish to bother. I get enormous pleasure from passing on the skills I have been taught, and encouraging confidence in others.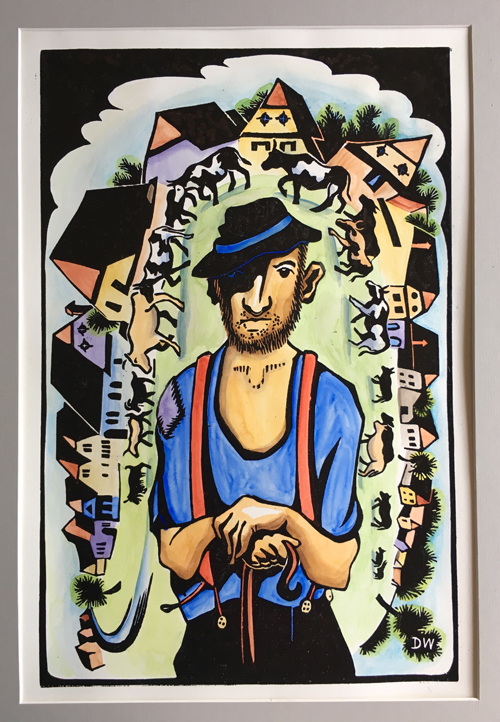 What is your favourite printmaking product?
Linoleum, paper and ink.
What have you made that you are most proud of?
Being one of the three founders of the Oxford Art Week in the early 1980s, which has led to a nationwide, and international, celebration of Open Studios. Art and making are everyone's birthright.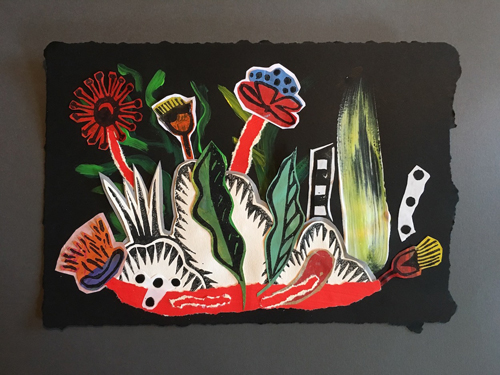 Where can we see your work? Where do you sell?
I have work in the V&A, the Devon Guild of Craftsmen, and various galleries.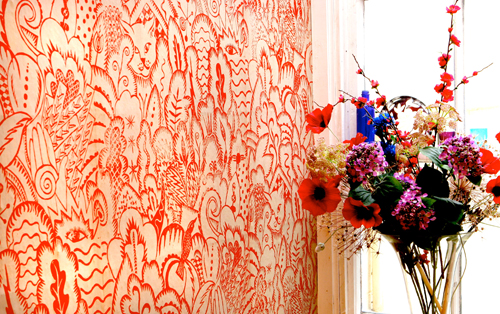 What will we be seeing from you next?
New sculpture in Parlour, Kensal; a mural in the Marine Theatre, Lyme Regis; some new cushion designs and also a couple of fresh wallpapers before the year is out. I am also giving a Weekend Wallpaper Making Workshop soon and another Travelling Sketchbook Weekend if you are lucky enough to get a place on either.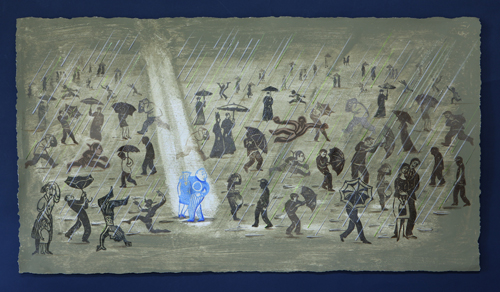 Do you have any advice for other printmakers and creatives?
Neither hide nor hoard your talents, but share them, and accrue to them by enquiry with other artists and makers. Celebrate life and remember that the world is full of hosts – there are just not enough guests. So travel, overland, with your sketchbook and not with a camera.

I am on Instagram and Facebook – @hughdunfordwood, and my website www.dunfordwood.com has a diary of news.