My name is Rachel Winsper, I'm a pattern maker and hand printer based in South Staffordshire. I work from a small pink studio at home, surrounded by patterns and colours.  I create handprinted wallpaper and decorative printed items for the home.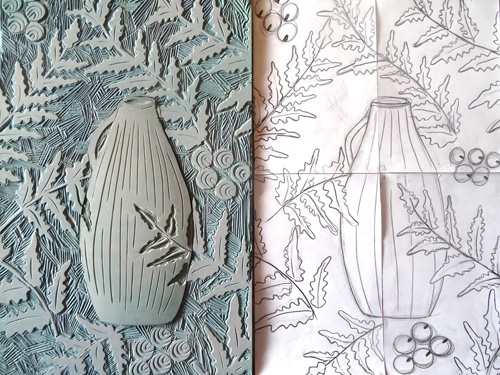 Describe your printmaking process.
Once I have an idea for a pattern, I like to sketch it out on graph paper. I find the grids useful to create a sense of symmetry and balance in my patterns.  I'm often creating a wallpaper design, so I will already have an idea of the size and scale that works, and how the pattern will repeat. Once I'm happy with the pattern, I transfer the design onto the cutting surface using a pencil and tracing paper. I then use a small-sized cutting tool to outline the whole design before I begin cutting away. All of my test prints are printed in pink ink, it's become a bit of tradition that I like to keep. There's nothing more exciting than the first test print of a design, even though I have a good idea of how it's going to look at the design stage, there is always an element of surprise from the printmaking process.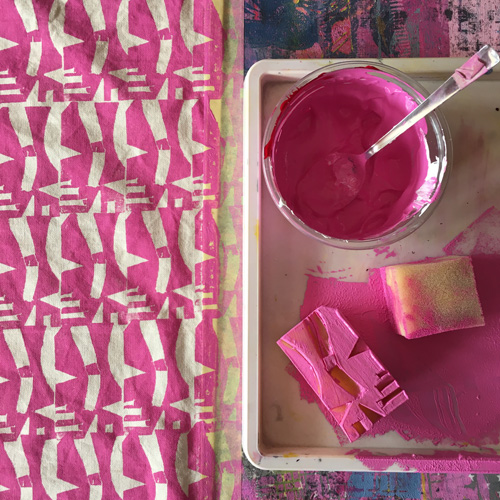 How and where did you learn to print?
I love interiors, fabrics and wallpapers. I've worked in interior design and used to have my own interior design company, but I knew that one day I would love to be the one designing the papers and fabrics. I found the perfect workshop with the brilliant Vanessa and Flora Arbuthnott in the Cotswolds. I was familiar with Vanessa's designs, and I was intrigued to see if I could block print my own pattern designs onto fabrics and papers too. The workshop was a real catalyst for my journey, a real spark was ignited, and I quickly realised the possibilities and set about learning all I could about pattern design and printing. I haven't stopped designing and creating patterns since that first workshop.  I also love learning from other printmakers, I follow lots of generous printmakers that are always happy to share their knowledge.
Why printmaking?
Printmaking is an incredibly special and charming way of creating patterns. I love that you can see the makers mark in each pattern repeat and the small imperfections make for more interesting results, giving the finished piece a sense of energy and personality. It's also incredibly accessible – I can have an idea for a pattern, design, carve and print it all in the same day. The materials and are affordable, and you can do it on the kitchen table if you don't have a dedicated space.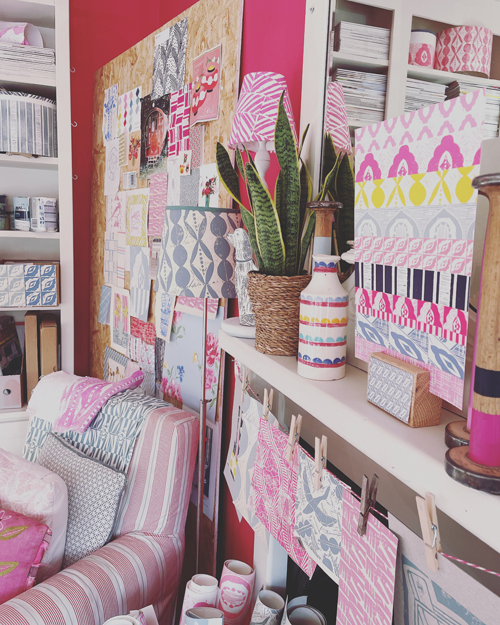 Where do you work?
I am very lucky to have my own studio space at home, it has bright pink walls and lots of light. I have a printing table as well as an area to design and carve my patterns. I have a very rudimentary cardboard tube and pully system that I use to print my wallpaper, it's basic but does the job! I long for a sink and wash-out area, now I make do with my trusty grey washing-up bowl perched on top of a picnic basket.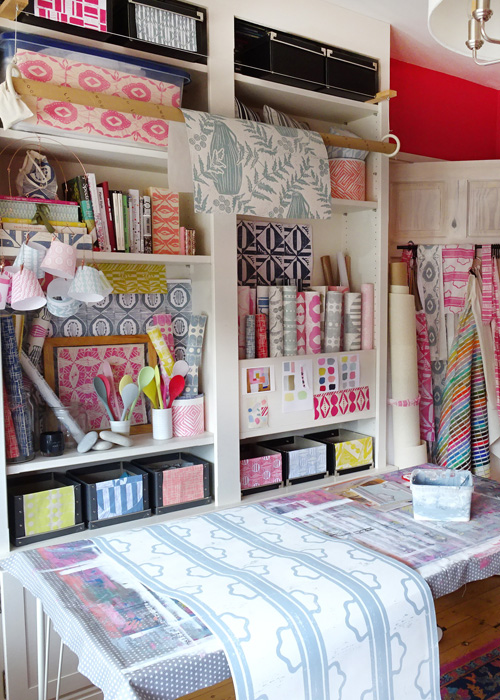 Describe a typical day in your studio.
I have three young boys and I work part-time at a local secondary school, so I mainly print afternoons, evenings and weekends. I like to prep all my base papers for wallpaper orders when I first come into the studio. They need a minimum of 24 hours to dry before they are printed. I've nearly always got a pattern design on the go, so I'll spend some time carving and test printing. I love sharing my work on social media and I like to keep my website up to date so that will be part of my day. I love nothing more than getting stuck into a large wallpaper order, I find the process incredibly mediative and calming.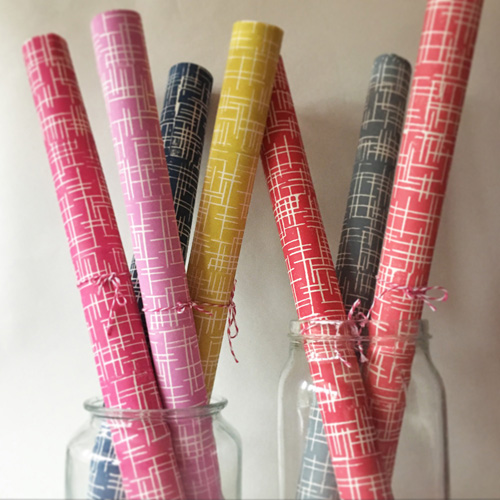 How long have you been printmaking?
I began printing in 2014, but I think it's really been the last couple of years that I have found my own signature style. I now have a process I trust, and I have worked out what works, what doesn't work and more importantly what I enjoy creating.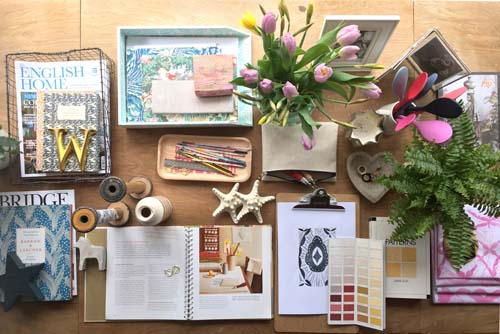 What inspires you?
I'm hugely inspired by the female artists of the inter-war years, I adore the print designs of Peggy Angus, Enid Marx and Barren & Larcher. It was after taking my children to the London Transport Museum that I first discovered these wonderful artists. I spent a long time admiring the patterned moquettes used on transport seating, designed by Enid Marx – I then fell down a rabbit hole and I haven't really come back up.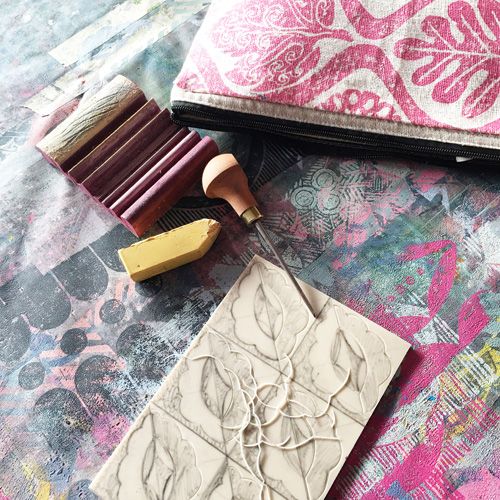 What is your favourite printmaking product?
My favourite printmaking product is my Pfeil cutting tools, I love the ritual of sharpening them each time I begin carving a new block. They are lovely to handle and perfect for outlining my designs and carving intricate details. I also love all the different surfaces there are to work with. I wash my wallpaper blocks regularly and I find the traditional lino doesn't last so well, however, the Easy Carve, SoftCut and Speedy Carve are very durable and long-lasting.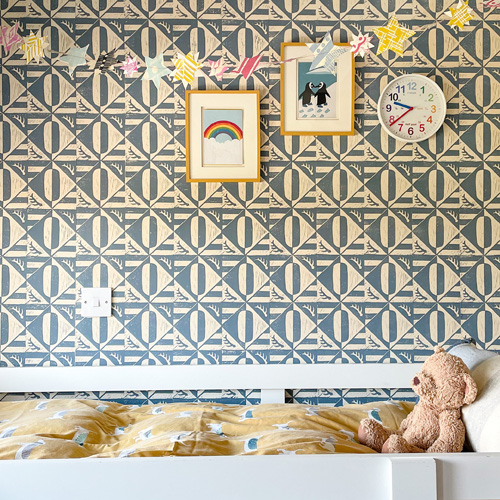 What have you made that you are most proud of?
One of my very first handprinted wallpaper commissions was from my son, he asked me to design a pattern based on the Porsche logo. I took the iconic antlers, shields and stripes from the logo and turned them into a simple repeat pattern design. I'm very proud of my hand printing on the wallpaper, it's straight and matches near perfectly. It still makes me smile when I go into his room.
Where can we see your work? Where do you sell?
I sell my work directly from my website. There you will find my wallpaper, greeting cards, printing kits, pencil pots and boxes. Whilst I will always make small batches of handprinted items for the home, I'm focusing more and more on my handprinted wallpaper. On the website, you can order samples and colour cards. I also loan out returnable samples so that you can see my wallpaper designs on a larger scale. I love to use Instagram to share my work and life in my pink studio. I'm also a proud member of the Heritage Craft Organisation, I have a page on their maker's directory.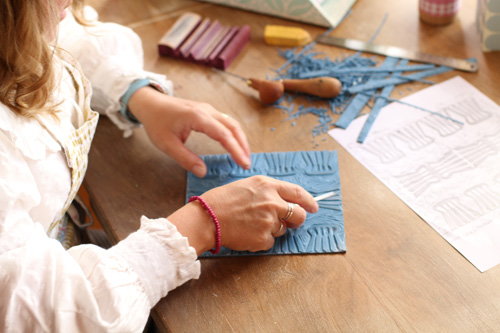 What will we be seeing from you next?
I've always got multiple projects on the go at any one time! I'm creating a new collection of patterns with a more floral and vintage feel, a new direction for me and I'm enjoying the process of bringing it together. I'm working on a handprinted fabric trim, that can be added to the edge of curtains, blinds and cushions. Pre-COVID I ran block printing workshops, I put these on hold due to the restrictions, but I'd like to start them again when time allows; I have an idea for a print club for teenagers and children called 'Small Print'.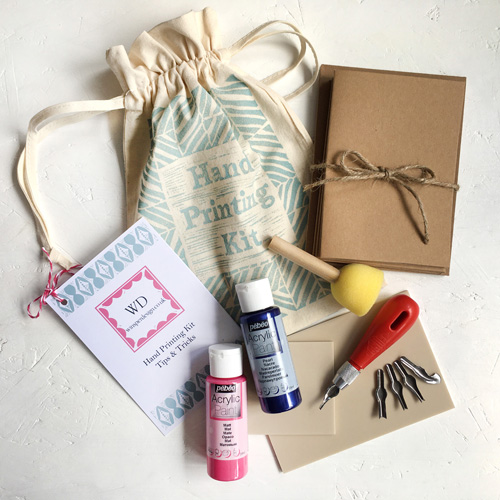 Do you have any advice for other printmakers and creatives?
It can be a bit overwhelming looking at what everyone else is doing and sometimes it can make you can feel a bit stuck; my only advice would be to do something every day that pushes you forward. Even the smallest amount of work will soon add up. There's room for everyone and it's never too late to start something.
To see more from Rachel follow her on Instagram.