Hi, My name is Paul Cleden; I am a printmaker living in Dorset. I create relief prints, collagraph, and card prints, but the majority of my work is currently multi-block Lino Cuts, although a recent collaboration with the Penfold Press means that I'm also now making screen prints – all very exciting.
My background is in illustration, which is what I trained as originally and worked as in London for a few years, before moving here to Dorset.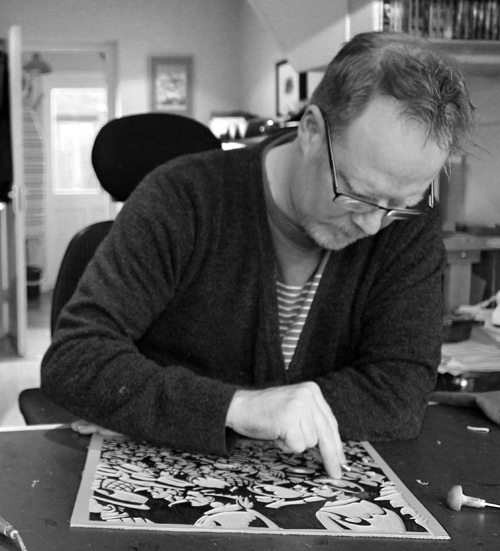 Describe your printmaking process.
As I said, I do like to explore a range of printmaking techniques but the process I use most often is multi-block lino. This means that, unlike a reduction print that uses only one block, I create a separate block for each colour. These are used to overprint and build up the final design. I love the fact that you can multiply the colours with any number of overlaps, even though it can be more challenging with the registration.
I work from multiple drawings to make sure that all the overlaps work, and to get a sense of what the final design will look like. I generally start to cut a block that has a good amount of design on it. After cutting, I offset this onto the remaining blocks. This makes registration a whole lot easier. Once all have been cut and adjusted, I print the edition.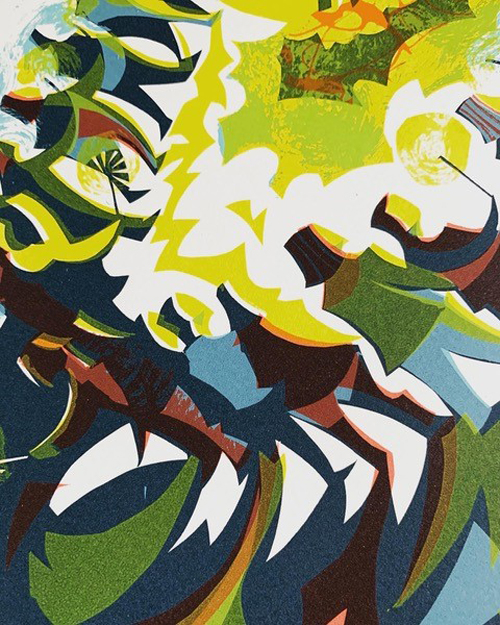 How and where did you learn to print?
I have actually had very little printmaking teaching and to a large extent am self-taught. I did, however, have a teacher at school who for two terms gave us the basics of several printmaking processes. He's probably the main reason why I work in print today. I'd love to thank him. This combined with a two-week block on my foundation year is about all the teaching I've had.
Perhaps that's a good thing as I don't follow any rules? I am always inquisitive as to how I might extend what I do.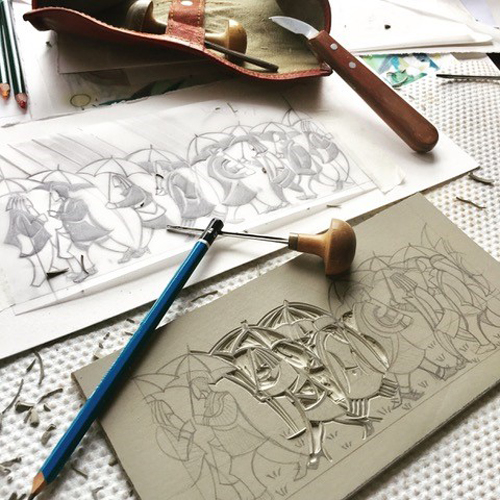 Why printmaking?
I spent a number of years teaching art and ended up teaching printmaking so I was able to explore my earlier experience.
After art college, I worked in London as a freelance illustrator, mainly in collage, which at the time was a little out of favour (unlike today).
My work naturally lends itself to the graphic qualities of linocut. It's not dissimilar to collage on that front, so I found myself exploring linocuts, and the rest, as they say, is history.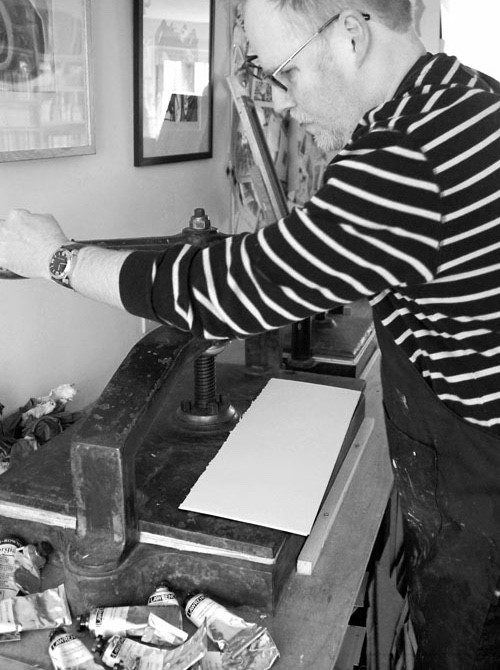 Where do you work?
I have a studio at home, so my daily commute is an easy one! It's big enough to accommodate a very large nipping press that I print the majority of my lino on. I did spend a few years printing with a spoon, but the press really does help me to speed up the process, which can at times, be rather involved.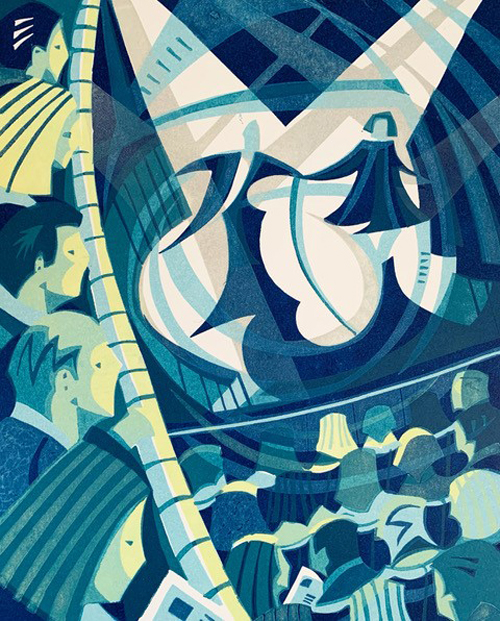 Describe a typical day in your studio.
I'm not sure I have a typical day, but I do fall into a pattern of either designing and preparing a lino, cutting the lino or proofing and printing an edition unless I'm making positives for a screen print, posting online, getting ready for an open studio (like I am at the moment) or taking a walk to think over all of the above. I find it a vital part of the process to leave what I'm doing and go think about it. So I'm often walking by the river contemplating what to do next.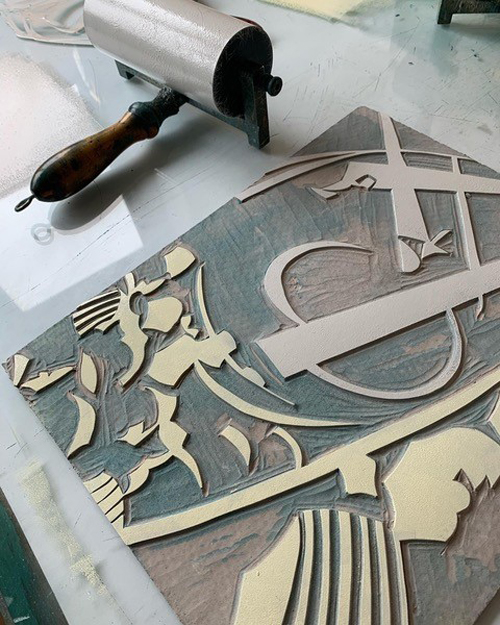 How long have you been printmaking?
Well, that might give away how old I am!
I have been working full time as a printmaker for ten years this year, although I have been printing on and off for over thirty years now.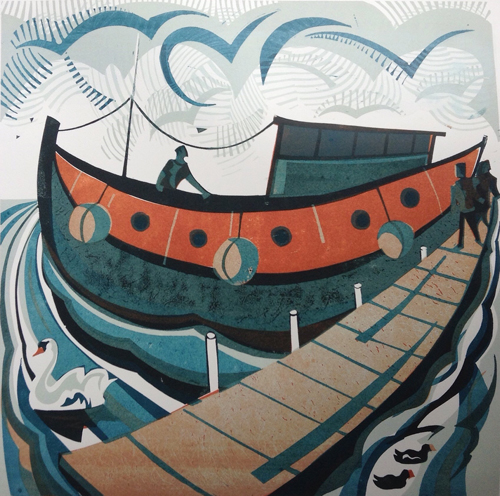 What inspires you?
I am inspired by people and movement, I just love crowds of people to draw.
During the lockdown, I saw that most of my work celebrates all the good things of life we couldn't do, going to the theatre, meeting friends, and watching sports. Celebrations of life.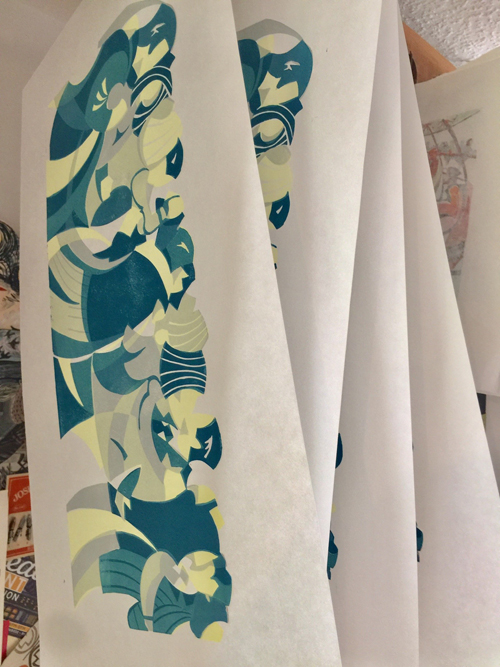 What is your favourite printmaking product?
A very hard question indeed. I think one of the elements of my practice that affects the final image most is the paper. I've been fairly settled on inks and tools, but I do vary the paper. Recently I've started using a lovely off-white Fabriano paper, which gives all the colours a super soft feel, but I also love the luminous qualities that Japanese paper gives – so paper.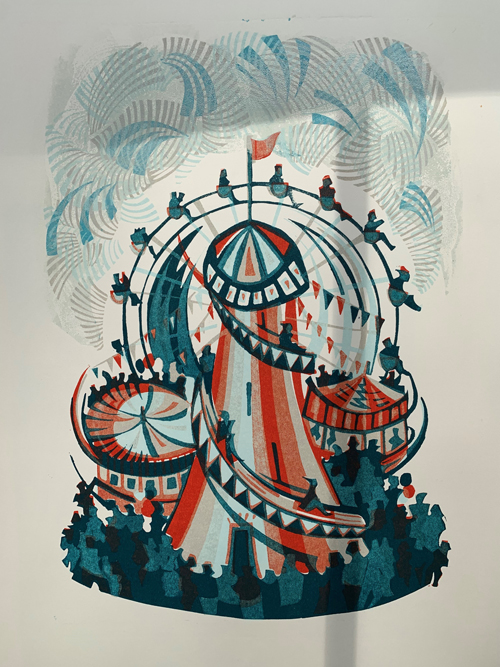 What have you made that you are most proud of?
I know it's a cliche but probably the next print. I adore the process of making an idea become a print, seeing if I can introduce a new element, be it lino etching or imprinting random shapes into a block. Exploring screen printing has also been a marvel. I'm currently in the process of refining a new screenprint, the largest print I've ever made and I'm really pleased with how it's going.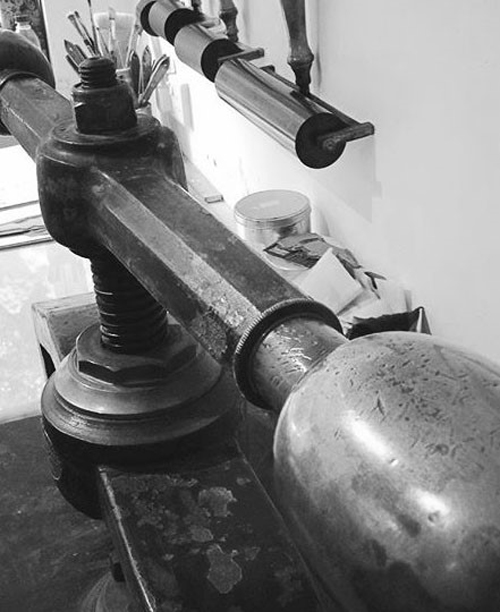 Where can we see your work? Where do you sell?
I have worked in a number of galleries around the UK. Having an almost unique name, I'm easy to track down online or I regularly post what I'm up to on Instagram.
Later in the year, I am exhibiting at Dorchester Hospital, while in November and December I'm heading up a group show at 'Sculpture By The Lakes'. It's going to be called, 'Look Up – A journey into Printland'.It's going to be a riotous celebration of all things printmaking, with workshops and a big exhibition of eight fantastic linocut artists.
A few dates for the diary.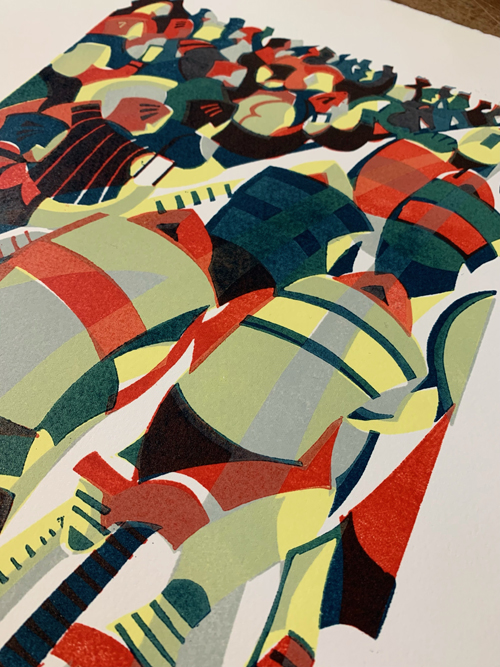 What will we be seeing from you next?
I've just finished eight new prints ready for my open studio, along with many other works, so that's an exciting event. My next collaboration with the Penfold Press is cooking nicely. I'm just about to refine the positives before it's printed.
I'm also working on some designs for Wallpaper and Fabric, which I've had in mind for some time now.
I will also be working through the pile of ideas sitting on my desk, so lots on the cards.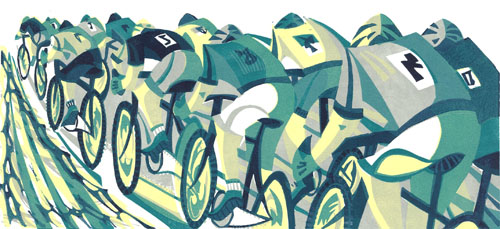 Do you have any advice for other printmakers and creatives?
Yes, do it. Don't give up! There's always a way to work part-time or on the kitchen table in snatched moments. The saddest thing is to hear someone has given up. Be true to yourself, make mistakes, and don't try and be someone else. As long as you like what you are doing, others will too.
To see more from Paul follow him on Instagram.