My name is Meg Fatharly, and I am a multidisciplinary Printmaker and Artists currently based in the South East of the UK. I graduated from Falmouth University back in 2018 having studied BA Drawing and since then have continued to experiment in my process and dancing between printmaking and collage work. I was born in Edinburgh and brought up by the coast and I am inspired by Nature and all things texture and pattern.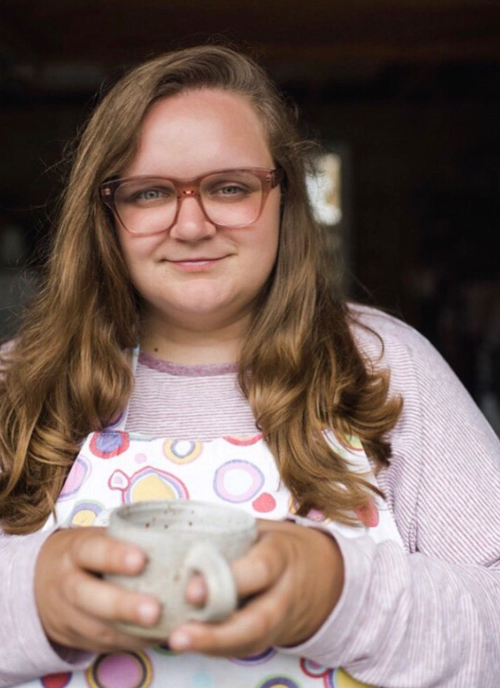 Describe your printmaking process.
I would describe my printmaking process as organic chaos, in that it is intuitive and led by ideas and through the action of printmaking rather than planned. I love to manipulate the surface and explore how this can be taken apart and put back together. My process has adapted massively, and it has had to due to the environment. This has involved printing in my bedroom, travelling into London to print and it's led to where I print currently, in my parents' garage. I am so fortunate to have a space that means I'm able to explore my practice every day.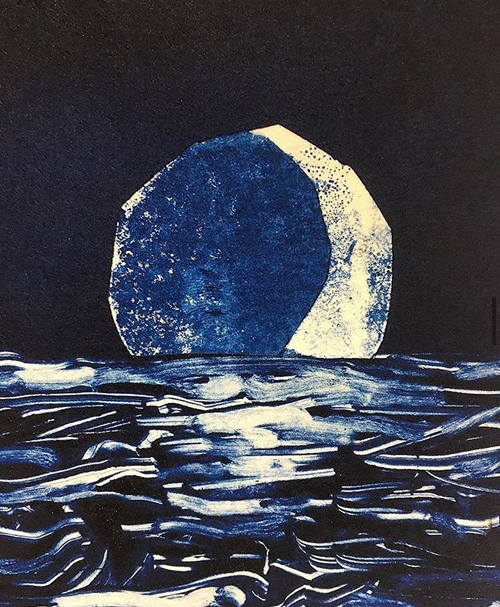 How and where did you learn to print?
I first learnt to print properly on my art foundation back in 2014, which I also did at Falmouth. The only printing I had done before was a tiny bit of lino (it was dodgy believe me) as my school didn't have those kinds of facilities. I still remember the first time I knew printmaking was for me. We had workshops in the first few weeks of our foundation where we could try out different techniques and the workshop was all about mono-printing. I was hooked very quickly, and I think this was because of the endless possibilities that the process offers/offered. I have always done collage and I think the idea of layering between the process's crosses over very well. The technicians on my foundation and my tutor John Howard, who is a Printmaker based in Penryn taught me what I know. Also, the technicians on my degree were some of the best people I learnt from, in that they encouraged me to push my visual language every day. It was a place I felt I was able to just play and learn.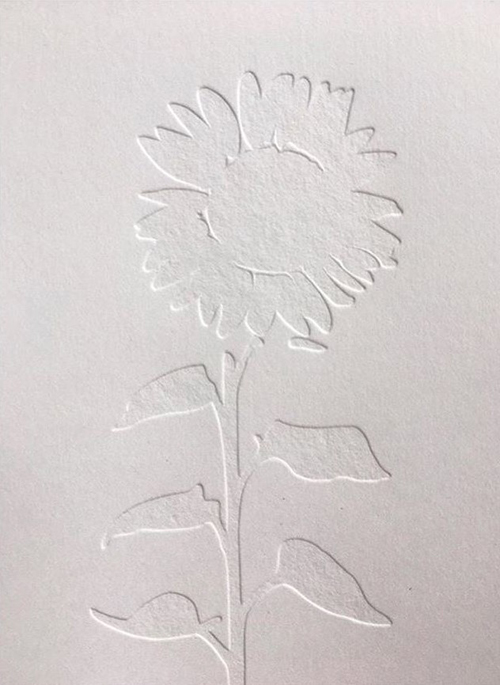 Why printmaking?
Printmaking for me is meditative and repetitive. It is that process that slows a manic and anxious individual like me down. It is such a physical process. The actions and small fragments of how one thing leads to another make every part of the process exciting. I'm really able to articulate my thoughts and ideas through making and working with paper as a medium. I've been able to connect with some of the best people who also print. I never feel more connected to my ideas than when I can experiment and manipulate the surface. Printmaking is tactile and sensory and it's where I feel most alive, through the action of making.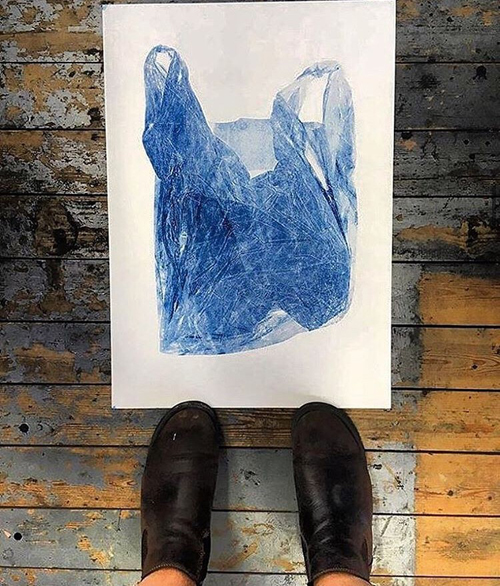 Where do you work?
I currently work in the garage and at the end of the dining room table. This came about in lockdown where I lost freelance work (I used to work in events and as a facilitator in art galleries and with charities) and needed something to throw my energy into.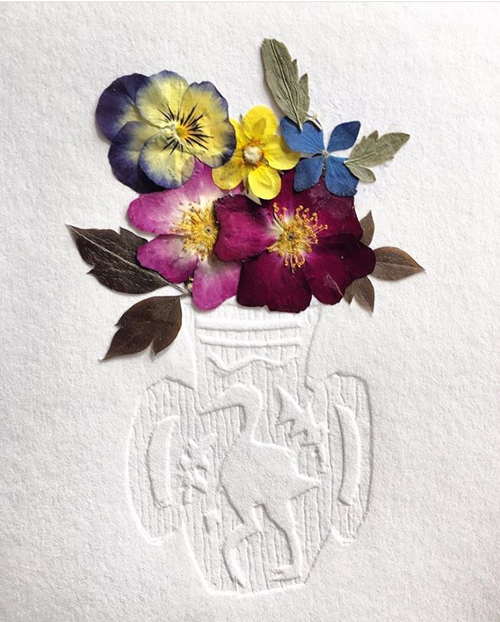 Describe a typical day in your studio.
A typical day can really vary and in the last 9 months, I've been thrown into running a small business and learning on the go. It's been full-filling and daunting at the same time. I'm usually up by 9 packing orders and working on wholesale/projects. I am currently trying to strike up some kind of balance with not working ALL the time and giving myself some time to experiment with new ideas. When you work from home and it is all-encompassing it can be hard to switch off. I am still learning to navigate this.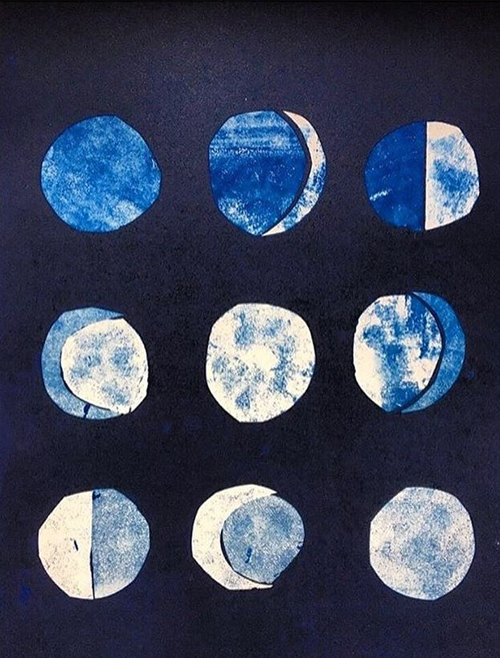 How long have you been printmaking?
About 6 years? Officially full time since March 2020. When lockdown happened my art sort of took off which was very unexpected. I made (and still make) collage kits and hand-bound sketchbooks for people to have a go at making and playing with different materials. I am in the process of setting up workshops but currently do demos and online tutorials on my Instagram.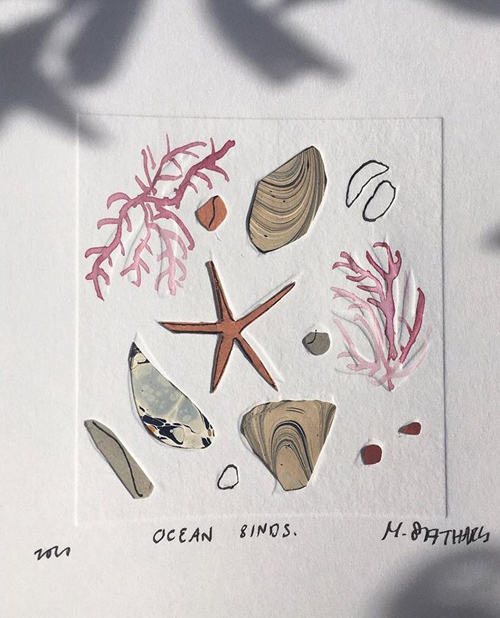 What inspires you?
I think ultimately being outside and by the sea. However, I am a highly sensitive and stimulated person. I often find you could put me in any location and my mind would find some way to be inspired by it. I love to explore new places and connect with other makers. This is why I love social media. I have met some wonderful friends through it, and love to encourage other people to try the process.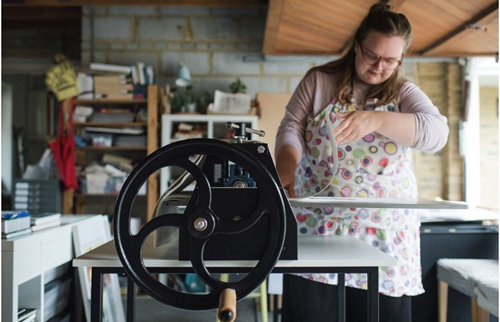 What is your favourite printmaking product?
Probably my press, that I bought from Handprinted back in May. It's shown me that with determination I've been able to invest in something that elevates my work and let me plays with scale. When I graduated it was so hard for me to get access to a print studio. It was about adapting and finding different ways of printing, without a press. I first bought a craft embossing printer from a charity shop for a tenner. It was a real find but so poorly made and I was trying to print copper plate etchings on it. It sort of worked but I was only able to really do mono-printing with a rolling pin and the back of a spoon.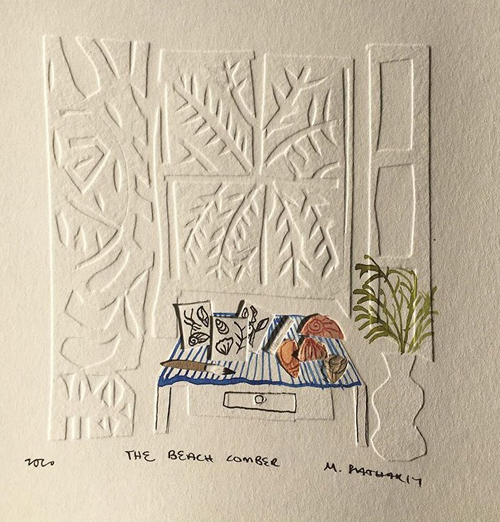 What have you made that you are most proud of?
I am most proud of my hand-cut embossed piece as they came from wanting to combine something tactile and subtle, that I hadn't seen done before. I combine hand-cut moulds and emboss them and then elevate certain areas with coloured collaged elements. I love how people constantly question my work. I like the layers of my work and how it is often made up of 3-4 different processes.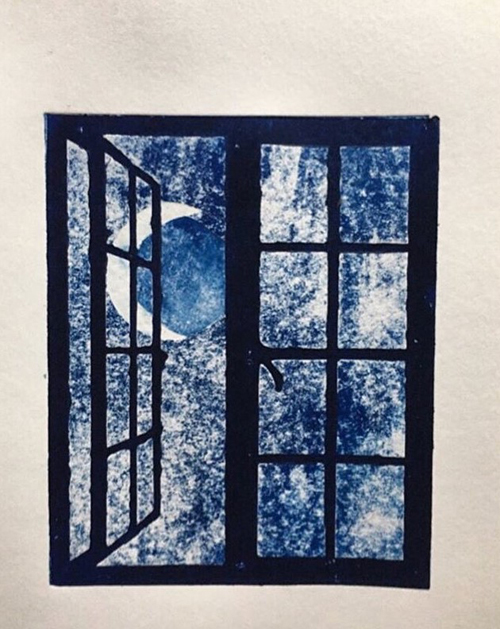 Where can we see your work? Where do you sell?
You can buy my work online and through my Instagram. I am stocked across the UK in independent shops such as Daylesford, Popham's Bakery, Folka, and other shops and galleries.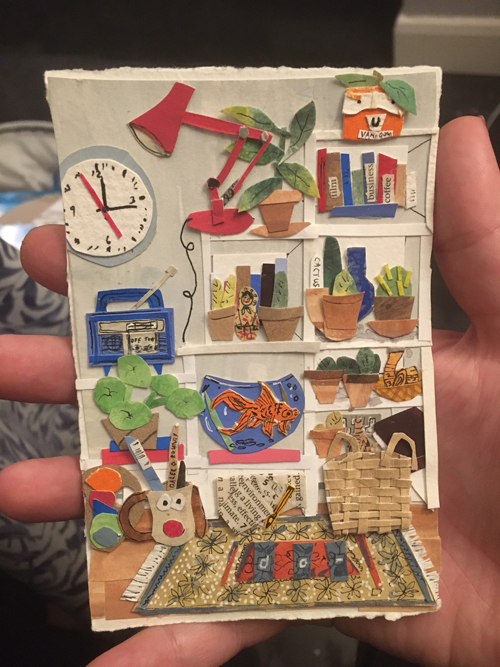 What will we be seeing from you next?
This is a daily question that I ask myself. I am wanting to continue to sell my work but also work on collaborating with other artists. I love translating my visual language onto different surfaces. So maybe something textile related? Who knows.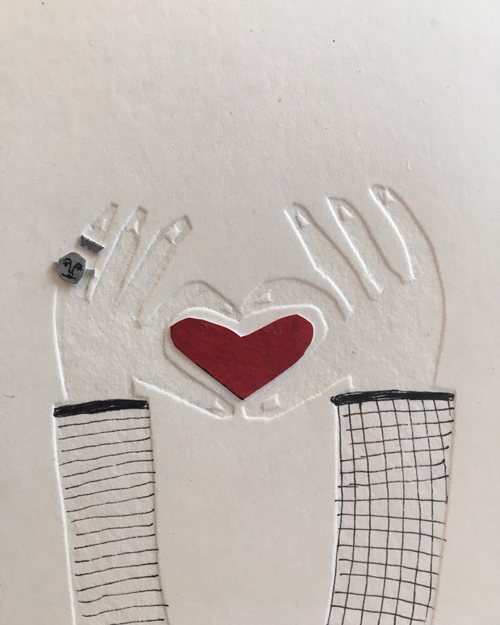 Do you have any advice for other printmakers and creatives?
Never. Stop. Experimenting.
To be honest we are all winging it. I think people see you have X number of followers and assume you've made it. It's constant navigation and a learning rollercoaster. Also, pace yourself. I am really driven but to the point of burn out and I am not very good at stopping.
Connect and reach out to people who inspire you. You never know how much that sort of thing can mean to someone.
Join Meg on Sunday 28th February 2021 for her talk on Confidence and Creativity. You can find more information here!
To see more from Meg follow her on Instagram.