I'm a print designer for interiors fabric. I have designed fabric, wallpaper and homewares collections, now selling online and through UK trade stockists. We are also just beginning to work with the U.S, which is exciting! I came to printing later in life having worked in retail, marketing and sales previously so it was something that began as a hobby, quickly became a passion and then to my surprise has since become a full time job, business and brand!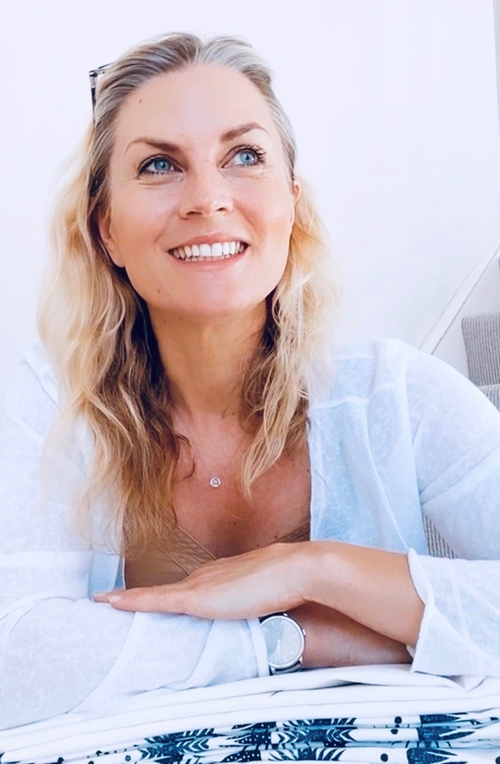 Describe your printmaking process.
I mainly either use lino carved or screen printing techniques to design. All my designs begin life as hand sketched drawings from which I then either carve the design into lino or make a silkscreen. I sketch in pencil on paper then rub the design onto lino from the back. I use the lines as a guide to carve out the design but it often looks a bit different at the end which I quite like! For my more delicate, detailed prints I hand draw in a thin black pen which I then use to expose my own screens. I then take my hand printed designs to my manufacturers who translate these designs into rotary screens with which to print on a large scale in production.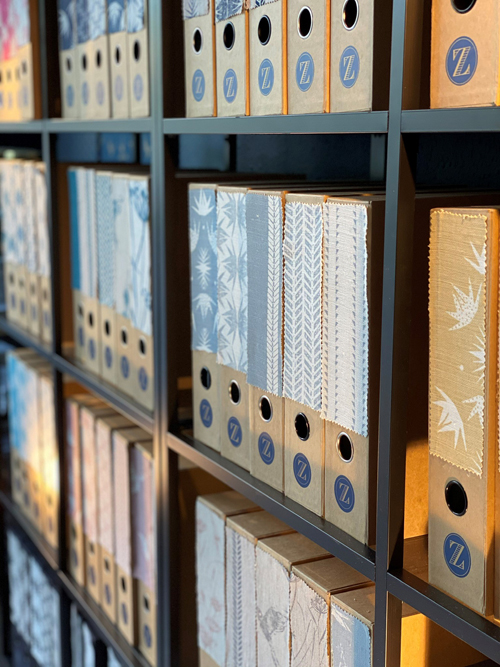 How and where did you learn to print?
My first taste of printmaking was on a course with fabric designer Vanessa Arbuthnott. It was a one day course and I fell in love with the craft immediately. I came home and said to my husband 'I have to do this'. I went online and bought some basic lino, tools and fabric inks and set to work at the kitchen table. I then found someone local to teach me how to expose my own screens. It became a real passion and I essentially spent the following 3-4 months printing in my garage. I decided to try to design an interiors fabric collection as people seemed to want to buy some of my prints as individual pieces. Strangely I later found out from my mum that my Grandfather had been a printer with Sanderson fabrics for 40 years so perhaps it was always in the blood!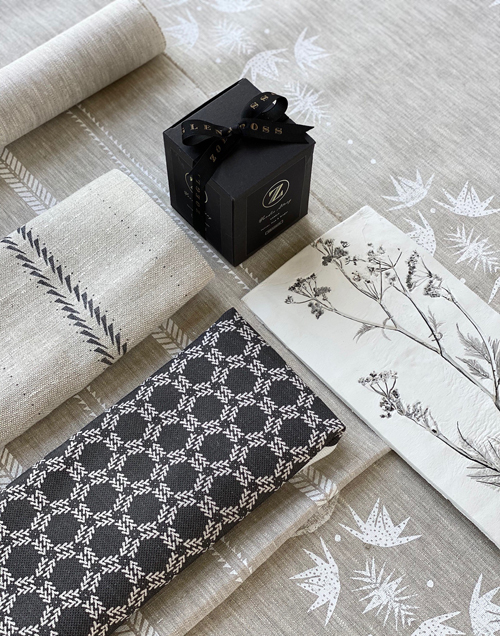 Why printmaking?
There's something so satisfying about applying ink to the fabric. I love the unpredictability of how a design is going to look as a print on fabric. I love the imperfections you get printing on textured linens. It's also great to be able to play around with colour mixing. I find that each time I handprint even the same design using the same screen the result can be a little different. It's unique which I love! With fabric, it's lovely because you can create a printed design that can be made into something as simple as a cushion cover and be added to your home. There is something so satisfying about this – creating something of your very own that is completely unique.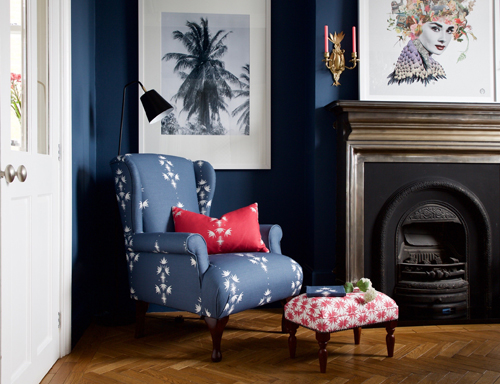 Where do you work?
I tend to design at home although as a business we now have an office/showroom in a local village which is nice as I get to separate work from home a little. That said I think when you're a print designer you're never really off duty. There's always an inspiration to be taken from your surroundings whether that's just from going on a country walk or whilst travelling. I sometimes just pick something from the hedgerows or take photos of a texture I see in stone or on the beach and try to create a print from it. I often take a sketch pad on holiday.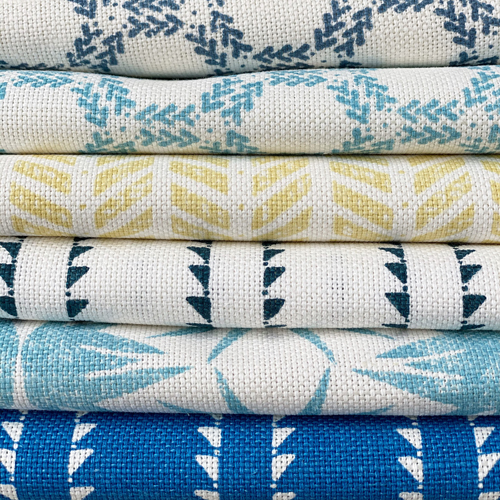 Describe a typical day in your studio.
I wish I had a lovely studio – that's a goal of mine. My kitchen table is my studio! I spent a lot of time printing in our garage but it's quite dark and full of cobwebs. My designing takes place in bursts – either when I'm working on a new collection or the mood just takes me. Aside from this, I'm juggling running what has now become a very busy business. When I design I tend to put my music on loud, close all the doors, switch my phone off and get lost in my work. I love to get out my box of creative inspirational items – photos and sketches I may have done previously that I add to all the time, mix up my inks and gather some plain textured linen pieces to print on. I like to lay everything out on the floor and table and then focus on thinking about formulating my design from what's around me. I tend to work quite quickly and spontaneously. When I design I'm always trying to think about how it might work in a full pattern across curtains and blinds, what kind of colours I'd like to print it in and which other designs would partner well with it. So for me, it's a bigger picture process as I feel it's important to design something that will work as part of an interior scheme rather than as a stand-alone piece of art.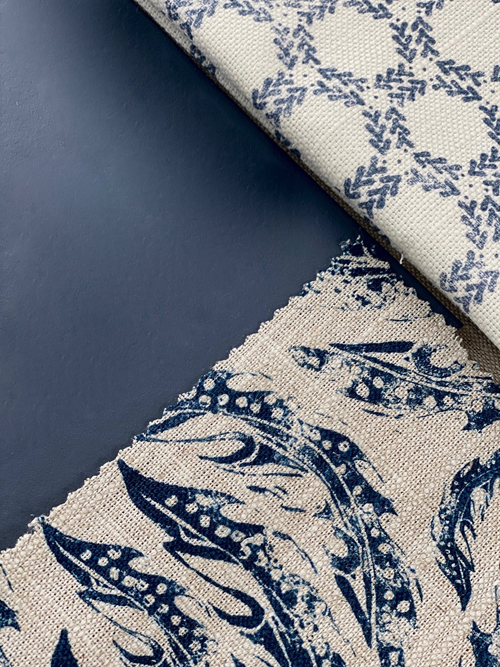 How long have you been printmaking?
I started in 2014 and launched my business online in 2015!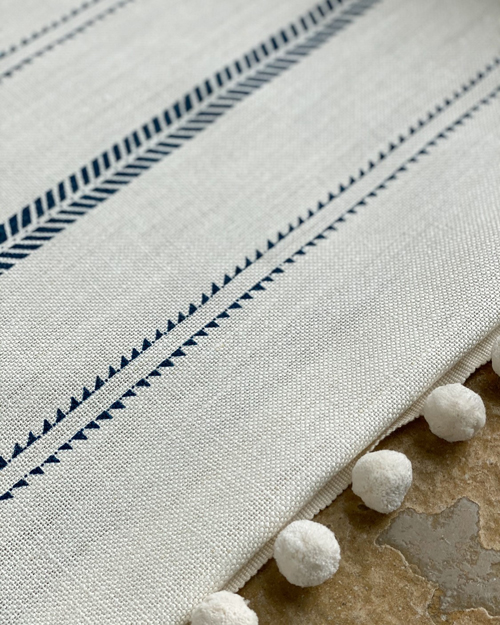 What inspires you?
My surroundings, light, colour and texture. I love to travel and take a lot of inspiration from this.
What is your favourite printmaking product?
Lino. I did some lino printing with my two boys during the lockdown and they loved it too – cuts like butter!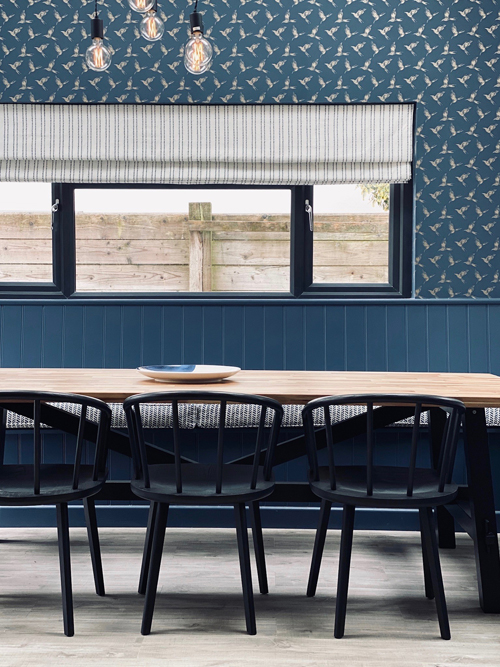 What have you made that you are most proud of?
I suppose I'm most proud of my lino carved Bollin Bird design – it was one of the first designs I made and it continues to be so popular for curtains and blinds. I wanted to capture the movement, energy and flow that you feel when you see birds rather than a static image.
Also, I'm really proud of my Whirlwind design. This began life as a lino carved leaf print which I then photographed, printed out several times and played around with scale and layout to create an energetic, lively print that I think reflects the movement of the wind.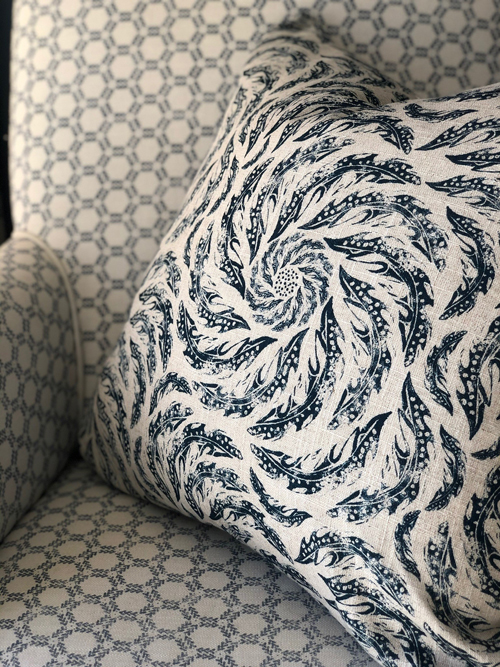 Where can we see your work? Where do you sell?
I sell online.
What will we be seeing from you next?
I'm adding some new designs over the coming months on a lovely new heavyweight linen. These are inspired by the elements and combine sketched designs and lino carved designs. They'll be added to my Elements collection.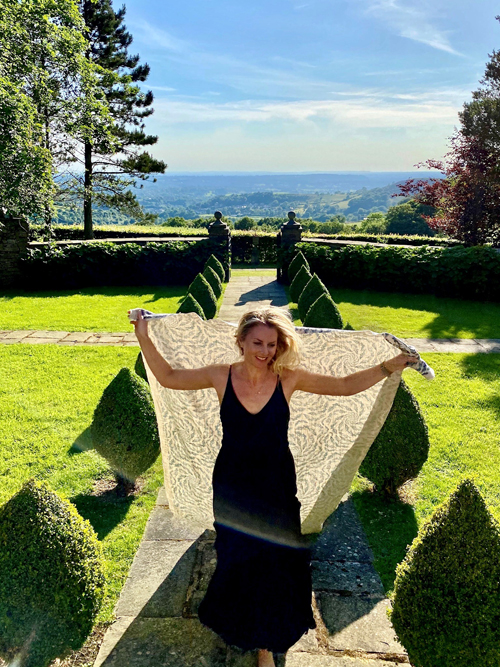 Do you have any advice for other printmakers and creatives?
I would try to create simple designs then think about how differently they work when you change their repeat layout, scale and positioning. I think using mixed media, blending traditional techniques with modern technology is the ultimate privilege as a designer. There are so many possibilities. It's a beautiful craft. Don't get too hung up on the precision if that's 'not you' – go with what you enjoy!
To see more from Zoe follower her on Instagram.