Liz Wellby is as an artist, teacher and maker. She creates a range of outcomes, which includes wire sculptures, lino prints,
woodcuts and monoprints. Liz also runs a range of creative workshops for Arts groups, galleries and museums.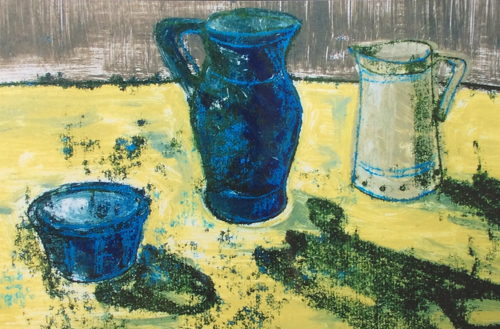 Describe your printmaking processes.
I enjoy variety in my work, so I explore a range of printmaking processes including lino and woodcuts and a range of mono printing techniques. I enjoy the challenge of reduction techniques and the physical nature of the processes, plus I like the different qualities that each print allows you to create; linocuts have a sharpness, whilst the wood grain creates a more subtle printed surface. I also like to explore a range of mono printing techniques, as I can explore more drawn and painterly qualities. Lino and woodcuts require planning and precision, whilst monoprinting can be more intuitive and experimental and are less physically demanding on my elbow and fingers. Developing ideas for new workshops encourages me to try more techniques; I am really enjoying exploring mono printing with a Gelli Plate, using flowers as a masking technique and cutting stencils.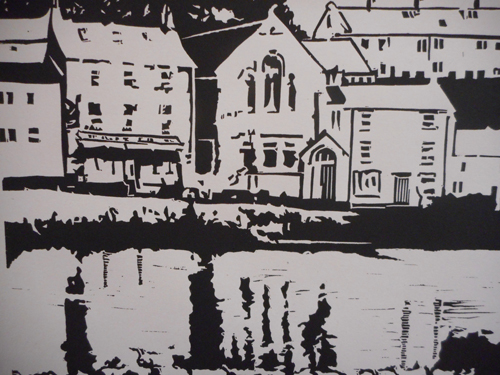 How and where did you learn to print?
I vaguely remember lino printing at secondary school, but I was fortunate to have some great print lecturers at Chesterfield College where I completed a Foundation course in the late 80s. It was a close-run thing, but I chose to study Sculpture at what was then Loughborough College of Art and Design, rather than printmaking. I don't regret this, as I have come back to print, so I got to enjoy two creative disciplines.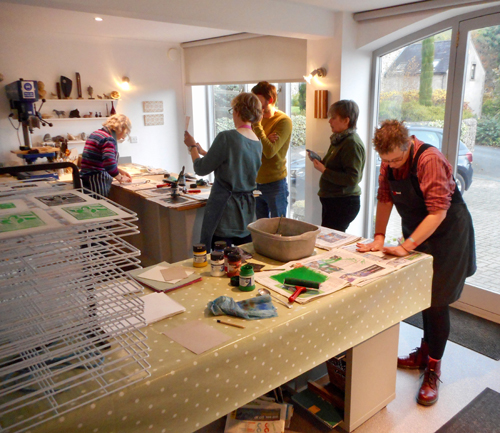 Why printmaking?
I taught a range of Art and Design subjects at secondary level for a
number of years and printmaking was the natural choice when I felt the need to create Art for myself, rather than as part of my day job. I
needed processes that I could stop and start and complete at my kitchen table, so lino cutting and mono printing were natural choices. I see strong connections between the carving elements of sculpture and lino cutting, so it doesn't surprise me that I chose printmaking. One of the things that I particularly like about printmaking, is that there are lots of processes to try.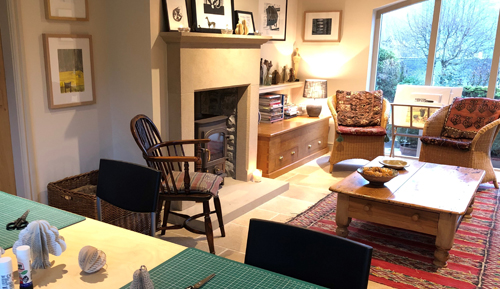 Where do you work?
I work from my home studio in a small village on the edge of the Peak District. The studio and workshop next door allow for a very short daily commute in my slippers. It's a beautiful space with views into the garden and down into the village and I feel very fortunate to have it. I also offer 1 to 1 tuition and workshops for a maximum of 5 people from The Slipper Studio.
Describe a typical day in your studio.
No two days are alike. I started running workshops from my studio a couple of years ago, so a lot of my time is been spent developing a range of creative workshops, which I promote through social media, on my website and CraftCourses.com. I usually advertise and run 3 workshops a month from February to June and September to November, plus another 3 or 4 for Art groups in different venues, so I have a lot of preparation to complete. However, I am trying to regain a balance between running workshops and creating a body of new work. The current situation with this extended period of lockdown and being at home, is allowing me time to think about what I want to make and the themes that most interest me.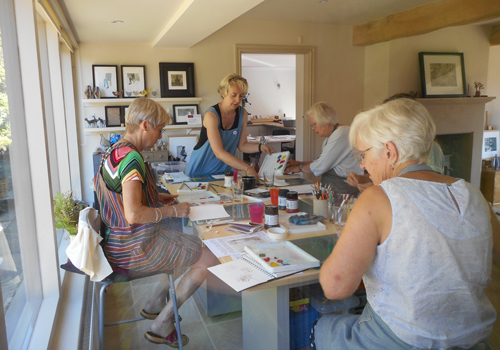 What inspires you?
Living and working in Derbyshire is important to me, providing a significant visual resource for my work. The themes of home, countryside and the domestic environment inspire me, which I record and respond to.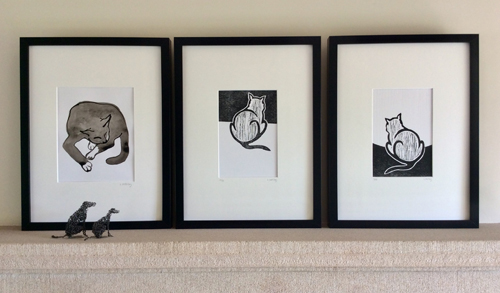 What is your favourite printmaking product?
For years I was happy working with the red-handled student lino tools, but I treated myself to a box of Power Grip cutting tools and they are such a pleasure to work with. When my studio was up and running I bought a Gunning Etching Press, which I am really pleased with.
What have you made that you are most proud of?
I always hope it's my next piece, as it inspires me to continue
making, trying out something new and keep developing as a maker.
That doesn't mean to say that I don't have my favourites and
fortunately, with printmaking, I can keep copies of one or two images.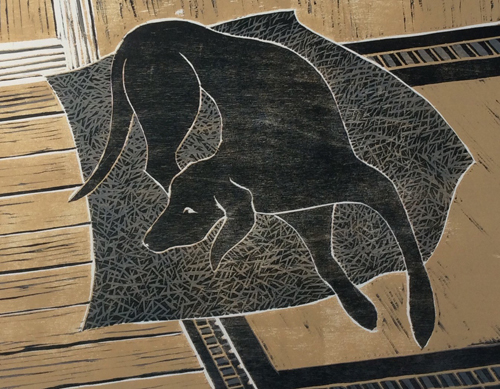 Where can we see your work? Where do you sell?
The best way to see what I am working on is by checking out my
Instagram, Facebook, Twitter and Pinterest accounts and on my
website. I am a member of the creative group, Peak District Artisans
and we come together a number of times a year to exhibit and sell
our work at venues across the Derbyshire Dales and the Peak
District, including an annual winter exhibition at Chatsworth House.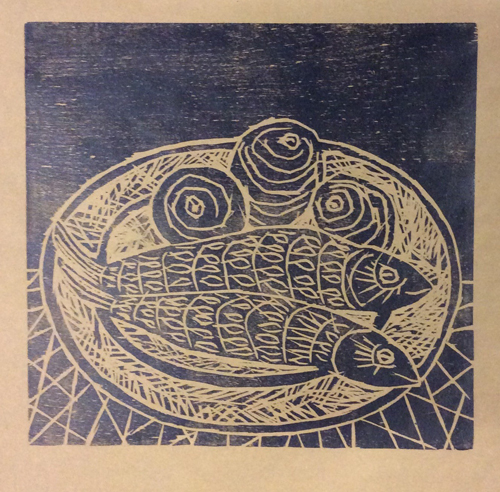 What will we be seeing from you next?
I am trying some small scale blind embossing with lino, which I am really enjoying. I am likely to explore adding detail with pen and ink,
along with adding ink in the traditional printing manner. I also feel that my range of woodcuts need adding to, with more images based on my cat Bert and a return to still life imagery; nothing if not varied.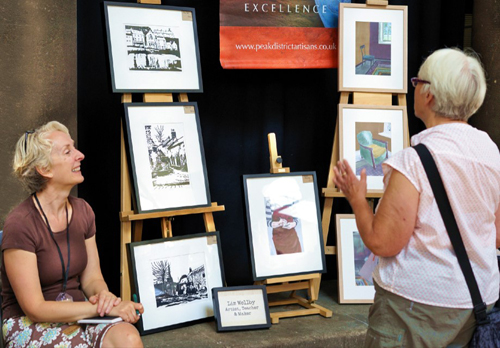 Do you have any advice for other printmakers and creatives?
Keep trying out new ideas or images and explore them with different processes; an image completed as a linocut may not be wholly successful, but as a drawn mono print it may be completely different. Make notes about what you have done, i.e. how you created a particular colour, so that you can make it again without wasting copious amounts of ink. A print might not be a complete success, but cut out the sections you do like and keep in a sketch pad/ notebook; these may act as inspiration for new pieces. Attend workshops; it's a really good way of developing your skills quickly,
with lots of opportunities to ask questions. And the best piece of advice I have ever been given – when mixing colours, only add additional amounts of colour the size of a grain of rice; it still amazes me how a little goes a long way.
Follow Liz on Instagram, Facebook, Twitter and Pinterest or head
over to her website.