My name is Tristan Sherwood and I'm an Art Lecturer and Printmaker based in Cornwall.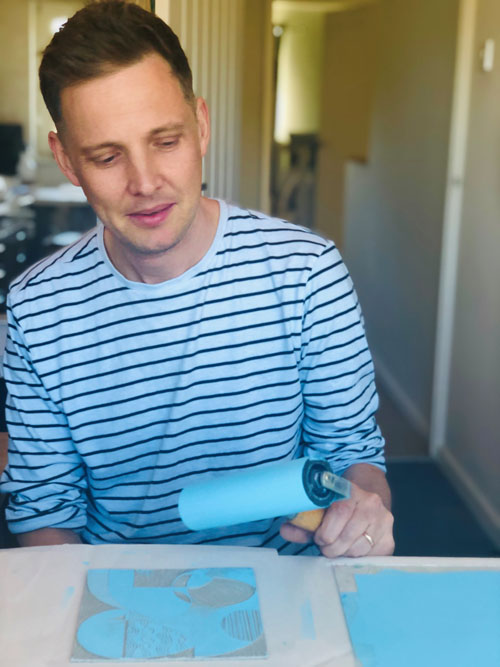 Describe your printmaking process.
I enjoy experimenting with many types of printmaking but relief-printing has become my chief mode of working. I really like the tension of the cutting tool against the surface. I find the nature of relief appealing, there is either a surface to be inked or areas where it is removed, I enjoy finding different ways of negotiating this limitation.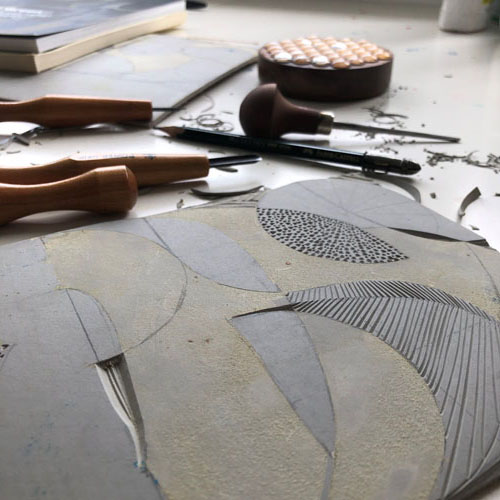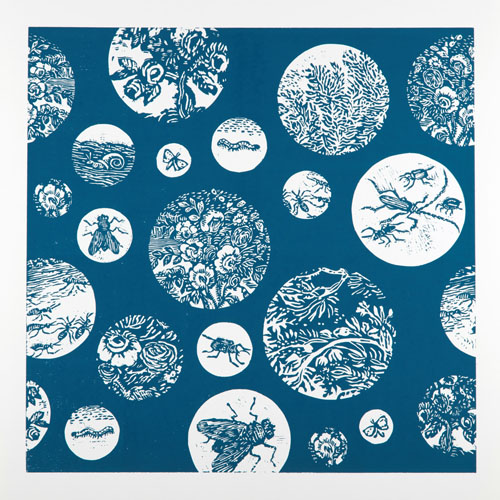 With all of my work I am aiming for a balance between working intuitively and conceptually. I am drawn to pattern and the decorative and I try to combine this with personal narratives which sometimes touch on social history. I spend quite a lot of time planning out and drawing my designs before I cut and print them. I also enjoy printing onto fabric and the more craft based applications this offers, my house is full of soft furnishings I have created including cushions and lampshades. Although drawing is central to my practice, I also enjoy developing ideas digitally and with collage as this often generates unexpected imagery. I like to have examples of relief printmaking in front of me when I work, it's fascinating and I inspiring to see how each artist's approach to cutting and mark making varies. My heroes are Enid Marx, Peggy Angus, Shiela Robinson, Edward Bawden and Peter Green, to name a few!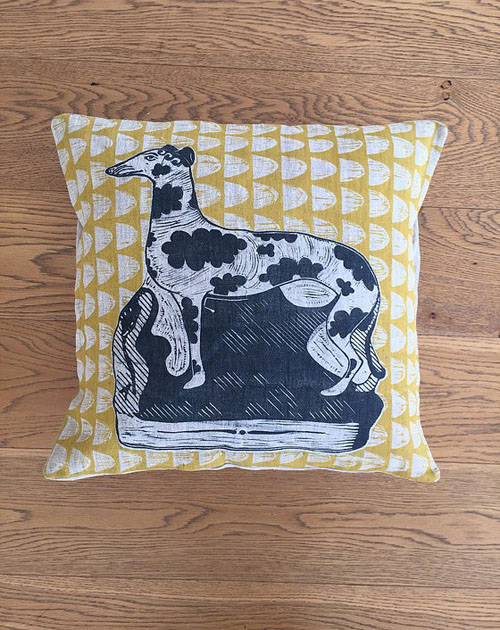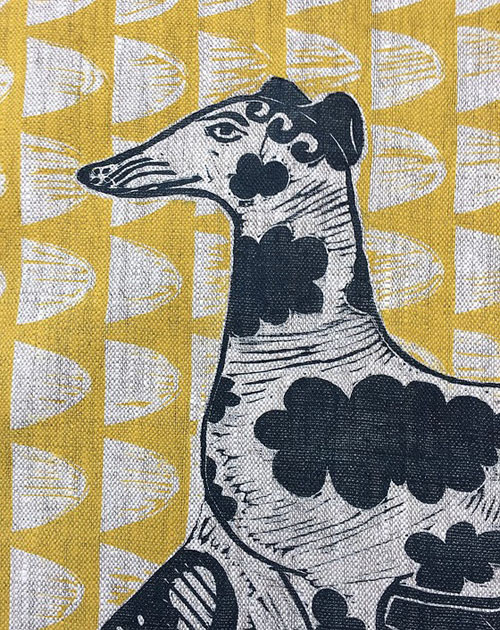 How and where did you learn to print?
I went to Canterbury Art college in the late 90's with the full intention of becoming a sculptor, however I ended up on the Graphic Fine Art pathway which incorporated print and text. I have always enjoyed processes, tools and craft and relief printing is a very sculptural form of image making. Most of my printmaking knowledge has been self taught, often to enable me to teach others! I like to think that I am always learning and refining my practice, I really enjoy the opportunity to learn from other printmakers as there are always so many different techniques and approaches to learn about.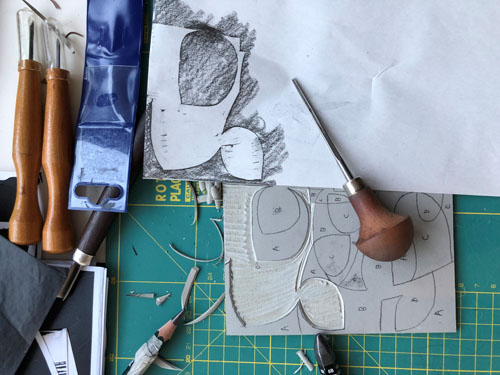 Why printmaking?
I love how democratic it is as an art form, it's rich political and social history, printed images have played such an important role in shaping culture. I also love the process, cutting, carving, inking up etc. From teaching colour theory I have developed such a fascination for the way colour behaves, I can happily spend hours mixing colours and I am continually surprised and delighted by the way different combinations of colours work together. I never rush this process and I never mix colours when I'm tired. In printmaking you are often required to work with a very restricted palette and I enjoy this challenge.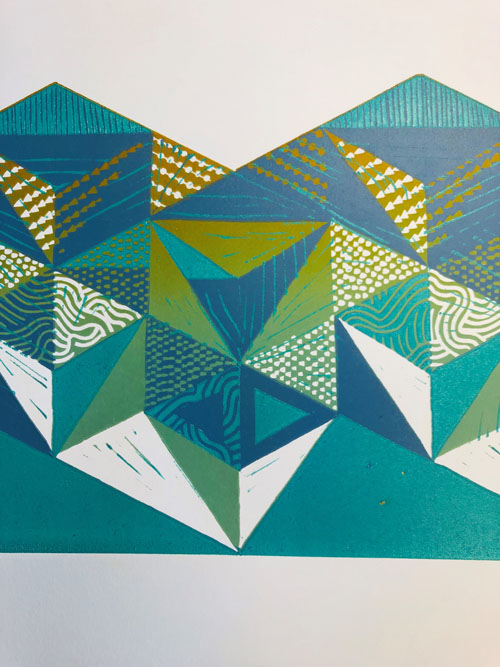 Where do you work?
I am lucky enough to have a small studio permanently set up in my home in the spare bedroom, which is a godsend! However I'll work anywhere! If I've been teaching all day and I'm tired I'll often sketch ideas out in bed! My favourite place to cut is the breakfast bar in the kitchen, I like the light and enjoy being in the hustle and bustle of family life rather than being locked away, although I think my trail of Lino pieces around the house probably drives everyone else mad!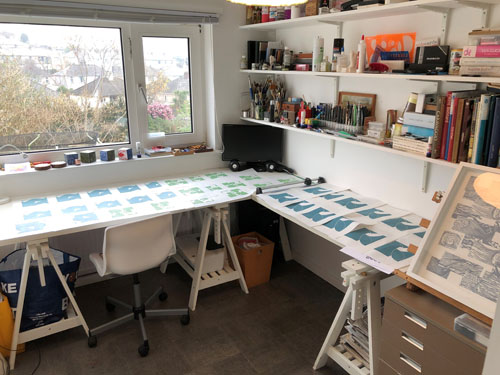 Describe a typical day in your studio.
I don't really have a typical day! I rarely get a full day as I teach art full time and have a young family, so printmaking often has to fit around other demands. Fortunately printmaking seems to be suited to this situation and I aim for little and often, picking up where I left off. In the holidays I often get up early and get on with any inking up and printing before breakfast, as this is often a more involved process its best to do it when the house is quiet and there are less distractions!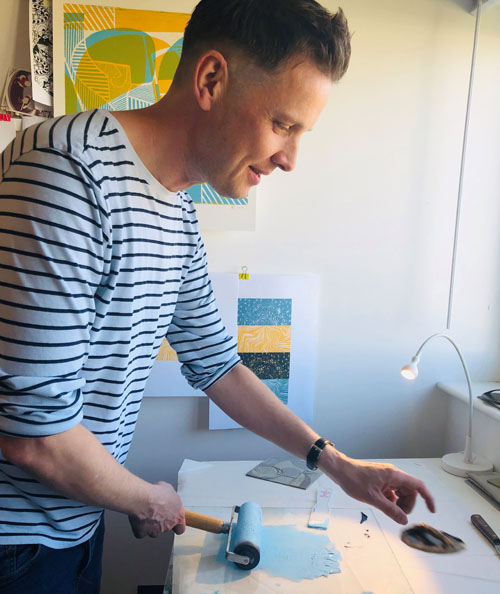 How long have you been printmaking?
Although I went to Art college and teach art (so you could say 20 years plus!) I think I seriously picked up my personal practice about 4 years ago.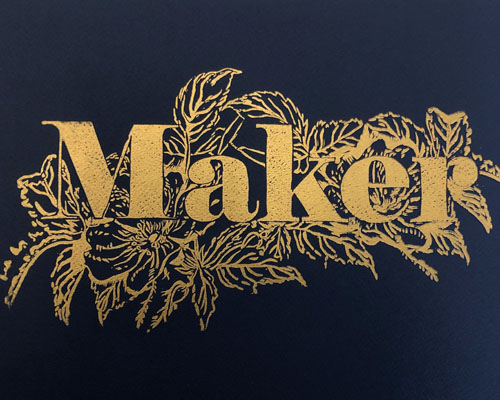 What inspires you?
The contents of the V&A or the national folk museum at Compton Verney would be a good start. Any museum or gallery is a great place to get inspiration. I also love bric a brac shops and National Trust houses. I'm often drawn to working class objects which chronicle social history such as reform and corn law jugs or nursery plates, Staffordshire flat-backs, early woodcuts, especially those found in chap books, geometry, beautiful textiles, carvings, beautiful prints and drawings and the Cornish landscape!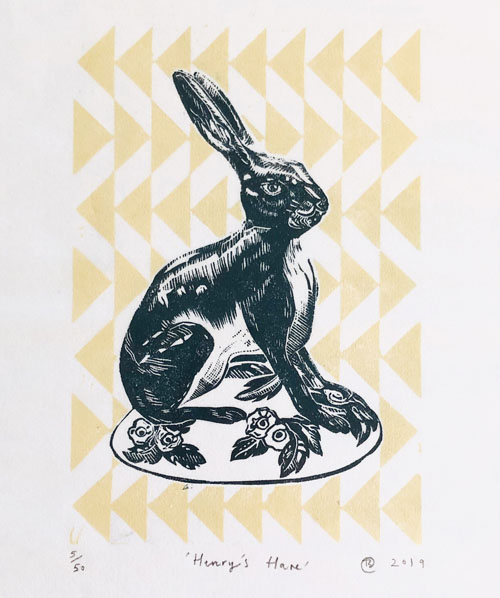 What is your favourite printmaking product?
At present it's either Ternes registration clips, which have transformed my attempts at accurate registration from a terrifying gamble into an absolute pleasure! Or… my new Flexicut micro palm cutting tools which are so nice to use!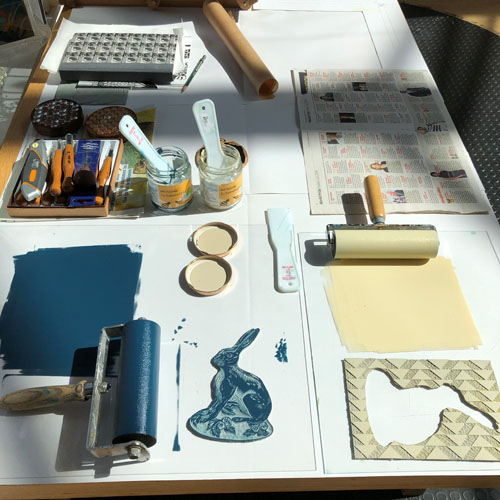 What have you made that you are most proud of?
My first large scale Lino print 'Voynich Dandies' was a real turning point for me, it signalled a serious re-engagement with printmaking, so for that reason I'm very proud of it.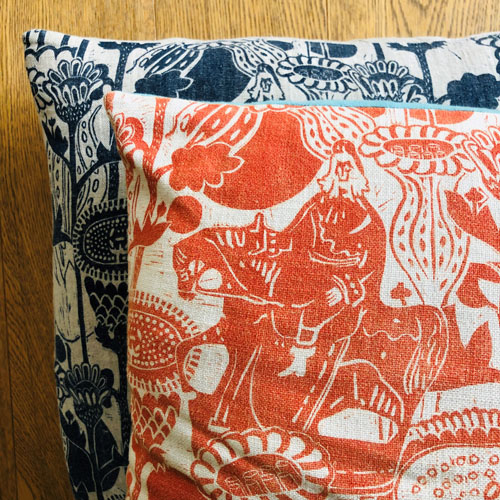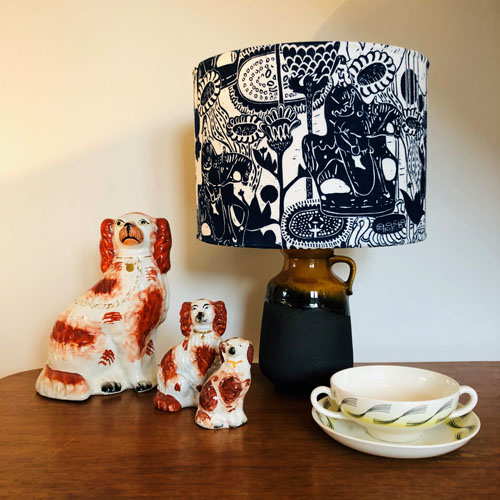 Where can we see your work? Where do you sell?
I have recently started showing with Atrium Gallery in Cornwall who have been so encouraging and supportive. I also have work for sale at 15 Collingwood in the arts quarter of Northampton which stocks a marvellous collection of vintage and modern Art, furniture and objects. I have also set up an Etsy account which is linked to my Instagram page where you can purchase my work directly.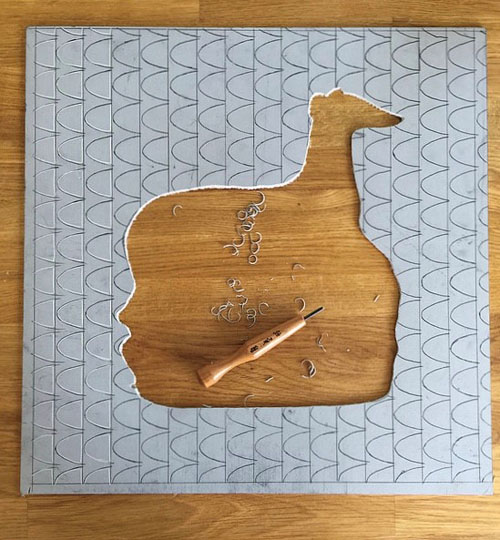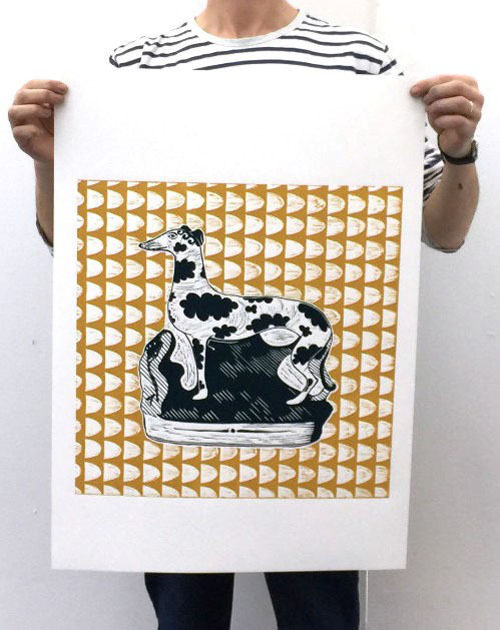 What will we be seeing from you next?
I have been doing a series of quite large Linocuts for quite some time, so I'm really really excited about working on some smaller scale work and more reductive pieces with a broader range of colours. I tend to work in either a playful abstract way which is often an intuitive approach to landscape, pattern and geometry or a more illustrative approach depicting antique ceramics.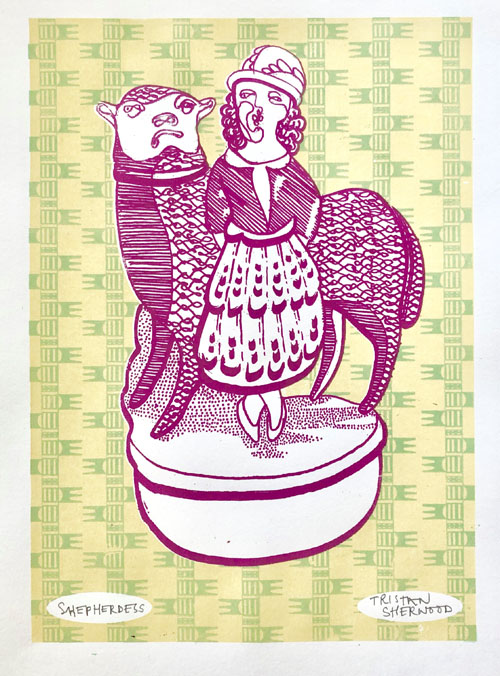 Do you have any advice for other printmakers and creatives?
Good cutting tools make a huge difference as do good inks, so visit a specialist supplier and slowly build up your equipment, better to have a few good quality materials and add what you need as your confidence builds. Start on smaller projects and spend time really planning. The online community of artists and printmakers on Instagram has been such a positive experience and really supports my practice. I would recommend setting up an account and following printmakers you admire.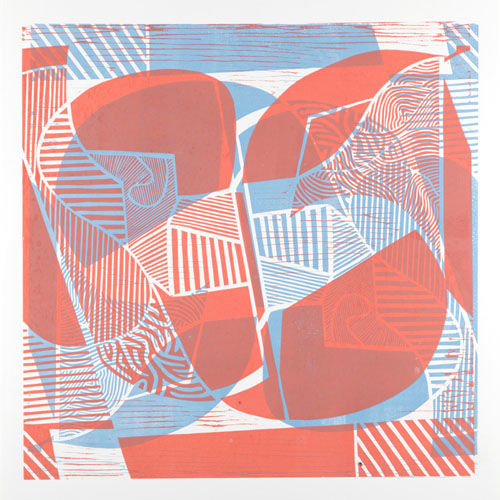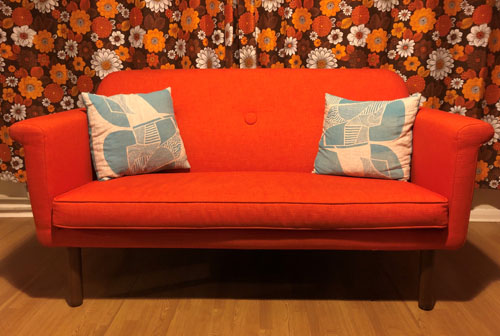 For more of Tristan Sherwood's work:
Instagram: @tristan_sherwood_printmaker
Website:https://trisso76.wixsite.com/printmaker
Etsy shop
Atrium Gallery
15 Collingwood