It's time to meet Amy! We love Amy's beautiful designs, hands-on making process and enviable attitude. Read all about her here:
Hello I'm Amy Laws! I setup There's Only One Amy Laws, a handmade and hand printed
clothing business, just over 3 years ago. I design, screenprint and sew every garment from scratch in my flat in Bath. My aim is to make unique clothing
with fun, playful prints that my customers will love to wear time and time again.
How and where did you learn to print?
I learned to screen print at the Edinburgh Printmakers. I've always filled sketchbooks with ink drawings in my spare time and thought that screenprinting
would give me the opportunity to turn my sketches into prints. I took a weekend course and then used their open workshop facilities in the evenings
and at weekends while I was working.
Why screen printmaking?
I love the effect of the print and how you can take a complex image either straight from a drawing or a computer graphic and create an exact replica on
the screen. It's also possible to create your own screen printing setup at home fairly cheaply which has been essential for me to start my business.
Is there a story behind the 'There's only one' bit of your brand?
It just started as a joke! I remember making a sticker for my friend at school that said There's Only One Amy Laws, then later on my sister had clothing
labels made for me with it on and it just stuck. I didn't really give it much thought when I set up my business but now it gets a bit embarrassing
when I have to give my company name to people over the phone!

Where do you work?
I work from the living room in my flat in Bath and then 2 days a week I rent a room at The Makery, a lovely sewing studio and shop in town. It's really
helped my sanity working out of the house for a couple of days a week!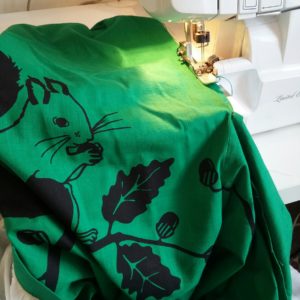 Describe a typical day in your studio.
I've got into quite a good weekly routine, on Mondays I cut and print all of my orders for the week and take over the whole flat with fabric drying on
every surface. I then spend the rest of the week sewing up all of my orders depending on what needs to be posted out first. I start everyday replying
to emails and ordering equipment, have a break at lunchtime for Neighbours and finish most days with a walk down the hill to the Post Office.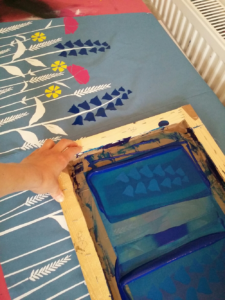 How long have you been screen printing?

I took a screen printing course in Edinburgh about 10 years ago but then I moved to London and didn't do any printing for about 5 years. It was only when
I was struggling to find exciting fabric to sew with that I thought about printing my own. I did a lot of internet research and found out how to create
screens at home and it all developed from there.
What inspires you?
I love bold colours and simple, graphic styles. I like looking at vintage fabrics and dresses for inspiration, particularly the 1950s/60s style. A lot
of my prints are inspired by nature but then I really simplify the designs and use vivid colours so they look more cartoon like by the end. I've also
just created a The Potteries print inspired by the wonderful Stoke-On-Trent where I grew up.
What is your favourite printmaking product?
I think it has to be the Permaset Aqua inks, I've tried lots of other brands but I've found I get on best with these inks. As they're water-based they're
really easy to clean and safe to use at home as they are completely solvent free, they don't dry out as quickly as other water-based inks either and
they wear really well.
What have you made that you are most proud of?
I think I'm most proud of my Wild At Heart print. I love the 4 colour design and how the print works around the border of the skirt. It took quite a bit
of planning to figure out each screen layout, and how to repeat the print around the hemline.
Where can we see your work? Where do you sell?
I have my own website www.theresonlyoneamylaws.co.uk, and I also have shops on Etsy and Folksy. I also trade at the Frome Independent Market once a month.
What will we be seeing from There's only one Amy Laws next?
I'm just making a new range of espadrilles, I've screen printed the fabric for them using the designs from my dresses and then sewn the shoes together
by hand. I'm also working on a couple of new prints for Summer at the moment, I've got a palm tree print which is starting to take shape quite nicely.
Do you have any advice for other printmakers, designers and creatives?
Don't give up! If the first things you make don't turn out how you expected keep on going. When I first started I had grand plans for my prints but I struggled
for so long trying to get the screens to develop properly and print how I wanted them to, there were a lot of tears! I kept researching online and
trying new techniques until I found a method that worked for me.
You can see more of Amy's work on her website! Find out what Amy's up to on Facebook, Twitter and Instagram.